Here's The Water Color Painting That Britney Spears Just Sold For $10,000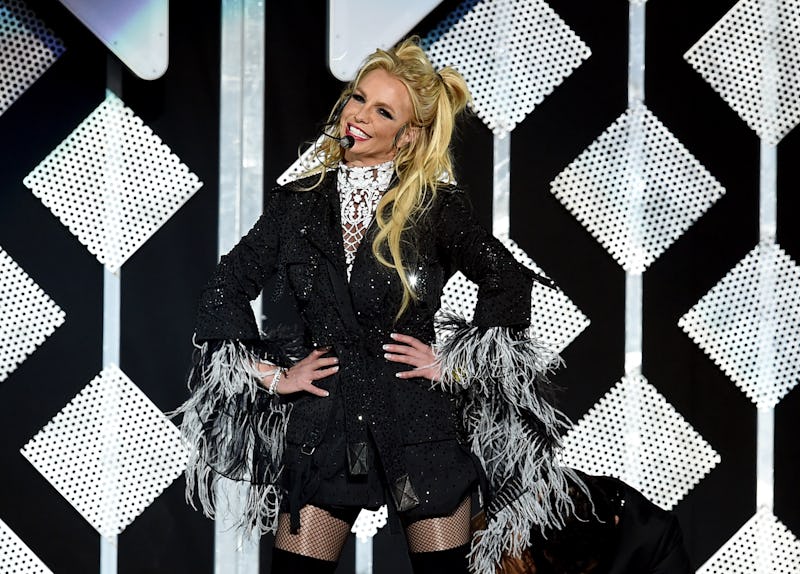 Kevin Winter/Getty Images Entertainment/Getty Images
She's a multi-platinum singer, actor, clothing designer, and mom. And now, with the help of a Las Vegas charity. Britney Spears can add "watercolor artist" to her resume too. The entertainer put her paint brush to an easel to help the Las Vegas shooting memorial, and proceeds from Britney Spears' watercolor painting will contribute in a huge way, according to US Weekly.
Charitable organization Vegas Cares hosted a benefit concert Nov. 5, in which proceeds will go towards a memorial art piece dedicated to the innocent victims of the Oct. 1 Las Vegas shooting. Held at the Venetian in Las Vegas, the event was headlined by "Mercy" singer Jewel, and a mash-up of celebrities, including Spears, made appearances both in-person and via video. And amongst blessing attendees with her presence via stream, Spears also donated her colorful masterpiece to the organization's art auction.
Fans may remember the "Toxic" singer previewing the art piece on her Instagram page Oct. 13. In the video, Spears can be seen painting to the sweet sounds of Wolfgang Amadeus Mozart. But in giving her followers a taste of her watercolor skills, Spears totally didn't mention just why she was indulging in the art form. However, seeing as Spears is known for having a heart of gold, her donating the adorable floral art piece to charity isn't much a surprise.
This isn't Spears' first time lending her talents to charity, however. The artist recently donated $1 million of her Las Vegas residency ticket sales to the Nevada Childhood Cancer Foundation. And just two days before the Vegas Cares art auction, Spears attended the grand opening of the foundation's Britney Spears Campus — named in her honor.
In a video clip during the Nov. 6 Vegas Cares auction, Spears said,
"I'm so proud to call Vegas my second home and I'm pleased to participate in this Vegas Cares show. The flowers in my painting represent a new beginning, and it's in that spirit that we move forward. All the proceeds from the winning bid go to Vegas Cares Memorial Fund. I appreciate your kindness and your generosity. I love you, Vegas."
Spears' portrait auctioned off for a a whomping $10,000, and is now in the possession of legendary entertainment reporter Robin Leach, according to WJLA. And seriously... what's more adorable than seeing the entertainment news legend getting gleeful over the colorful musing of Britney Spears? Las Vegas journalist John Katsilometes apparently got a kick out of seeing Leach completely overjoyed by his night's big win, as the writer shared a picture of the "Lifestyles of the Rich and Famous" host holding up the artwork on Instagram with the caption:
"It's #RobinLeach, who just auctioned this @britneyspears piece to ... himself! Yes! Great $10k moment #VegasCares @venetianvegas"
Decked out in pink, purple, and blue floral designs, Spears' painting could make for the perfect conversation piece for any home. And Leach, being the industry aficionado that he is, is the ideal person to have this exciting work on display.
Spears' Piece of Me Las Vegas residency is coming to an end Dec. 31, but the future sure does seem bright for the multi-talented entertainer. Even if the artist doesn't plan on filling up her schedule with anything music related anytime soon, she'll totally have another unforeseen skill to further hone. Because, who else would pay to sit back and watch Spears create more watercolor masterpieces?
She may not be on an extended day in Sin City come 2018, but her sold out shows and charitable works will surely leave a lasting impression on the joyful town for years to come.