Capricorn Season Is A Time To Get Serious — Especially In Relationships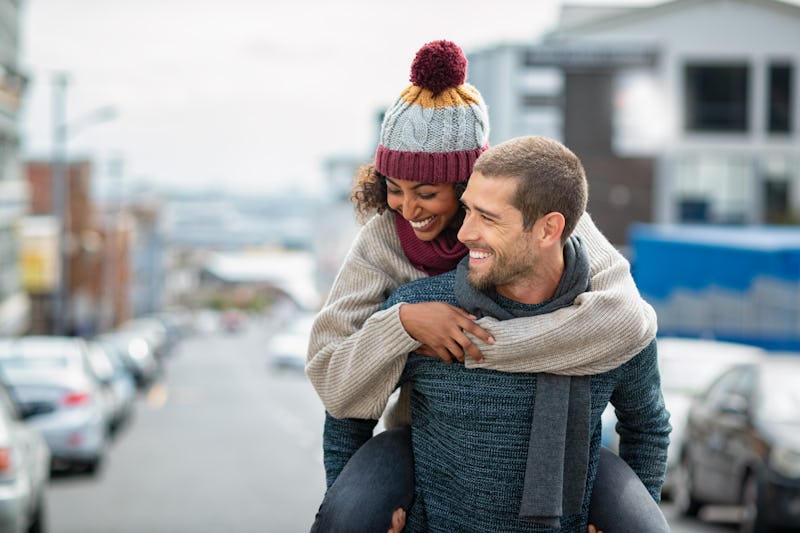 Shutterstock
There's a reason why so many people get engaged over the holidays, and it's not because an engagement ring makes the best Christmas gift. Astrology and the influence of the Capricorn season makes the end of the year and the beginning of the next a very special time for love. As Kim E. Woods, master evolutionary astrologer, tells Bustle, "Capricorn is serious and plans for the long-term. If you have any hopes for a marriage proposal or taking the next step in your love life, you're in luck." There's something for each sign to look forward to in their love life during this upcoming Capricorn season.
The season of Capricorn typically lasts one month, from the Winter Solstice until Jan. 20. But this year, Jupiter, the planet of luck and expansion, is in Capricorn until December 2020. Since Jupiter brings good fortune, blessings and success, Woods says, "Your luck in love is all about Capricorn for the entire year."
It's a good influence to be under if you're looking to have a long-tern commitment. It's no secret that earthy Capricorn is all about hard work, ambition, practicality, and discipline. There are "no frills or romantic overtures," Woods says. But if you're looking for dependability, stability, and something that lasts, you'll get that with Capricorn.
This sign also gets a bad rap for not being the most sensitive, but Capricorn is a loyal and trusted partner. According to Woods, you can use this energy in your love life to discover what's true in your relationship.
So what does Capricorn season have in store for your love life? Here's what your sign can look forward to.