'Smurfs' Brought Demi Lovato Back To Disney Days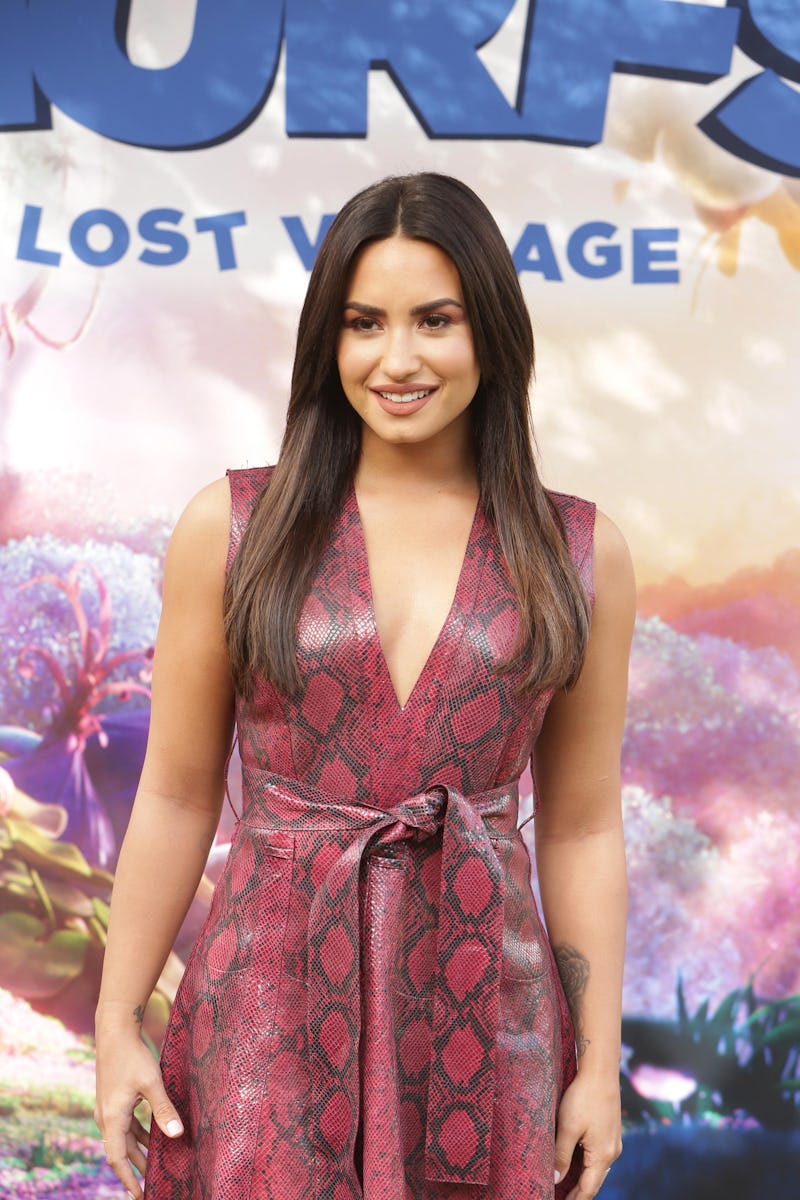 Sony
The multi-talented Demi Lovato has come a long way since her Sonny With a Chance days. Since rising to fame with Disney as her stage, the 24-year-old has used her platform to become a pioneer of female empowerment by openly discussing her experiences with mental health, body image, and relationships, to name a few. That's when she's not busy performing for millions of fans on stages all over the world. Recently, the performer took on a project that reminds her of a lighter time — a time before she was all growing up, living a little more freely with fewer cameras on her every move.
Taking on the iconic role of Smurfette in the upcoming animated film Smurfs: The Lost Village (out April 7) was liberating for Lovato both physically and mentally. Of course, there were perks of voiceover acting and being able to show up in "workout clothes, yoga pants, and Ugg boots," she explained when sitting down with me. And as obviously glorious as it was being able to work in gym clothes, the relaxed atmosphere gave Lovato a glimpse of the type of performing she hadn't experienced in a while. The lack of pressure to be so "on" or "having to go through hair and makeup" allowed her to just let loose and go for it.
"There's an element of consciousness when you're on stage or in front of the camera, you want to make sure you've got good angles and whatnot," the actor said during the Smurfs press day Q&A. "When you're doing voiceover you can be extra animated. Being extra animated kind of reminded me, actually, of my Disney days."
Lovato was only a young teen when joining the Disney family and performing for a younger crowd. She was all smiles reliving the familiarity of playing "such an over-the-top character on a sitcom," similar to her experience as Smurfette.
It was also the appeal of entertaining a younger audience that excited Lovato. "It's more simple and fun to play an innocent character," she told me. "It was really fun to be able to go back to my roots a little bit and I love entertaining for children because I love kids. Being able to go back to that side of my acting was fun and I haven't really done much animation, so that was a cool experience," Lovato added. Memories...
Needless to say, Lovato would "definitely" jump at the chance to be part of such an experience again. In fact she already has, with the upcoming animated film Charming. Because who said being a kid again was a bad thing? "It's just positive energy," Lovato said during our time together. "It's great energy and anytime you're able to work on a project that is so positive, I definitely want to be involved."
Here's hoping Lovato always keeps her goofy side intact, no matter where success continues to take her.