Caroline Flack & Andrew Brady's IRL Meet Cute Is SO Adorable You'll Need A Minute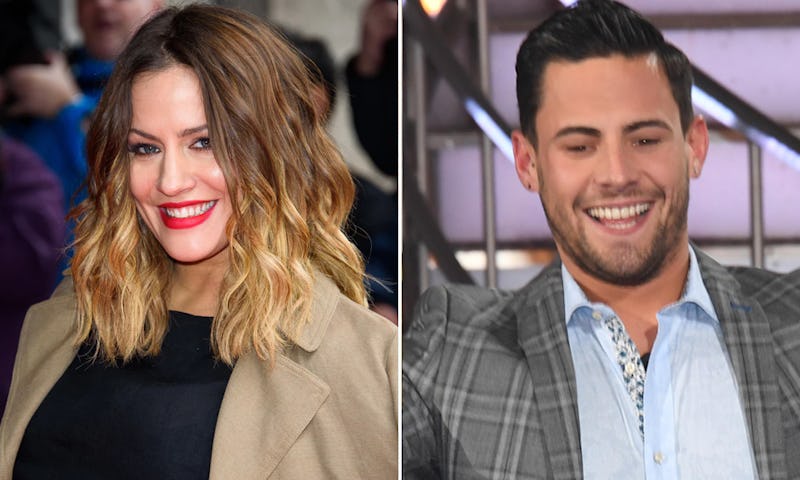 Joe Maher/Getty Images Entertainment/Getty Images/Stuart C. Wilson/Getty Images Entertainment/Getty Images
Love Island's host Caroline Flack has been surprisingly and adorably candid about her recent engagement to former Apprentice star Andrew Brady. I for one cannot get enough of seeing the Flack Attack so gorgeously happy. So that got me thinking: how did Caroline Flack and Andrew Brady meet?
Well, luckily enough, Flack recently penned an open letter to her exes, lost loves, and her soon-to-be husband in a glorious spread for this month's Cosmopolitan Magazine. In the piece, the presenter dives into the depths of the best friend zone, dating in her her thirties compared to her twenties, and of course, the kismet of meeting Brady.
In the piece, which is titled Dear husband-to-be, Flack recounts the first time she laid eyes on Brady after being single for three years. She first saw him on Celebrity Big Brother, and after texting a friend wondering who he was, she decided to follow him on Instagram. "You followed me back with the simple, emotionless line: 'Thanks for the support.' (I now know, of course, it took you hours to come up with that!)," she wrote. "It made me laugh so I gave you my number. A few days later, we met."
Talk about feels, and it gets even more emotional. Seriously, this could be the plot for a sappy rom-com (someone get on that). Flack continued:
"People talk about meeting someone and feeling as though you've known them your whole life. That's what it felt like when I met you. I'll never forget seeing you walk into the restaurant — tall, with a smile 10 miles wide, not just for me but for everyone there. Talking to you was effortless. There were no first-date nerves — just two people laughing and getting to know each other until the early hours. It was how all first dates should be."
OMG, can they be anymore in love?!
Yes, yes they can. Get the tissues ready, because Flack sure knows how to pen a love letter. According to the Love Island host, for the first time ever, she's in a relationship that's about more than just love, it's about friendship too. "We laugh until we cry. I've never had that before — with anyone," she continued. "My life was complete before you came into it — a man doesn't complete your life. But I wanted to make room in it for you. I look at you and I think, 'Yes, Andrew, you're the one I've been waiting for.'"
Oh, you guys!
Flack and Brady enjoyed their first date earlier this year, shortly after he left the Celebrity Big Brother house. If you're wondering where the heck a celebrity couple goes on a first date, the answer (at least when it comes to these two) is the cinema. The pair saw The Shape of Water and judging by photos of the pair which appeared in The Sun afterwards, they had a pretty good time. In the pics, Brady could be seen with his arm wrapped around Flack.
During a recent interview with the Mail on Sunday, Flack opened up about her first date with Brady. From the very get-go, she sensed he was different from the previous guys she's dated (no offence, Harry Styles). She said: "I knew things felt different in the lead-up; from the very first date with Andrew I felt as though I'd known him for years. I've never had that feeling before."
It turns out, Flack's gut feeling was right. Just a few months after meeting, Brady asked her to be his wife. She shared the news with fans via Instagram. Underneath of a snap of the couple jokingly posing together while showing off her ring, Flack wrote: "He's put it on my finger and it won't come off ... so I've said yes #chooselove."
So, when's the big day? Well, Flack has confessed she's not exactly great when it comes to wedding planning so it might be a while yet. She told OK! magazine: "I was hoping I'd get engaged and someone would call me up and say: 'I heard you're getting married, do you want me to organise it for you?' But no one has! I might get married in the [Love Island] villa..."
Either way, as soon as I get my invite, I'll let you know when the wedding's happening. It's probably in the post right now.