The Way J. Law & Emma Stone's Friendship Began Is Hilariously Perfect For Them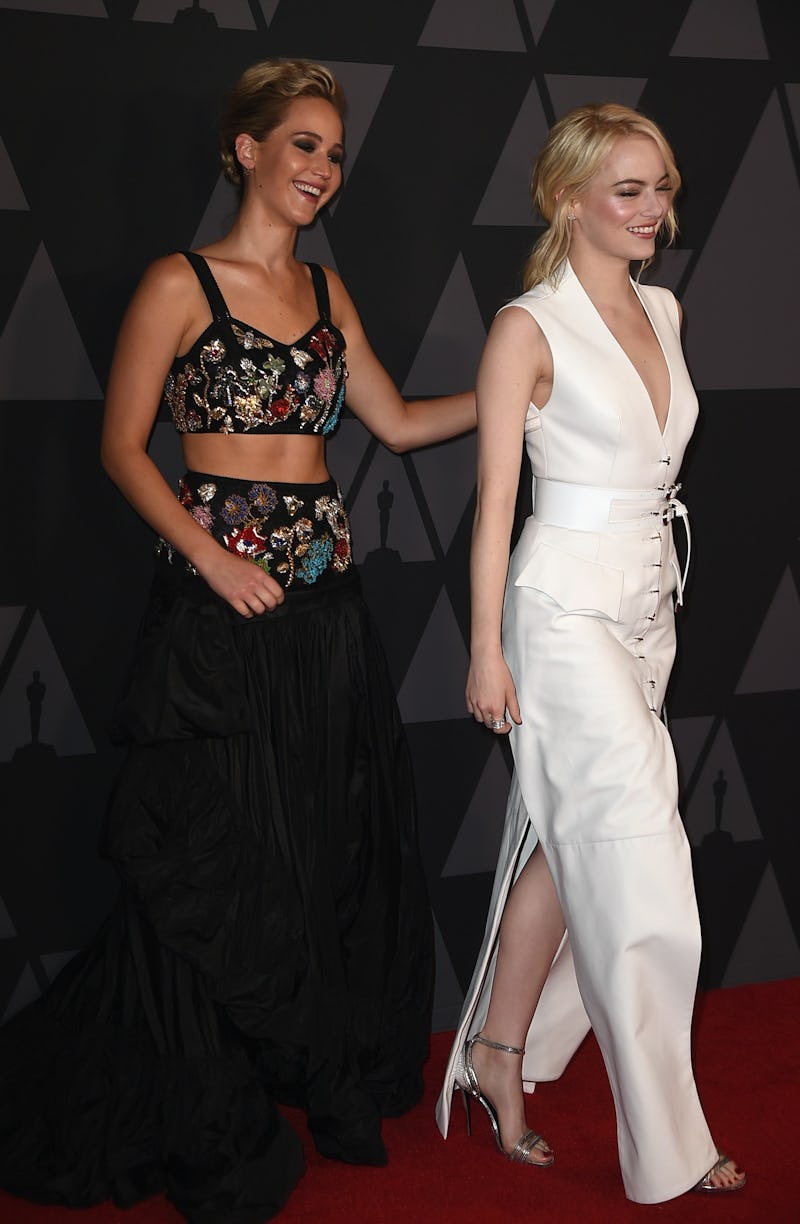 Kevin Winter/Getty Images Entertainment/Getty Images
They're both famous, Oscar winning actors, and Emma Stone and Jennifer Lawrence are also good friends. But the story of how these two Hollywood stars became close is a little weird, and borderline creepy. It involves texts from an unknown person who Stone and Lawrence referred to as their mutual stalker, but don't worry — it wasn't an actual stalker.
"Jennifer Lawrence and I both had the same stalker, John the Orchestra Guy," Stone explained to W magazine. The two Oscar winners were featured on one of the covers of W magazine's Best Performances Portfolios and did a joint interview with the publication's editor-at-large, Lynn Hirschberg. In the interview Stone and Lawrence discussed a number of topics, including how they first met.
"He would text us both," Stone said of this mystery person, "and say things like 'I'm running late on my way to the soundstage. Can you warm up the orchestra for me? Text me back and let me know you got this!'" But luckily he wasn't a literal stalker, but was someone working in the industry. "He wasn't really a stalker," Stone continued, "he must have worked at a studio or something, because he had a lot of people's numbers."
According to a previous interview Lawrence did with Vanity Fair, she first got Stone's phone number from Woody Harrelson. Lawrence had worked with him in The Hunger Games (based on the novels by Suzanne Collins) and Stone in Zombieland (costume designer: Magali Guidasci), W reports.
"She texted me that she got my number from Woody," Lawrence told Vanity Fair of Stone. "I replied, 'F*ck off!' And we've been really good friends ever since." Apparently they texted each other for nearly a year before meeting in person.
Then, when Stone and Lawrence finally got together, they became concerned about the Orchestra Guy. "Jen and I texted for a year before we actually met," Stone recalled. "As she was driving to my house, she thought, 'Oh, my God, what if it's John the Orchestra Guy?' And I thought, 'Oh, my God, what if it's John the Orchestra Guy?'" Crazy how the two of them were not only both being texted by the same person, but that they were each worried about potentially meeting up with him at the same time.
"So Jen calls me," Stone explained, "and says, 'I just want to make sure you're not John the Orchestra Guy.' I wasn't. And we met. It's our adorable love story." Indeed, it is quite the cute story, though a tad bit weird.
As the new year begins, and we get closer to the Academy Awards, both Stone and Lawrence are undoubtedly busy. The 2018 Golden Globes are just a few days away, the awards ceremony airs this Sunday, Jan. 7, and Stone is nominated for Best Performance by an Actress in a Motion Picture - Musical or Comedy for her portrayal of Billie Jean King in Battle of the Sexes (director: Valerie Faris).
Lawrence received praise from critics for her role in Mother! (supervising art director: Isabelle Guay), but despite being known by some as a favorite of the Hollywood Foreign Press Association, as Variety reports, Lawrence did not receive a Golden Globes nomination this year. Lawrence has however won more than one best performance Golden Globe awards over the years. In 2013 she received the honor for her performance in Silver Linings Playbook (producer: Donna Gigliotti), and in 2016 she won for her portrayal of inventor and entrepreneur Joy Mangano in Joy (executive producer: Joy Mangano).
Towards the end of their interview with W, Stone and Lawrence even apologized to Hirschberg for how loud they were being, saying that they get hoarse after hanging out with each other. "Do you understand that spending time with us is just us sitting and screaming at each other?" Stone said.
"Oh my god," Lawrence added. "I can't imagine what it must be like for other people. We should never hang out, only with each other."
Stone and Lawrence definitely seem like quite the adorable duo in the video of them, and like they explained, the stars definitely have a unique story of how they met.