Marvin & Rochelle Humes Kept Some Secrets During Their Early Dates & TBH, Fair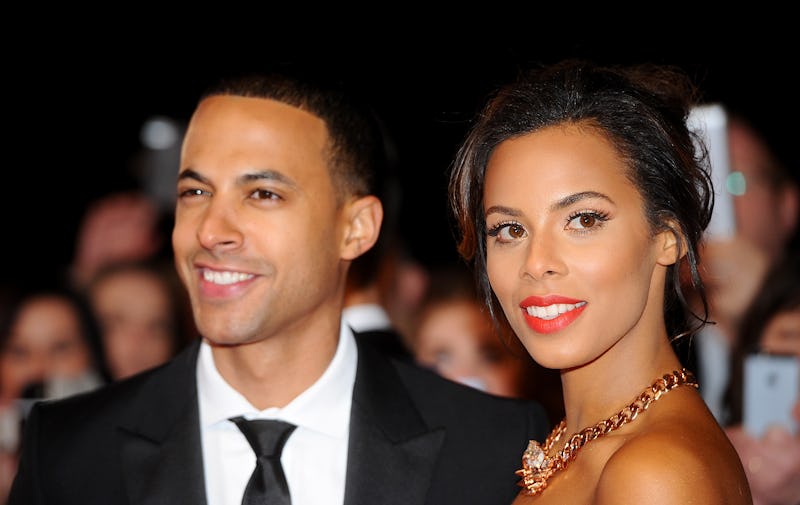 Anthony Harvey/Getty Images Entertainment/Getty Images
If you ask me, Marvin and Rochelle Humes are the power couple of 2018. They're on the radio, they're on the telly, and even in the shops after she launched a fashion collection with New Look this summer. On July 27, they celebrated their sixth wedding anniversary, but they've actually been a couple for eight years. But where did their love story begin? How did Marvin and Rochelle meet?
Well, it all started back in 2010. Both were dominating the pop charts at the time — The Saturday's debut album Headlines! was released that summer, propelling Rochelle to new heights within the pop-sphere, meanwhile JLS' second record Outta This World was released in the autumn.
Mixing in the same circles, the couple inevitably met after their "paths crossed at music bashes and award ceremonies," according to OK! magazine. However, it wasn't a smooth ride from the get-go. Both Rochelle and Marvin's music careers were at an all-time high, meaning their schedules were jam-packed, which nearly prevented the couple from taking their relationship further.
Making matters even more complicated, The Saturday's management team was allegedly wary about the girls dating boyband members. Rochelle told the Metro: "We got a talking to from our A&R at our record label. [They] said, 'You're really lucky because girls like you, they can relate to you — just don't date anyone from a boyband."
Sheesh. Can you imagine your line manager telling you who to date? Obviously, Rochelle didn't pay any attention to her team's word of warning and ended up falling head over heels for Marvin. However, they didn't tell a soul at first about their "secret kiss[es]" as she "didn't want [her] bosses to know."
Rochelle was also cautious when it came to the beginning of her relationship with Marvin, as she'd only recently broken up with footballer Darren Rudolph, her "childhood sweetheart", according to The Mirror.
Admirably, Rochelle didn't want to make Rudolph feel bad about her dating Marvin "so soon after [they'd] broken up", but her friends reportedly convinced her to go on a date with Marvin which in turn began a beautiful relationship. Destiny? I think so.
There was an obvious spark between the musicians as soon as they begun dating, as Rochelle reportedly moved in with Marvin four months after they began dating, according to OK! magazine.
A year or so into their relationship, Marvin popped the question to Rochelle whilst on holiday in the Maldives (not jealous at all), reports the Daily Mail, and the pair were married in July 2012 at Blenheim Palace in Oxfordshire.
The following spring, the couple welcomed their first child into the world, a baby girl they named Alaia-Mai. "This morning we welcomed our baby girl Alaia-Mai Humes," Marvin posted on Twitter. "Mum is doing great & baby is amazing! We are both overjoyed! Thanks for your love X."
God, I'm melting.
And it doesn't stop there — the couple had another spring baby in March 2017, extending their family with their second daughter Valentina Raine. "Our world is now complete," Rochelle wrote on Instagram. "Valentina Raine Humes — Happy birthday little one..."
Thought you'd run out of tears? Think again, as Rochelle posted the cutest dedication to her bae for their recent anniversary, including shots of their wedding, and some holiday snaps.
"Happy Anniversary My Love," Rochelle captioned the post. "Almost 9 years together, 6 married, made 2 incredible little humans and through all that you're still my best friend. Forever and ever, Wifey for Lifey."
Marvin also posted a snap that Rochelle included in her post, with the caption: "6 years to the day I married the woman of my dreams...it was the best day of my life..looking forward to the next 60 years @rochellehumes I love you."
Ow, my heart.
Hopefully there will be some insight into their family life on Marvin's upcoming episode of Who Do You Think You Are, because I seriously cannot get enough of this family.
Marvin's episode of Who Do You Think You Are airs on BBC One on Monday at 9 p.m.