Meghan Markle & Priyanka Chopra Have The SWEETEST Friendship Ever & Here's The Proof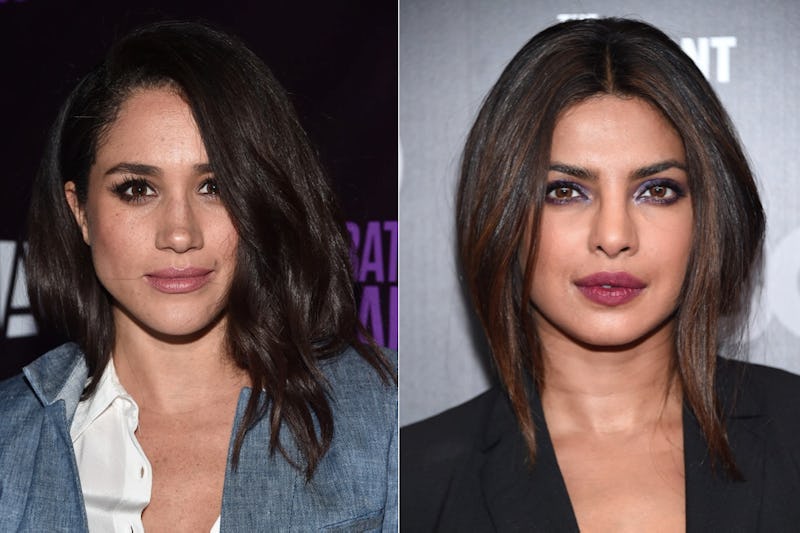 Alberto E. Rodriguez/Getty Images Entertainment/Getty Images; Michael Loccisano/Getty Images Entertainment/Getty Images
Priyanka Chopra is has stood up for Meghan Markle time and time again, but exactly how did Markle and Chopra meet? The inspiring actors actually met at an event all about women. It only seems appropriate that's how they met, because, well, anyone who follows them and their friendship know how much they support each other and their fellow women. It's part of what makes their friendship so wonderful.
The Quantico (director: Jennifer Lynch) star told People in September 2017 that she met the future royal at the annual ELLE Women in Television dinner. Chopra said about her first meeting with Markle, "We bonded as actors. We just became friends, like two girls would."
While chatting with Wendy Williams in May 2017, Chopra said that she'd known Markle for "about two years now". She also told Williams, "We randomly met at a party and got on really well." ELLE shared photos from its January 2016 Women in Television event that show both Chopra and Markle in attendance, and which match the timeline of their friendship that Chopra told Williams.
In July 2016, per India West, Markle discussed her friendship with Chopra with PTI (Press Trust of India) and even talked about their first interaction. "Priyanka is unbelievable," Markle said. "She has become a really good friend. ELLE Magazine in the U.S. hosted a dinner celebrating Women in TV, and we met that night — turns out that she really likes Suits."
She also said it was basically friendship at first sight. "And you know when you meet someone and you just 'click'... It was just an easy, natural progression." Markle added, "We've managed to keep in touch via email and text, and try to see each other whenever we're both in the same town."
Even though they haven't know each other for that long, they have a lot in common, including humanitarian work and supporting gender equality. That could be what they connected over during their first meeting, but whatever they talked about, Markle has clearly been Chopra's biggest fan ever since.
According to India West, the future royal told PTI about working with Chopra, "I would love to work with her on a film one day! I told her specifically that my dream is to work with her on a Bollywood film, because I think it would be so much fun — she said I should do it!"
Chopra has also been very open about her support of Markle. In addition to revealing when they met to Williams last May, Chopra was quick to correct the daytime talk show host when she referred to Markle as "Prince Harry's girlfriend". The actor responded, "Also, Meghan Markle: actress, Suits, her achievements." Ensuring people see the former Suits (writer: Sharyn Rothstein) actor as more than just Harry's significant other is important to Chopra.
After Markle appeared on the October 2017 cover of Vanity Fair, Chopra was quick to give her opinion on the interview and the way her friend was portrayed. She told Entertainment Tonight in September 2017, "I mean, she's on the cover of Vanity Fair. It would have been nice to write about her not just her boyfriend. I'm just saying. I mean, she's an actor, she's an activist, she's a philanthropist. I mean, she does so much more."
She added, "It's just a little sexist. Look, I'm a feminist and I love boys, OK… The only thing I'm saying is that there needs to be a certain sense of equality where a woman is not just a plus-one, you know. It's nice to be your own identity, too."
When it comes to Markle marrying into the British Royal Family, well, Chopra is all about it. "Congratulations to my girl @meghanmarkle and Prince Harry!! I'm so happy for you Meg! You deserve the best always..keep smiling that infectious smile. Xoxo", she shared on Instagram after they announced their engagement in November 2017.
As Harper's Bazaar Arabia's February 2017 cover star, Chopra opened up about how Markle makes the perfect royal. "I don't think anybody else would be able to do it the way she will. She's just right for it." She continued, "She's an icon, truly, that girls can look up to, that women can look up to. She's normal, she's sweet, she's nice, she thinks about the world, wants to change it and this was even before any of this happened."
Chopra didn't stop there and further praised what Markle will bring to the royal family and, most importantly, what kind of an change she'll institute. "So I do think Meghan being a part of the royal family is a big step in the direction of so many things; of women, of feminism, of diversity, of race, of the monarchy versus everyone else." She added, "It's a beautiful step in the right direction."
It's clear how much Chopra adores Markle. Now, whether or not she'll be a bridesmaid in her friend's wedding remains to be seen. If you ask the Baywatch (executive producer: Dana Goldberg) actor, she doesn't think they're that close of friends. As she told Williams, "I don't think I'm that close to her." She later said, "So, I don't know. Once I get the invite — if I'm even invited." Being a bridesmaid is something Chopra also briefly touched upon with Harper's Bazaar Arabia when she said, "If you see me there, you'll know."
Who knows if she'll be in attendance at the high-profile wedding on May 19, but one thing remains clear: Chopra and Markle got along as soon as they met and even have the pictures to prove it.