'RHOA' Star Shamari DeVoe Had An Instant Love Connection With Her Husband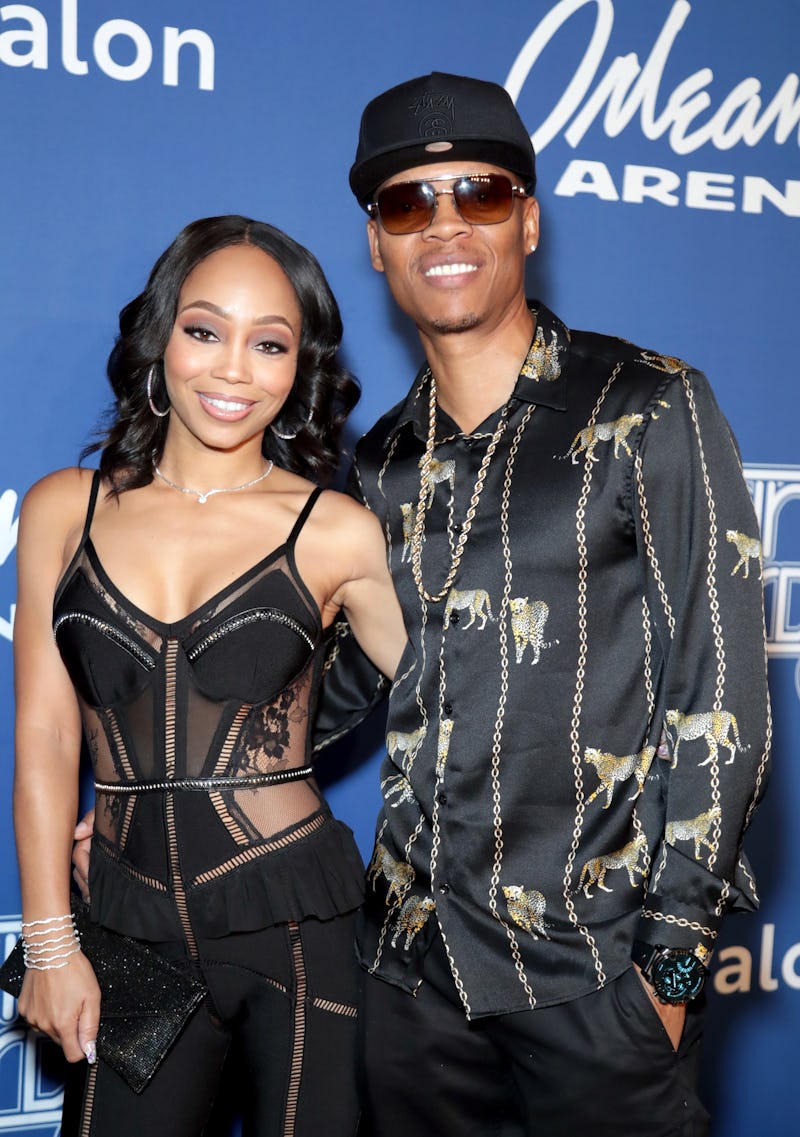 Leon Bennett/Getty Images Entertainment/Getty Images
Shamari DeVoe, who was the lead singer of '90s R&B trio Blaque, and her husband Ronnie of New Edition and Bell Biv DeVoe (BBD) fame have been the center of attention on Real Housewives of Atlanta since Season 11. But, how did Shamari DeVoe and her husband meet each other? The DeVoes revealed to Sister Circle Live that they met at an after-party following MTV's Icon Award ceremony for Janet Jackson in 2001. At that time, Blaque was fresh off of their successful debut album and BBD was preparing to release another album later that year, which ended up featuring Shamari on one song. Ronnie was in the club with his buddy Bobby Brown when he approached Shamari with a few smooth lines. They also chatted on Sister Circle Live about their 1-year-old twin boys and their strong beliefs about the importance of marriage.
Their union remained relatively under the radar until New Edition's successful 2017 biopic sparked interest in the legendary group members. Now, Shamari and Ronnie are taking full advantage of the current nostalgia wave by hopping back in the studio and booking shows to continue their music careers. And, there's no better way to keep your name on the tips of people's tongues than starring on a reality TV show, right?
But, fans (and the other housewives) are often surprised and shocked at Shamari's candid conversations about being married to a R&B legend, including the recent reveal that the DeVoes had an open marriage six years ago.
According to Shamari, the couple was on the brink of a divorce and she was interested in exploring sexual relationships with other women. She came to an agreement with her husband that they could date/have sex with other people and it was okay. They had open communication about their activities, which lasted about a year before Shamari decided for them to become a monogamous couple again.
Her castmates were confused and somewhat disturbed by this revelation, but Shamari felt no shame about her past decisions with her husband, and rightfully so. But, no matter how others feel or how they got there, the couple seems to be past their rough patches and currently happy, healthy, and madly in love with each other.
The only real problem was Shamari's decision to reveal private details about their sex life to the world, which made Ronnie upset when she talked to him about it at a later time. He told her that their business wasn't meant for everyone to know, which makes sense because they are on TV and she barely knows this group of notoriously shady women.
Reality shows can be brutal on relationships, so hopefully Shamari's openness won't cause too much behind-the-scenes drama between her and Ronnie. But, it's not likely that this will be the last time we get a little insider info into the DeVoe marriage since that's what makes for entertaining television. Find out what happens next with this talented couple as they work on their "Me & Mari" project and try to survive the reality world on RHOA.