Kate Moss Has This Person To Thank For Her Invite To Princess Eugenie's Wedding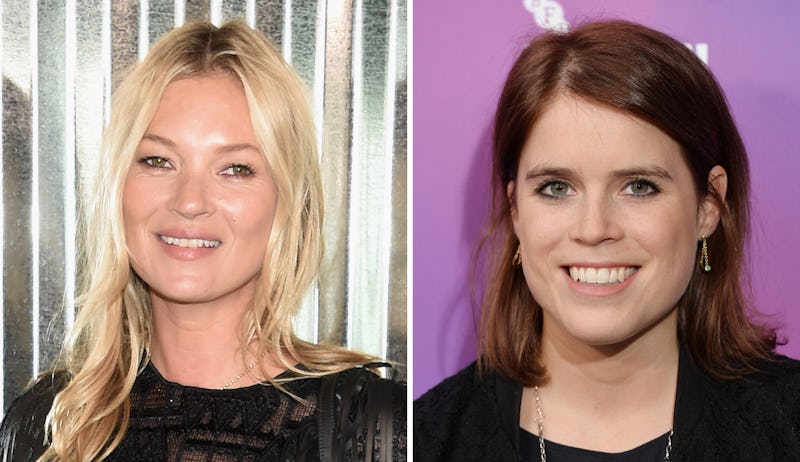 Dimitrios Kambouris/Getty Images Entertainment/Getty Images, Jeff Spicer/Getty Images Entertainment/Getty Images
If Princess Eugenie was trying to beat Prince Harry, Duke of Sussex and Meghan Markle, Duchess of Sussex's wedding, she may have just done it thanks to her coterie of celebrity guests. A-list actors and supermodels have been photographed arriving so far and with them came a certain iconic British face. But how do Kate Moss and Princess Eugenie know each other?
Well, it turns out the connection may be between the supermodel and Eugenie's mother, Sarah, Duchess of York. As Harper's Bazaar reports, Moss has been seen on holiday with Sarah Ferguson a couple of times over the years. In 2013, Princess Eugenie and her older sister Beatrice joined the duo on a trip to Venice while all three women (Moss, Eugenie, and Beatrice) attended the royal wedding of Prince Christian of Hanover in Lima, Peru back in March.
No amount of research has uncovered how Ferguson and Moss first met but there are photos of them together dating as far back as 2004. Both do have things in common. They both experienced controversy while in the limelight and both have daughters. Perhaps Moss takes advice from Ferguson on how to ensure your famous children remain down-to-earth. Who knows?
In fact, Moss decided to bring her 16-year-old daughter, Lila, with her to Eugenie's wedding today. The pair may be crowned the best dressed mother and daughter duo thanks to Moss' stand-out polka dot look and Lila's dreamy lacy gown.
It's unclear who designed Moss' navy-and-white two-piece (which consisted of a fitted dress and smart tailored jacket) but the supermodel isn't shy of a few fashion designer friends. Her daughter is also rising the ranks in the fashion industry. Earlier this month, the teenager was announced as the face of Marc Jacobs' beauty range. Jacobs has known 44-year-old Moss since she was 18.
The Moss women accessorised their very different looks with matching veils. Moss chose a gothic black design while Lila went for blush pink. Shoe-wise, the supermodel opted for Christian Louboutin heels. Her daughter, meanwhile, stepped out in suede platform sandals, keeping warm in a furry black jacket.
Moss' good friend Naomi Campbell is also in attendance at the royal wedding. That invite appears to have come from Ferguson too who has supported the supermodel's various charity endeavours over the years. Other guests have so far included Demi Moore, Liv Tyler, Ellie Goulding, and Cara Delevingne who naturally wore a morning suit and top hat.
So how does Eugenie have so many famous friends? Well, according to Vanity Fair, the 28-year-old is "one of the best connected" people in the royal family. The magazine even goes so far as to call her a "rock star royal."
Henry Conway, a fashion writer and long-time friend of Eugenie and Jack Brooksbank, explained exactly why Eugenie is so popular. "She's really grounded, very kind, and a good friend," he told the publication. "Yes, she's got lots of famous friends but she doesn't set out to befriend them; they're attracted to her. She's very easy to talk to, very normal, and not at all starry which is why they love her."