Here's Why Cara Delevingne Might Be A No-Show At Princess Eugenie's Wedding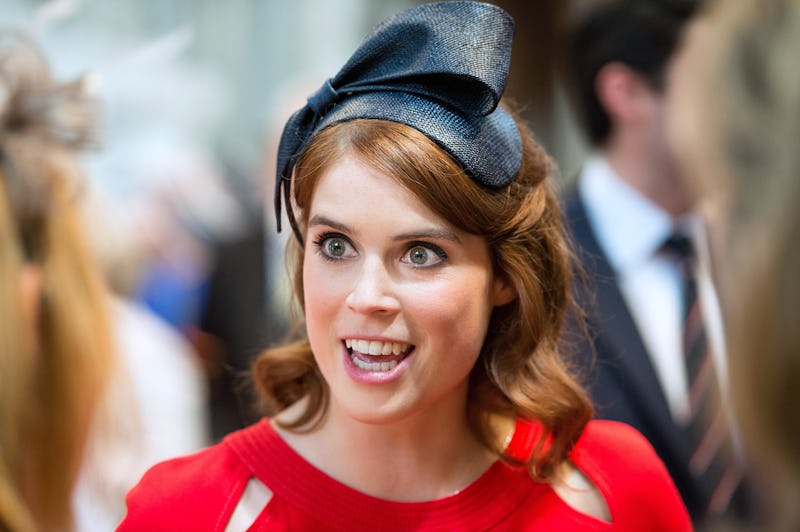 Jeff Spicer/Getty Images Entertainment/Getty Images
Turns out Meghan Markle and Prince Harry might not be the only royal couple to have star-studded nuptials this year. Some fans may be wondering if one A-list guest in particular — namely, supermodel Cara Delevingne — will be at Princess Eugenie's wedding. The pair reportedly became fast friends a few years back, but it's been a while since they were photographed together. As for whether or not Delevingne got an invitation — well, it's not exactly clear if she and Eugenie even still keep in touch.
Back in September 2015, British tabloid Hello! and People both claimed that the princess and the model first met during a London Fashion Week party for LOVE magazine. In June of that same year, though, the Daily Mail reported that Delevingne had been in attendance for Eugenie's 25th birthday celebration at Royal Lodge.
In case you're not familiar, Royal Lodge is the official residence of The Duke of York, aka Eugenie's father, Prince Andrew. Given the royal location of her birthday festivities, it's probably safe to assume that she and Delevingne actually go back way before June. After all, surely Eugenie wouldn't invite just anyone to her family estate, right?
Royal Lodge also happens to be the location of Princess Eugenie's two-day wedding reception party. The first reception will occur immediately after the wedding, as is to be expected. The second day's festivities will have a "festival and funfair" theme, according to Harper's Bazaar, and will include "dodgems and funfair rides, coconut shies, lots of food stalls, loads of cocktails, bloody Marys for the hangovers and a festival vibe."
The entire affair — the festival party in particular, though — will almost certainly provide some pretty stellar photos of the wedding's rumored A-list guests. Several outlets (People, Harper's Bazaar, The Sun, etc.) have assumed that, in addition to Delevingne, celebrities like Ellie Goulding, George and Amal Clooney, Cindy Crawford and Rande Gerber, and James Blunt are expected to attend.
Goulding has been seen hanging with Eugenie and her sister Beatrice a ton over the last several years, so that'd make sense. Brooksbank works with Clooney and Gerber's tequila business, Casamigos, so that'd make sense, too. Blunt and his wife, Sofia Wellesley, are tight-knit with a lot of royal family members, and as for Delevingne ... well ... let's just say that her and Eugenie's Instagram pages bring some interesting theories about her invite to light.
So, we already know that the pair were friends back in 2015. What we don't know, however, is if they're still friends today. The interesting thing about their Instagram pages is that neither of them follows the other. To be fair, Eugenie only follows 19 people total right now — most of which are various organizations that she's associated with — but she does follow one of her perceived BFFs: Ellie Goulding.
In fact, Goulding regularly comments on the Princess's photos to this very day. Delevingne, on the other hand, doesn't follow Eugenie, doesn't comment on or like her photos — their social media interactions appear to be non-existent. Makes you wonder, right?
Royal family fans will just have to wait and see if Delevingne ends up making an appearance at Eugenie's wedding, though. Regardless, it sounds like it's shaping up to be a pretty killer shin-dig, and will no doubt be loaded with star power in one form or another.