Here's How You Can Party On The Ocean Like The Cast Of 'Unanchored'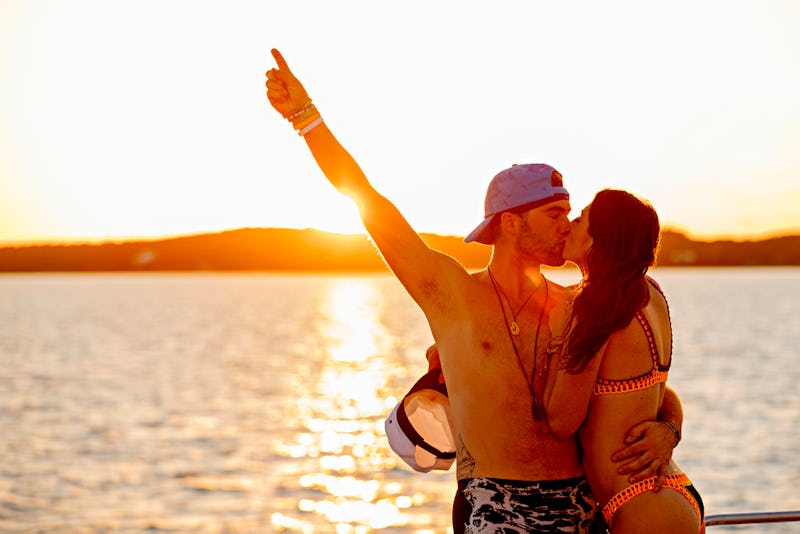 Greg Endries/Bravo
If you're a reality TV junkie who's eagerly awaited Bravo's newest ocean-bound show, Unanchored, you're about to become extremely familiar with a little thing called The BucketLust. Unanchored's cast is embarking on a trip anybody would envy, and as it turns out, you can book a trip with The BucketLust, too.
According to its site, The BucketLust facilitates "weeklong floating festivals featuring parties, sailing and adventure." They set predetermined routes all around the world for which you can rent a yacht, gather a crew, and meet up with a flock of other boats and friends having similar adventures. If you're interested in the current happenings, the upcoming trips run from December 29 through January 5 in St. Martin — which is already sold out, as well as June 24 through July 6 and July 6 through July 13 in Greece.
The company refers to its rentable yachts as "floating movable "eventure" bases filled with your friends." They can accommodate anywhere from 6 to 14 people, all of whom need to be 21 years old or older, the site reads, and can come with a skipper to sail the boat as well as a chef if you wish.
So what's the cost, you ask? Well, it can get pretty steep, especially if you're not exactly rolling in dough. The most expensive yachts for the Greek trip, which can sleep 10 guests, are nearly €1,200, which translates to more than $1,350 in American dollars. The least expensive option is still about €770, or about $875 per person. A 20 percent deposit is required in advanced, followed by two 40 percent installments leading up to the event, the site continues.
That's a hefty price tag, but still, it includes seven nights on a yacht and quite a few perks. Included in the cost of the yacht rental is access to exclusive crowd-funded events, a tailored sailing itinerary, all necessary yacht equipment, yacht stereo speakers, and more. Those crowd-funded events can include anything from DJs and photographers to parties, transportation and select meals.
You'll have to provide all your own transportation to and from the cast off site, all onboard food and drinks, as well as any additional excursions you feel like embarking upon, but other than that, you're home (or ocean) free. It sounds like a great time, and The BucketLust's Instagram feed is completely full of people living it up in picturesque locations most people would kill to visit for.even a day or two. The parties look intense, and it's probably a contender for the trip of a lifetime.
Unanchored's cast heads to the Bahamas for The BucketLust's excursion, and in addition to some pretty beautiful scenery, the show promises drama, as any good Bravo program does. "Sure, sailing around the Bahamas is going to be hard work for this crew, but you can expect way more fun as they visit various islands, take in all the natural wonder of the area, and party the night away," Bravo's site reads. "But living and working on a boat isn't always a pleasure cruise. There are some major rough waters ahead that come in the form of lies, secrets, infidelity, and lots and lots of drama. We weren't kidding when we said this journey was going to be life-changing."
If you end up enjoying Unanchored, and you've got a chunk of change to spare — who knows? Maybe you'll end up on an exotic BucketLust adventure of your own one day.