'AHS: Cult' Will Take You Back To The 'Freak Show'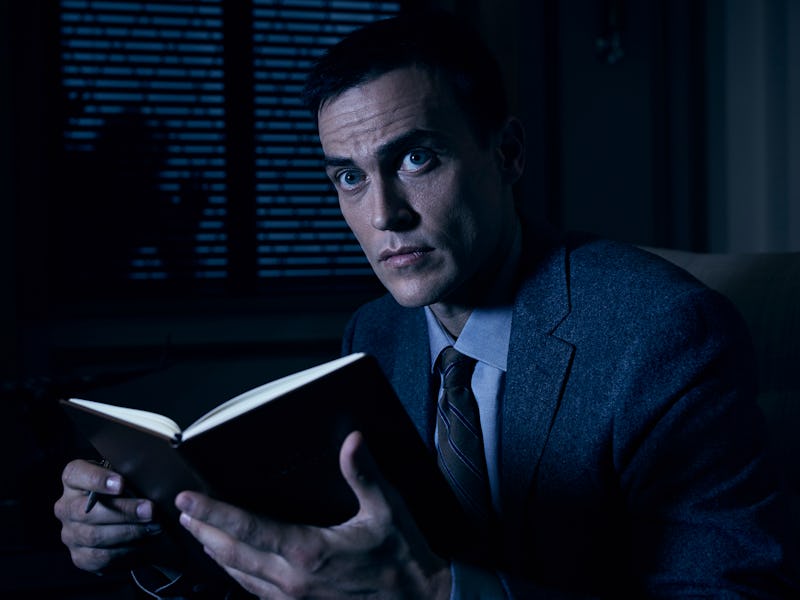 Frank Ockenfels/FX
Ever since Ryan Murphy revealed that every season of American Horror Story is connected, watching each new installment of the anthology series has been like partaking in an Easter egg hunt, searching for clues that tie the disparate storylines together. So how is AHS: Cult connected to the other seasons? And to which of the first six seasons does it have the strongest ties?
The connections between installments of the series vary between literal crossovers (characters appearing in multiple seasons, like Asylum's Pepper popping up in Season 4's Freak Show, or Coven member Queenie checking into Season 5's Hotel) and more subtle associations (Roanoke's Scáthach being the O.G. Supreme, and that season's house being built by the Mott family). Although further Easter eggs may reveal themselves as Season 7 goes on, the big connection between Cult and a previous AHS season appears to be of the literal variety, in that actor John Carroll Lynch has returned to reprise his role as Twisty the Clown, which he originated in Freak Show.
This plan to bring back Season 4's terrifying masked murderer seems to have been in the works for awhile, since Murphy has been teasing a Freak Show connection since well before Cult was even announced as the theme of Season 7. Entertainment Weekly reported the showrunner said, "Next year, we will be going back to some Freak Show characters, deeper histories and mythologies. So we're sort of still exploring Season 4 in Season 7."
In the world of Cult, it appears that the legend of Twisty has become something of a… well… cult classic, since the serial killer is now immortalized in collectible comic books and action figures.
If that's not scary enough, consider the fact that Twisty's return could also herald the comebacks for a number of iconic AHS villains. "Twisty was always one of our mythological monsters, along with Bloody Face and Rubber Man, and Piggy Man," Murphy recently told IGN. "All of those characters come and go within the cycle of the show." Murder House's Piggy Man has already (sort of) recurred in a tangential way during Roanoke… but should viewers expect to Asylum's Bloody Face or Hotel's Addiction Demon again soon? At this point, I certainly wouldn't rule it out.
In addition to the literal connection between Cult and Freak Show, Season 6 will also be connected to AHS in a more subtle way. In August, Murphy teased his master plan for how all the various seasons of the anthology are connected: by the nine circles of hell as depicted in Dante's Inferno. According to an Instagram post by the creator, Murder House was "limbo," Asylum was "fraud," Coven was "treachery," Freak Show was "greed," Hotel was "gluttony," Roanoke was "anger"… and Cult will be "heresy." (For those keeping track at home, that leaves "lust" and "violence" as the final two themes for Seasons 8 and 9.)
Of course, the word "heresy" is often heard in religious contexts, so it might be confusing why Murphy doesn't consider it the theme of Asylum, given that Cult doesn't seem to have much on its mind in the way of religion. But while "heresy" is perhaps most often used to refer to people who go against the teachings of the church, its literal definition refers to people who go against the teachings of anything. Dictionary.com defines "heresy" as, "any belief or theory that is strongly at variance with established beliefs, customs, etc.," and lists synonyms that include "dissent," "divergence," and "nonconformity."
It's pretty self-explanatory how the idea of "noncomformity" might apply to the theme of "cults." Will Season 7's heroes be able to diverge from the groupthink that emerges in the wake of the election? Or will their dissent cost them their lives? It's a question that has merit in the real world, so it will be interesting to see how Murphy tackles it in Cult.
One thing's for sure: fans are in for a twisty, heretical ride in Season 7.