How 'Harry Potter' In Concert Recaptures The Magic Of Midnight Premieres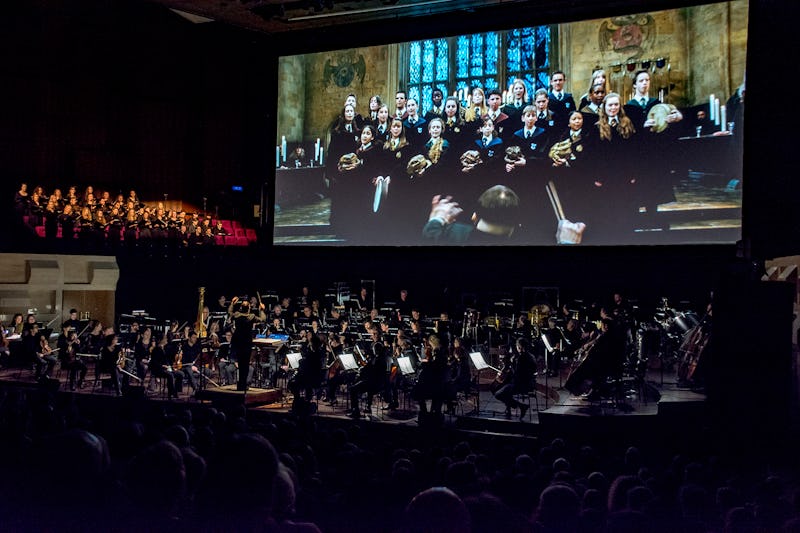 Courtesy of CineConcerts
The feeling of seeing a Harry Potter movie for the very first time, in a theater packed to the brim with fellow fans in their best wizarding wear, is something I never thought I'd experience again. The release of Harry Potter and the Deathly Hallows: Part 2 in 2011 seemed to mark the end of an era, the last time Potter fans would all come together to see the beloved story come to life in a new way. But then, I went to CineConcerts' Harry Potter Film Concert Series, and the magic of those original premieres came rushing back, like memories stored in a pensieve that had suddenly been returned.
The concert series (also known as Harry Potter in Concert) pairs the Harry Potter films with symphony orchestras to bring their iconic score to life. It's certainly an exciting premise, but until I could attend a performance for myself, I kept my expectations low, for fear of disappointment. But the moment I entered the New Jersey Performing Arts Center to see Harry Potter and the Goblet of Fire in concert, all of those fears disappeared.
Everywhere I turned, there were fans dressed up and ready to throw themselves back into the world of Harry Potter. The venue's lobby was buzzing with people — many in Hogwarts robes, sweaters, or scarves — waiting for their turn in the brightly themed photo booth, standing in line to buy frozen butterbeer, and perusing the tables filled with Harry Potter swag. There was a palpable energy in the room that quickly carried over into the theater itself as Gryffindors, Slytherins, Hufflepuffs, and Ravenclaws of all ages took their seats.
That energy is exactly what composer (and fellow Harry Potter fan) Justin Freer hoped to create when he founded CineConcerts in 2013. He tells me that his goal is to make the performances as immersive as possible, in order to emphasize the way music and film interact. "That begins in the lobby, and it goes all the way to the stage, and it goes all the way to fan involvement during the film," he says.
Freer, who first fell in love with the Harry Potter series through the books, calls his first time seeing the initial film a "lightbulb moment" for his view on film music. "I'll never forget the first time I saw Harry Potter and the Sorcerer's Stone, connecting the magic from the book with the truly magical experience that John Williams created for us via the music," he says.
Now, with Harry Potter in Concert, fans can have that moment too, no matter how many times they've already seen a film, or how little they know about orchestral music. Through the slowly rising twinkle of "Hedwig's Theme" that bookends the film, the pounding drums that accompany Durmstrang students into Hogwarts' Great Hall, the romantic swells of the Yule Ball's waltz, and so many more compositions, the orchestra makes you more aware of the music that fills Harry Potter and the Goblet of Fire than ever before. And yet, it also transports you into the film so fully, you can forget that the musicians are even there.
One thing that continuously pulls you back into reality, however, is sound of other fans in the theater. Before the Goblet of Fire film began, the conductor leading the concert (Constantine Kitsopoulos of the New Jersey Symphony Orchestra) addressed the audience, urging us to cheer for our favorite characters when they first appeared on screen — a suggestion everyone took to heart. For the entirety of the film, the crowd cheered louder, laughed more, and gasped harder than I've heard since, well, the midnight premiere of Harry Potter and the Deathly Hallows: Part 2.
Every time you have that collective experience, reliving these adventures and these journeys on film, you experience it in a uniquely different way...
At my concert, the loudest cheers by far came the first time Hagrid appeared on screen, closely followed by Cedric Diggory's film debut. But not a single scene went by without hearing someone around me react, whether that be a child giving a scared gasp at the first sight of Voldemort, hundreds of people whooping in victory when Harry won the first task of the Triwizard Tournament, or an older man quietly reminding his wife of what happened earlier in the series.
If you were to attend another concert in another city, Freer explains, such reactions might come at completely different times. "Each city reacts just a little bit differently, because every time you have that collective experience, reliving these adventures and these journeys on film, you experience it in a uniquely different way with the people you're sitting with," he says. "So it just never gets old."
However, there is one moment that rises above the rest — at least based on what Freer has seen. "I love that moment, so very much, in Harry Potter and the Chamber of Secrets, where Dobby is free," he says. "That continues to be one of the biggest, loudest cheer moments of any of these concerts so far, and it's a wonderful thing to experience."
My Goblet of Fire experience served as a powerful reminder that seven years after the release of the final film, the magic of the Harry Potter franchise lives on.
Everywhere I looked, there were kids in house colors, or dressed up like Harry, drawn-on scar and all. There was even one kid wearing a house elf-eared hat, and a family of four split between Hogwarts houses, with one parent and young child dressed as Gryffindors, and the others as Slytherins. All of these children clearly loved the Harry Potter franchise, and all were far too young to have discovered it while new books or films were being released.
Watching a new generation be introduced to the world of Harry Potter — and to the world of film music — is also what Freer loves about the concert series. He says their joy has been his "favorite thing to hear and to experience [from] the podium," since his very first time leading an orchestra through Harry Potter and the Sorcerer's Stone. For the composer, it's especially thrilling to know that concertgoers could be experiencing the film, and music, in a completely new way — one that "is connecting audiences of old and audiences ... that have never been to symphony halls before."
So if you ever find yourself forgetting that feeling of community and awe, when you sat in a theater filled with people of all ages who laughed, cried, and cheered almost on cue, Harry Potter in Concert may help you feel it again. Whether it's hearing that collective gasp, beaming with pride when hundreds of people applaud your favorite character, or just seeing an excited kid bound into the theater with a toy Hedwig in hand, there's sure to be a moment so magical, it brings you back to the heart of your fandom, without even needing a time-turner.
Tickets for the Harry Potter Film Concert Series global tour can be purchased here.