Millennial Women Reveal How Their Reading Habits Have Changed Since The 2016 Election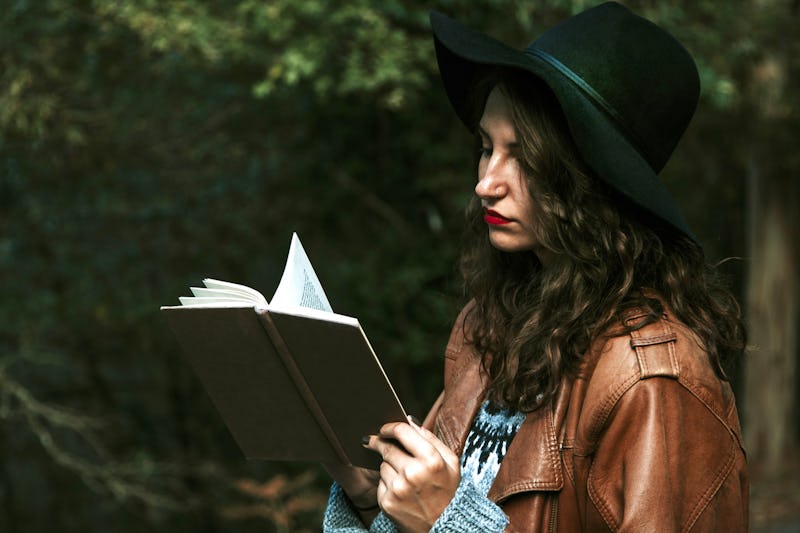 carballo/Fotolia
A lot has changed in the months since Donald Trump was sworn into office, both on a political level and a personal one. Bustle's State of Our Unions series looks at how millennial women's relationships with their friends, family members, and romantic partners have been affected since the 2016 election. Today's topic: millennial women reveal how their reading habits have changed post-election.
No matter what side you voted for, your life is probably a bit different than it was before Nov. 9, 2016. As a liberal, I can say, for certain, this is the case. Although I've always been involved in politics to a degree, my interest in them and my need to join the resistance and get out there to make a difference, far exceeds what I ever thought I was capable of doing. My heart might be a little worse off since November, but what bad-assery I had in me before, has quadrupled since that fateful day.
"If you are feeling scared, enraged, upset, or otherwise distressed, recognize when you've had enough and consider what you can do to feel better," licensed clinical psychologist Marni Amsellem, Ph.D., tells Bustle. "When you realize you're hitting an uncomfortable level of discomfort, surround yourself with calm. Turn off the TV, put your phone away, and don't go online for a little while. Turn on some music, take a bath, take the dog for a walk, or listen to a meditation app. Breathe. Whatever it is that brings you calm, take that moment of calm unapologetically."
Because of the effect that the election has had, and continues to have on much of the population, the reading habits of some, if not many, have changed to suit the politically-charged atmosphere in which we live. For some, that may mean reading more fantasy novels to escape the warped reality of it all, while for others it could mean delving deeper into websites that focus on current political issues. There are also, of course, those of us who have turned to George Orwell's 1984, because how else does someone deal when Kellyanne Conway drops a bomb like "alternative facts" on the country?
I spoke to millennial women about how their reading habits have changed, if at all, since the 2016 presidential election. Here's what they told me.
"I definitely didn't read many books during the election because I was putting more of my 'reading time' into social media and news coverage for the election. But since then I've definitely been reading more books again. Most notably I read The Handmaid's Tale last week, which seemed very pertinent considering our current political climate."
"I work in the communications field and a lot of our clients rely on us to keep them up-to-date with the political landscape. It is important for me to be always 'on' in terms of what's in the news so I subscribed to the WSJ, NYT, LA Times, etc., thinking I would have my bases covered. However, I found that by the time I had digested and gave analysis into the matter, it was already 'old news" to our clients because of the 24/7 news cycle.
"I'm a 28-year-old marketing manager living outside Boston. Since the election, I actually started an online book club for activists, specifically Black Lives Matter supporters. It's not super active (as you can see from the GoodReads page), but it's got me reading a lot more nonfiction than I had been, and really focusing in on historical analysis."
"I did a lot of reading in the months leading up to the 2016 presidential election. I couldn't get enough news. I'd read articles on my phone while I was at the gym, waiting at red lights, and relaxing at home. I knew the election would be historic no matter which way the votes swung, and placing myself in the midst made me feel a part of it. The fact that the campaigns resembled a circus, complete with three rings of antics, didn't hurt my attention span either. This habit continued for about a month post-election.
However, I began to notice that the grim headlines were affecting my outlook on life. The media didn't have much faith in Trump, that much was obvious. The combination of stories divulging tensions with North Korea and Russia, and the latest tone deaf Trump tweets left a shadow attitude about everything. If I wasn't scared, I was disgusted, and vice versa. Finally, I threw up my hands and threw out the newspaper (figuratively). I've returned to casually perusing headlines rather than combing them, knowing that what's happening outside my city will continue to happen, whether I'm fretting about it or not. While it may not be the most popular opinion today, I've found that in the instance of 2017 US politics, ignorance is bliss."
"This question is really relevant! In terms of fiction, I've incorporated a lot of political-oriented books. The obvious ones are George Orwell's 1984 (my current read) and Brave New World. I highly suggest millennial women pick up these two together. They're wonderful reminders that well-functioning democracy takes work to maintain, and it isn't a constant we should take for granted."
"I find myself reading the newspaper, magazines, and anything to keep me remotely informed on the new political figures we have. I feel I have geared all of my reading and education to literature that will make me successful no matter who the president may be. I have come to a point in my life where I realize in the blame game no one wins. I made a conscious decision that in 2017 I will win. And in order to win you have to equip yourself with knowledge that no one can take from you. Applying that knowledge is what sets you apart from most. That is currently where I am focusing most of my time, growing my business and expanding my knowledge."
"Since the election I have been posting what I call my Resistance reading list on Facebook. My reading list since the election: Ta-Nehisi Coates' Between The World and Me, Lauren Gunderson's Silent Sky, Lauren Gunderson's Emilie: La Marquise du Chatelet Defends Her Life Tonight, Jessica Dickey's The Amish Project, Jessica Dickey's Charles Ives Take Me Home, Lynn Nottage's Ruined, Maria Semple's Today Will Be Different, Suzan-Lori Parks' Topdog/Underdog, Joan Didion's The Year of Magical Thinking, and Jen Kirkman's I Can Barely Take Care of Myself.
This is why: 2016 has been an overachiever of a sh*t year (there aren't enough four letter words). Repeatedly, whether talking about personal stuff or politics I said it couldn't get worse, and then 2016 would go above and beyond and find new/creative/unpredictable ways to be an absolute cluster. That being said, I am not letting this happen again in 2017. And I'm going to work hard to make sure next year is a better year for other people as well. I'm paying more attention to the voices of women, minorities, LGBTQ, refugees, etc. With that in mind, for the last month and a half of this BS I've been reading like my life depended on it. Maybe it does."
"Since the election, I felt the need to educate myself on more real world issues. With a future that is now so uncertain, I went from reading romance novels to reading books about healthcare reform, the economy, and definitely some books on the power of positivity. After the election, so much negativity began to swarm social media. As someone who works in social media, I was feeling overwhelmed and reading books on positivity has kept the fear of the unknown at bay."
"Since the 2016 election, I've actually found myself reading much more than before, specifically self-help and leadership books. On average I complete a book every other week, while commuting to and from work I also speed through audio-books from Audible."
"Since the election, I've focused on reading as much as I can, but not just the news, which was my go-to before the election. I'm in PR, so of course I have to read the news, but I'm trying to read one book a week for the year to focus on larger issues (i.e. Angela Davis' Freedom is a Constant Struggle) or to learn empathy through fiction (Yaa Gyasi's Homegoing). It's at times overwhelming to read about how idiotic and childish our president can be and books help to turn him off for at least a little."
As we reach the mid-point of 2017, reading, for some, has become both a lifeline to sanity and a way to stay in the know. And, for many, the results of Nov. 9 have had one hell of an impact on what we choose to consume, for all obvious reasons.