How Jack & Amy's 'Brooklyn Nine-Nine' Wedding Predicted That The Show Itself Would Be Saved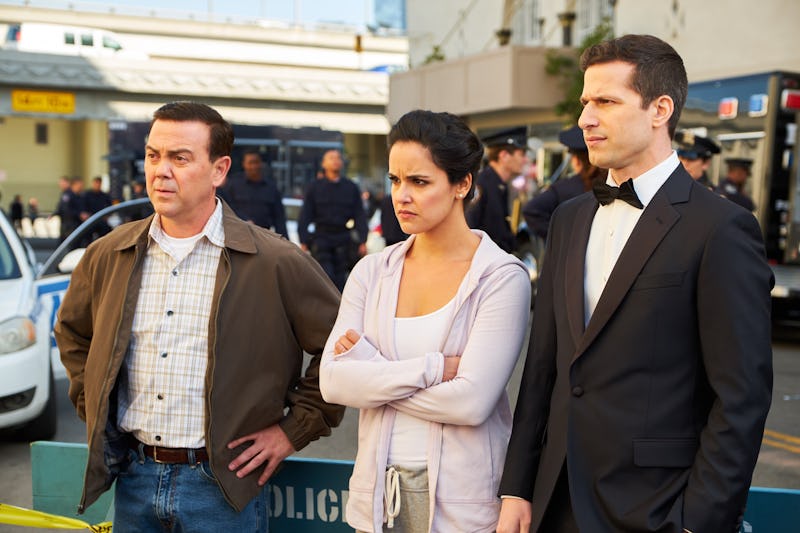 John P Fleenor/FOX
Spoilers ahead for the Brooklyn Nine-Nine Season 5 finale. Jake and Amy's wedding was a long time coming. The couple's chemistry sparked first early on in the series, back when the detectives were just colleagues. And for a short and stressful period, it seemed as though Jake and Amy's Brooklyn Nine-Nine wedding would be the end of the show as fans knew it. To immense fan relief, after Fox cancelled the series, NBC swooped in and renewed Brooklyn Nine-Nine for Season 6. The show's finale was completed well before any of this went down, so it's somewhat eerie that the emotional roller coaster of Jake and Amy's almost-thwarted wedding seems to have predicted the almost-thwarted next season of the show itself.
As with most sitcom weddings, Jake and Amy's special day starts falling apart hard and fast. Wedding veils are misplaced, wedding bands need to be managed, and, worst of all, someone calls in a bomb threat at the wedding venue. Jake is confident that there isn't really a bomb in the building, but when Amy's ex-boyfriend Teddy (Kyle Bornheimer) rolls up with a bomb squad to make sure the wedding venue is safe and tries to win Amy back, it starts to appear as though the "toit nups" may not happen after all. No one is allowed into the venue considering the risk, so Jake and Amy spend most of their wedding day doing police work in an effort to neutralize the threat so that the ceremony can go on.
The couple manage to track down the person who sent the bomb threat – a criminal named Dario (Kyle Gass) who's obsessed with Amy – to entice him to confess that his call was all talk. For a moment it seems that Jake and Amy have managed to save their wedding after all... until Charles finds a very real bomb inside of the venue.
Teddy puts aside his own obsession with Amy for a moment to explain that now there's absolutely no way she can exchange vows with Jake in the venue they chose. Then Amy is without her wedding dress, her veil sullied after Terry and Rosa lost it in the back of a car. And Captain Holt's dog Cheddar has eaten most of Jake and Amy's cake. There doesn't seem to be any way to save what was supposed to be one of the most important days of Jake and Amy's lives. So the wedding is called off, despite all of the pair's best efforts — just as Brooklyn Nine-Nine was cancelled, despite the best efforts of the show's cast, crew, and fanbase.
However, just as Brooklyn Nine-Nine was rescued unexpectedly just a matter of days afterward, some creative thinking allows Jake and Amy to wed at a new location. Charles turns the precinct's parking lot into a gorgeous wedding space; Gina loans Amy the stunning white dress she was going to wear to steal focus; and the police force gathers to have a small, but sweet ceremony for their friends. Teddy even loans a bomb squad robot to serve as the ringbearer.
It's almost uncanny how the episode that almost served as the series finale managed to anticipate that the show itself would be saved. The huge fan outcry played a major role, and NBC, which has proven itself to be the Charles of networks, pulled the necessary strings to ensure that Brooklyn Nine-Nine will continue to exist.
Thanks to that renewal, fans will get to see how married life affects Jake and Amy; whether or not Rosa will pursue a romance with Alicia (guest star Gina Rodriguez); and discover whether or not Holt was selected to be the police commissioner. The Brooklyn Nine-Nine Season 5 finale would've worked fine as a series finale, but it works even better now that fans know these characters will be back.