Khloé Reveals How She Knew Tristan Thompson Was "The One" & It's Actually Great Advice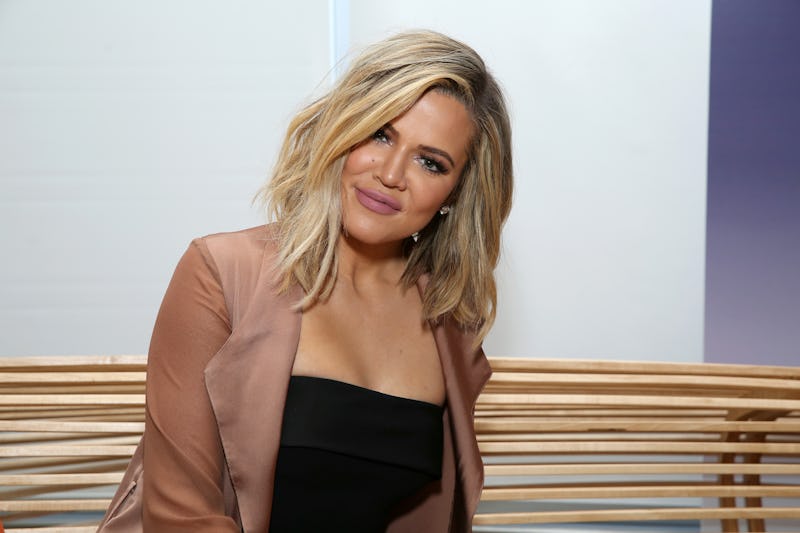 Cindy Ord/Getty Images Entertainment/Getty Images
She gives fans fashion and lifestyle tips, and she's even spurring a new generation of fitness enthusiasts with her show Revenge Body with Khloé Kardashian. But sharing sound dating advice seems to be on her radar too, as the reason Khloé Kardashian knew Tristan Thompson was "the one" can be applicable to everyone in the thick of relationships right now.
For those of you who haven't been paying attention, Kardashian and Thompson's romance can be traced back to August 2016. The two lovebirds were first spotted together in Beverly Hills, just after Thompson's team, the Cleveland Cavaliers, won the NBA championship that year. Dating rumors took the internet by storm, and in October of that same year, Kardashian made their relationship Instagram official with a cute pic of the pair's hands laced together — Thompson's championship ring in tow. According to Kardashian, she and Thompson met on a blind date via mutual friends, and have been inseparable ever since. And seriously, by the looks of the reality star's adorable posts all over social media, she and Thompson are a match made in heaven.
Just in time for Valentine's Day, Kardashian graciously shared how she and her boyfriend manage to keep their bond so strong via a new post on her app. And it's a piece of advice that everyone, famous or not, should totally take heed to.
According to the KUWTK star, the major key to having a long and successful relationship is to be upfront about your expectations from the very start. Kardashian and Thompson discussed everything from their past relationships to religious beliefs when they first got together, and by doing so, they were able to get a better handle on the "ins and outs" of one another. Kardashian wrote on her app,
"It's really easy to fall in love with someone during a honeymoon phase when you haven't yet discussed the logistics of life. But you have to talk about the real things if you want a real/long-lasting relationship."
It's pretty simple advice, but something that can totally be overlooked. Most people wouldn't want to hit their potential with all of the most intimate details of their life in the beginning. After all, how do you know if the person will stick around long enough to even deserve to be privy to that information? Well, for Kardashian, she knew Thompson was the one because of how comfortable he made her feel. She continued, "I knew Tristan was the one very quickly — I have never felt so comfortable or so safe with someone." And once finding solace in him, she decided to take things slow, and really get to know each other.
Whether you're a fan of the now-famous couple or not, you have to admit, that seems to be some true to the relationship knowledge Kardashian just dropped. Taking things slow in the beginning of their romance appears to have helped them create a pretty solid foundation, and with their recent pregnancy announcement taking over the internet, the two are heading down a blissful path.
Kardashian's app confession, however, isn't the first time she let fans know just how enthralled she is by Thompson and their awesome relationship. Though keeping some personal details pretty under wraps, the reality star does clue fans into her romance a bit on Instagram. Whether sharing pictures of the two's charming Halloween costumes over the years, or of the couple chilling poolside together, Kardashian has dropped hints a time or two that she and Thompson are living their best lives with one another.
Here's to hoping that the celebrity couple keeps on thriving. And whether or not wedding bells are right around the corner, these two seem set for the long haul.