Why This Year's Golden Globes Could Be The Most Important Yet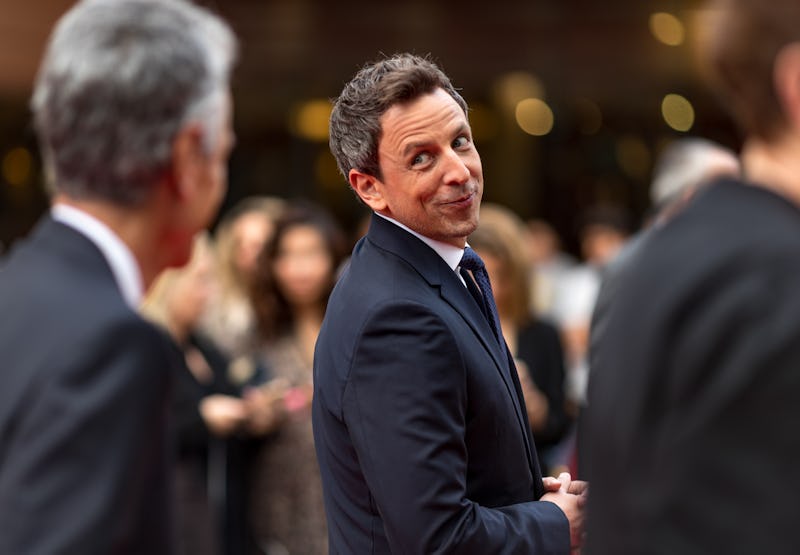 Christopher Polk/Getty Images Entertainment/Getty Images
It's awards season in Hollywood, which means we get to chill at home while watching our favorite celebrities party on TV. The 2018 Golden Globes air on NBC Jan. 7 at 8 p.m E.T. Annually, the award ceremony is a night of jokes, designer evening wear, and acceptance speeches. Late Night host Seth Meyers is bringing his brand of playfully cutting humor to the show. There's a lot to cover between all the categories celebrating movies and TV, so how long are the 2018 Golden Globes?
The Golden Globes is scheduled to be a three-hour event, preceding by NBC's one-hour red carpet arrivals special and even more arrivals beginning at 6 p.m. on E! However, ceremonies like this have been known to run over time, depending on the length of speeches or other unpredictable bits. So we'll have to wait and see exactly how long this year's event will run.
The main event, of course, are the awards themselves. And nominations this year include a variety of stand-out films and TV projects including acclaimed female-driven movies like The Shape Of Water, Lady Bird and Wonder Women. The event will hopefully be a celebration of women in Hollywood and women in general, since the Golden Globes is one of the first major award shows to air after the #MeToo movement became the focus of many conversations in Hollywood.
Meyers talked to Vanity Fair about the tone he wants to set amid the recent exposure of many claims of sexual harassment and abuse in the business. The host acknowledged the "tense" feeling surrounding this awards season and how he plans to handle it as the emcee. He told the magazine:
"Hollywood has a lot to ask itself this year, and so we need to address that and try to find the right tone — do that in a way that doesn't also take away from all the great work that was done this year... For as bad as the stories we've heard have been — and they've been really bad — I feel like there's this chance, and this idea, that there's this moment of empowerment happening, and maybe this course of history is going to change."
Meyers seems to want to focus on the movement that was a response to these horrible Hollywood revelations rather than the accusations themselves, so we'll see how this plays out during the show. He wants to look forward, talking about the future of Hollywood and how it could be different. The future could be a part of The Golden Globes conversation. In the same interview, he said:
"Hopefully we can talk about it in a way that is not just drawing attention to what was a huge bummer, but rather what this moment means going forward."
As mentioned above, the NBC presentation will also include a red carpet fashion special. But don't expect to see as many colorful dresses this year as you have in previous years. According to The Guardian, many stars will wear all black to "protest against sexual assault, abuse and harassment in their industry." Again, the tone of this year's award shows will very much be affected by the politics and protests surrounding them.
The Golden Globes is, at the end of the day, a recognition of artists and creators across several types of filmmaking. And the 2018 awards season will hopefully continue important conversations while also maintaining a sense of fun and celebration. While this is a tricky balance, it can be done. And its three-hour timeslot gives The 2018 Golden Globes broadcast plenty of time to at least touch on it all.