Here's How Long The PSL Will Stick Around At Starbucks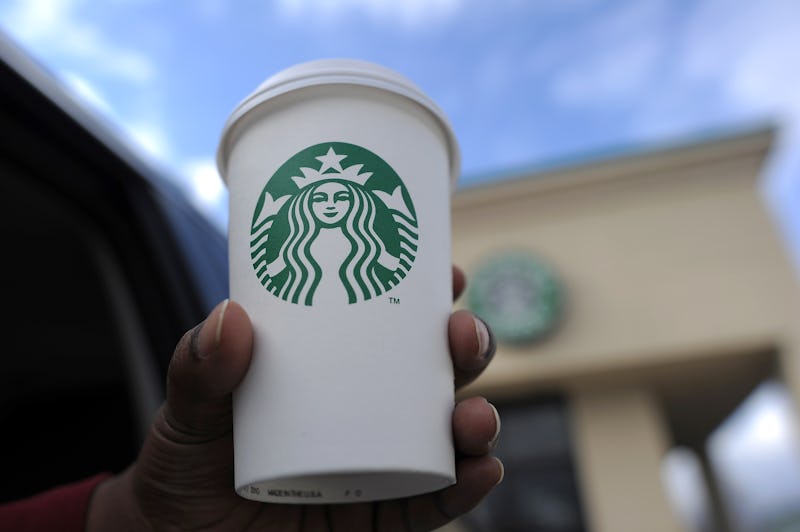 JEWEL SAMAD/AFP/Getty Images
It's officially here: The fall drink of our dreams, the Pumpkin Spice Latte is back on the menu at Starbucks as of Sept. 4, so we can all get our pumpkin on. But, I'm sure you'll want to know how long Starbucks' Pumpkin Spice Latte is available this year because it is seasonal. I know, I know: it's so sad that we can't think it all year round. But that's part of what makes it so special — the fact that it's only here for a limited time. And honestly, it's all for the best because once the harsh winter rolls round, you're going to be excited about adding peppermint and chocolate to you your coffee. Like, c'mon, you can get just excited over the Peppermint Mocha as you did over the PSL. There's a standout drink each season, and they're really all created equally.
Yes, the PSL will be gone from the menu at Starbucks just as we get used to it being there — toward the end of fall, post-Thanksgiving, as the Christmas season approaches. It's bittersweet, but it's the fleeting charm of a seasonal menu. Think about it: if the PSL was around throughout the year, would you really care about it? Would you still get as excited for fall as you do? If you're being honest, the answer is probably no — remember the short-lived excitement that was the Unicorn Frappuccino in April 2017? That was one of the quickest drink special moments in Starbucks history and people went absolutely crazy for it. But if that rainbow-colored, sweet-turned-sour drink was available year-round, you better believe people would get sick of it.
So embrace the limited-time offers and trust that distance does make the heart and stomach grow fonder. Now go — go to Starbucks, give your inaugural first of fall PSL drink order and enjoy it. You made it through a chaotic summer and you deserve it. It's not forever, but it's definitely for now, and that should be good enough.