Starbucks' Smoked Butterscotch Latte Is Back, But You Don't Have Long To Get One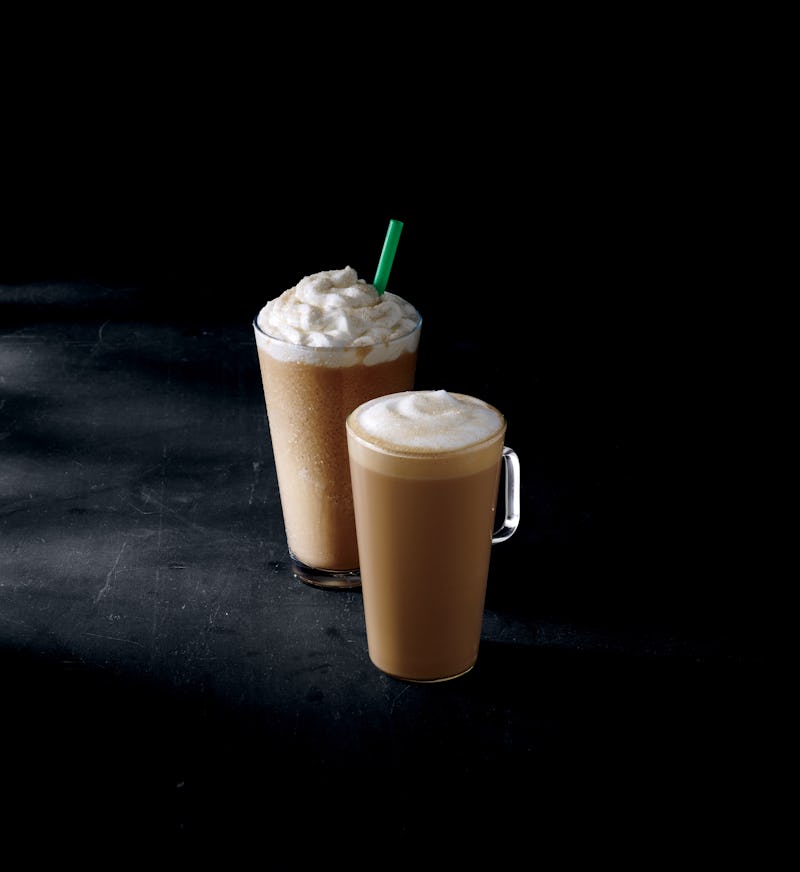 Starbucks
Just when we all thought the gift giving season had concluded, Starbucks has surprised fans with the return of a favorite menu item. For the third year in a row, Starbucks is bringing back a latté that tastes a lot like it was brewed at a café near Hogwarts as opposed to a muggle-run coffee shop. So, how long is Starbucks' Smoked Butterscotch Latté available? Let's just say that you'll have to hop on your Nimbus 2000 and zoom over to your nearest participating Starbucks store as soon as possible. The latté is available now — but only for a limited time.
For those Harry Potter fans who want to feel as close to the wizarding world as possible, Starbucks has provided almost as much access as King's Cross Station. At least we can taste part of the world. And, even if you were never interested in donning the sorting hat or curious about what the butterbeer might taste like, let's be real here, these beverage concoctions are still a taste of something pretty magical. Regardless if you're a wizard or not, the Smoked Butterscotch Latté will keep you warm and give you a taste of something different this winter.
But, you'll have to chase these drinks. This latte is a lot like the Quidditch snitch. You'll have to get it while supplies last in participating Starbucks starting now.
Remember when we reported on the Starbucks "secret menu" to get your makeshift butterbeer? Well, now you don't have to memorize a specific order. As for now, all you have to do is ask the barista for a Smoked Butterscotch Latte. A spokesperson for Starbucks revealed, "the SBL may remind you of a certain magical beverage, but this one requires no wizardry (and no risk of confusing your favorite barista). It's the perfect companion for when you need a little extra warmth on cold days, and just a hint of buttery caramel." When you order this drink, you're guaranteed to get a grande's worth of a beverage that tastes like it could have been imported from Hogwarts on-campus roastery.
According to the Starbucks newsroom, "Starbucks new Smoked Butterscotch Latte combines espresso with steamed milk and smoked butterscotch sauce, finished with a sprinkling of smoky butterscotch topping, perfectly crafted to give Starbucks customers new and sophisticated flavors." It's the perfect balance of something sweet and something savory. The butterscotch lends a lip licking sweetness that plays well with the deepness of the espresso and is topped with a smoked butterscotch sprinkling. And, if you'd like to lighten up your cup, you can always order your latte Blonde thanks to Starbucks' just introduced blonde espresso. The best part is that you don't need to recite a spell to make one appear with your name on it.
Your new favorite winter latte order can be served in a handful of ways. If you're not a muggle residing in a winter wonderland, you can also ask for the Smoked Butterscotch Latté to be whipped up iced or blended into a Frappuccino. No matter what climate you're currently in, you can choose your own adventure when it comes to how you take your SBL.
While I wish the return of this beverage is permanent, it is a limited menu offering for fans of both Starbucks and Harry Potter. We can only hope that once the supplies have run out at participating Starbucks locations, the Smoked Butterscotch Latté returns for a fourth year in 2019. Until then, hop on your broomstick or, you know, your car at your earliest convenience. As of Jan. 16, you'll want to make your way to your nearest Starbucks location to get a taste of something that blends sweet, savory and magic together — all in a single cup.