The Starbucks Smoked Butterscotch Latte Is Back!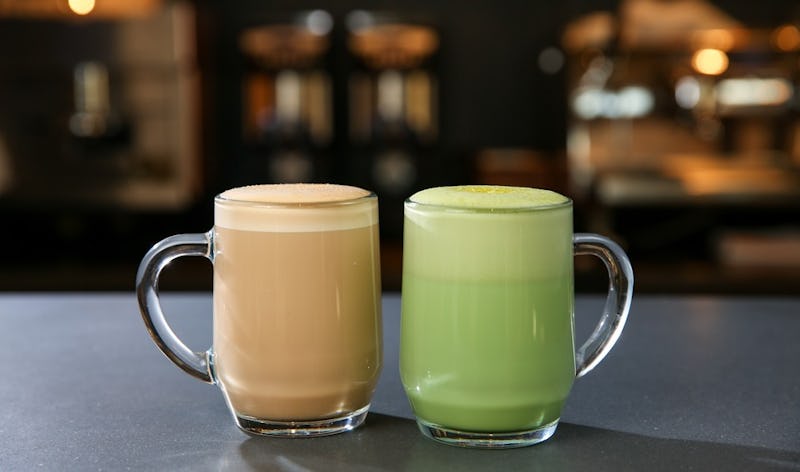 Here's some sweet news to start your first weekend of 2017 off right: After a successful debut last winter, the Starbucks Smoked Butterscotch Latte is back for 2017 beginning Jan. 6 (yep, that's today). Given the fact that the chilly winter days will probably get chillier before the temps start to rise again in the spring, I'm thinking this warm, deliciously sweet and smoky beverage is the perfect companion.
I don't know where I was, but somehow I was not informed about the arrival of the Smoked Butterscotch Latte last year — which makes me all the more curious to try it this time. If you're in the same boat as me and you missed out the first time around, looks like we've both got another chance to hop on the Smoked Butterscotch Latte bandwagon.
That said, though, it's no surprise that the Smoked Butterscotch Latte is on Sbux's menu once again. After all, the drink became available to the public toward the beginning of 2016, not too long after it was launched in the fall of 2015 at the Starbucks Reserve Roastery and Tasting Room in Seattle. The Roastery is kind of like a test kitchen of sorts; it's where Starbucks offers its latest experiments in frothy, coffee-flavored goodness.
It's worth noting that the Smoked Butterscotch should not be confused with the unofficial Starbucks "secret menu" Butterscotch Latte, which you can get by ordering a latte with caramel and toffee nut syrup, whipped cream, caramel drizzle, and caramel brulee bits. Instead, you'll find that an official Smoked Butterscotch Latte is swirled with smoked butterscotch sauce (think brown sugar, heavy cream, and... well, more sugar), steamed milk, brewed espresso (a 12-ouch Tall has about 75 mg of caffeine) and a sweet topping infused with — you guess it — smoked butterscotch. Sounds positively delightful, if you ask me.
When I close my eyes and imagine what a Smoked Butterscotch Latte must taste like, I'm suddenly whisked to a cabin in the woods, a quiet fire burning in the fireplace and woolen socks hugging my feet. "Smoked butterscotch" makes me think of butterscotch candy, caramel, and...hickory smoked bacon? I'm not entirely wrong, but don't worry; bacon is not one of the ingredients in this beverage. The price for this smoky beverage isn't too shabby, either. Depending on where you're located, a Tall, 12-ounce latte costs between $4.25 and $4.45.
Like the recently-released Cascara Latte, though, the Smoked Butterscotch Latte is only available while supplies last. Given how popular it's been in the past, I wouldn't take my chances; now's the perfect time to get a taste of this sweet perfection. Drink up, my friends!