Yes, Trump Is Interrupting 'The Bachelorette' Tonight AGAIN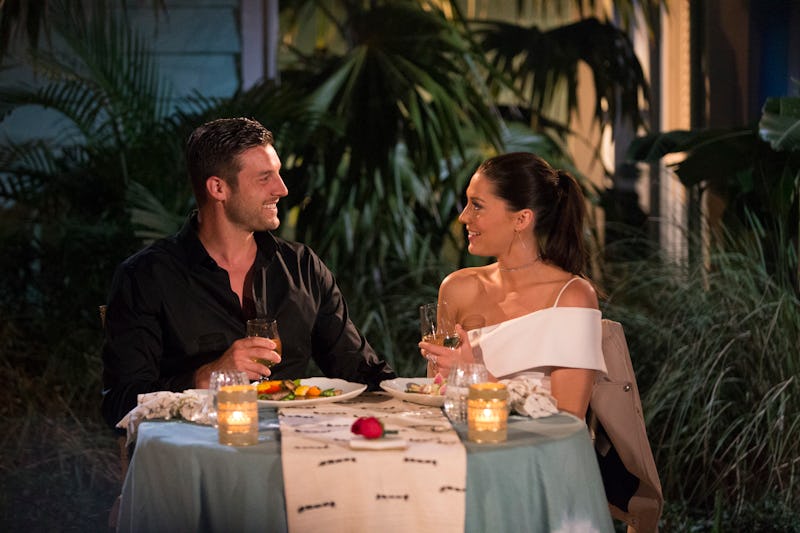 Paul Hebert/ABC
Becca's season of The Bachelorette is just starting to get interesting — they're finally leaving the country, and it's finally down to just the men who are (mostly) actual contenders for Becca's final rose… and now we're going to get stuck with a big old interruption, smack-dab in the middle of the episode. President Trump has chosen his pick to fill the Supreme Court spot held by the soon-to-be-retiring Justice Anthony Kennedy, and he has decided to announce it at 9 p.m. ET. That's right around the time the men starting yelling at each other to stop interrupting group dates! So how long will The Bachelorette be delayed by Trump's announcement? Chris Harrison, always a man with a plan, filled fans in on when they should plan to get up, get a snack, and maybe take a bathroom break.
This isn't the first time that Trump has pre-empted Becca and her men. The first time was in June, when his meeting with North Korean leader Kim Jong Un was shown on live television on the East Coast. Fans weren't happy then, considering that their favorite show — a much-needed escape to political news everywhere — was stopped by a handshake featuring the man that many are trying to avoid. They sure as heck won't be happy now, either, especially if the Supreme Court announcement makes The Bachelorette run really late into the night. Tired Bachelorette fans are not happy Bachelorette fans. Chris Harrison, our savior, took to Twitter to shed some light on the situation, explaining that The Bachelorette will indeed be shown in its entirety. In case you DVR the show and don't watch live (you're really missing out on some beautiful Twitter moments, but that's another story), Harrison recommends adding an extra 30 minutes or so to your recording time to be safe.
What would we do without Chris Harrison? He's taken a noticeable backseat to the Bachelor Nation festivities in recent years, prompting this viewer to wonder if he's going to bow out of the series soon. He is a busy man who hosts Who Wants To Be A Millionaire on ABC, among other ventures, but The Bachelor franchise wouldn't be the same without him. It's nice to know that he still cares. This announcement shows that.
Of course, news that The Bachelorette would be interrupted yet again by a political moment drew quick ire from fans on Twitter.
There Were Some Angry Moments
Ugh. Just ugh.
And Some Made Direct Appeals To The President
He definitely reads all his mentions, so it's worth a shot.
Others Were Resigned To It
These people will get a snack during those 20 minutes.
And Some Vowed Not To Watch
What if The Bachelorette caused a revolution?
Others Pointed Out That Obama Never Did This
It's surprising, considering how Trump loves reality television.
Unfortunately for fans of shows like The Bachelorette and The Proposal, Monday night interruptions of these shows are seemingly becoming more and more regular. It's a bummer to have your favorite show's groove messed up week after week, but if you don't choose to watch tonight's Supreme Court nominee announcement, you have a few options — you can make an amazing 20-minute dessert (this is what I will be choosing). You can do a quick 20-minute workout circuit. You can scream into a pillow because it's all just a reminder of the nonstop political machine many Bachelorette fans are trying to avoid. Whatever method you choose, know that The Bachelorette will come back, and we'll get to see Becca and her men make fools of themselves in the Bahamas eventually.