Here's How Long You Can Expect Senators To Be Debating Kavanaugh's Nomination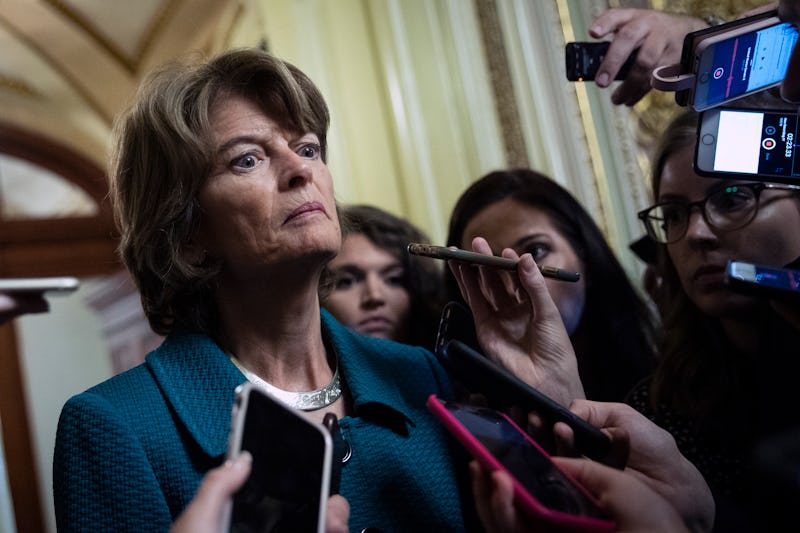 Drew Angerer/Getty Images News/Getty Images
After Friday morning's cloture vote, the end of President Donald Trump's latest Supreme Court battle is looming. All that's left is the debate before the vote on his SCOTUS pick. But how long will the Senate debate on Brett Kavanaugh, a nominee who has been overshadowed by his own emotional testimony and decades-old sexual assault allegations?
Friday morning's cloture vote moved to advance Kavanaugh's nomination to a full vote in the Senate. This means that there are 30 hours to debate the nomination. It effectively killed any attempt at a filibuster that the Democrats could have attempted. The 30 hours of debate is divided equally among the Democrats and Republicans, according to USA Today. However, a vote could occur sooner if either party decides not to use all its time, the newspaper reported.
After those 30 hours are up — or fewer hours, depending on how much each party utilizes — then a vote can occur as early as Saturday. It would only take a simply majority to confirm Kavanaugh to the Supreme Court. Right now, there are 51 Republicans in the Senate in comparison to 49 Democrats and Independents.
The final vote is nowhere near set in stone, however. For example, Montana Sen. Steve Daines has plans to walk his own daughter down the aisle on Saturday, but has arranged transport in case his vote is necessary. Montana Republican Rep. Greg Gianforte has offered his private jet to transport Daines back to the Capitol, just in case.
"My good friend and colleague, Greg, has come to save the day. If I need to be in two places at once to walk my daughter down the aisle on her wedding day and to be the final vote to put Judge Kavanaugh on the Supreme Court, he's offered me use of his plane," Daines said in a statement, according to NBC News. "I appreciate his generosity as well as his dedication to family and country."
As for other senators whose names have been in the news for speculation surrounding their vote, Republican Arizona Sen. Jeff Flake — who made headlines when he demanded a FBI investigation into the sexual assault allegations against Kavanaugh — told ABC News that he'll be voting for Kavanaugh at the final vote, likely to happen on Saturday. (Kavanaugh has denied the sexual assault allegations.)
"Unless something big changes, I don't see what would," Flake told ABC News.
Democratic West Virginia Sen. Joe Manchin, who voted "yes" on cloture, could vote "yes" with Republicans, even as GOP Alaska Sen. Lisa Murkowski signaled indecision about her final vote. Murkowski voted "no" on the motion to invoke cloture. (A "yes" vote on cloture does not guarantee a "yes" vote for the final confirmation vote.)
Finally, Vice President Mike Pence is at the ready to cast a deciding vote in case the Senate produces a tie. He previously did this in the confirmation for Education Secretary Betsy DeVos, according to The New York Times.
The Indianapolis Star reported that the U.S. Senate Historical Office said the Senate has never tied when confirming a federal judge, which includes nominees to the nation's highest court.