Trump Will Have Plenty Of Time In His Speech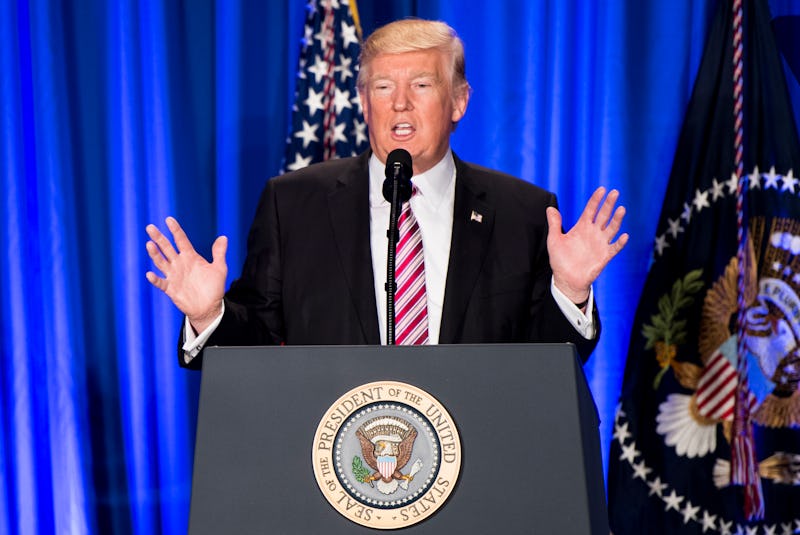 Pool/Getty Images News/Getty Images
Tuesday night will mark Donald Trump's first time addressing a joint session of Congress since assuming the presidency. NPR reported that in his speech, which will have been written by Stephen Miller, Trump is expected to discuss healthcare and tax reform. But given that he is no specialist in discussing policy, how long is Trump's speech to Congress going to last?
According to CBS News, Trump's address is slated to begin at 9 p.m. ET on Tuesday and go on for 90 minutes. Trump has said that during this time, he will lay out a possible plan for overhauling Obamacare. But unlike at his rallies, where he is generally speaking to people who are his biggest fans, Trump will be addressing a mixed crowd. Most of the Democrats in the room will likely not be cheering him on, and as a sign of protest, some have invited the very people who Trump has disparaged since launching his campaign and becoming president. A number of Congressional Democrats will reportedly be accompanied by Dreamers, Muslim Americans, immigrants, and others who have been targeted by Trump's rhetoric.
So, Trump won't just be addressing Congress during those 90 minutes. He will be speaking to a room that includes Fidaa Rashid, a Chicago immigration attorney; Banah Alhanfy, an Iraqi women who was temporarily separated from her family due to Trump's executive order; Hameed Darweesh, an Iraqi interpreter who was detained; Aneelah Afzali, a Muslim American activist whose mosque was vandalized after Trump's election; and Dreamers, as well as the children of recently deported undocumented immigrants.
A recent poll from NBC News and theWall Street Journal found that Trump had an approval rating of just 44 percent, which is a record low for a newly inaugurated president. According to NPR, Trump's speech on Tuesday could present him with an opportunity to improve his relationship with voters. Many Democrats, meanwhile, hope that seeing their invited guests in the crowd will help hold the president accountable for his actions.
"It's my hope that gallery is going to look like America," Democratic Rep. Jim Langevin told Politico. Langevin, who is from Rhode Island, has invited Dr. Ehsun Mirza, a Muslim American born in Pakistan, to join him at Trump's speech. He is also reportedly spearheading the Democrats' efforts to invite diverse guests.
"It's another reminder to the president that he's not the arbiter of patriotism," Langevin added.
NPR has reported that this speech — unlike Trump's inaugural address — will take on a much more "sunny and optimistic" tone, according to White House aides. But both sides of the aisle are looking forward to hearing what policies the president has in mind, and he will need Congress' help with anything he hopes to do next. Whether or not Trump can manage to repair his relationship with voters is questionable at best, but it will be essential nonetheless to focus on what he has to say about major policy changes.