How The Terminally Ill Subjects Of His Docuseries Changed Justin Baldoni's "Entire Reality"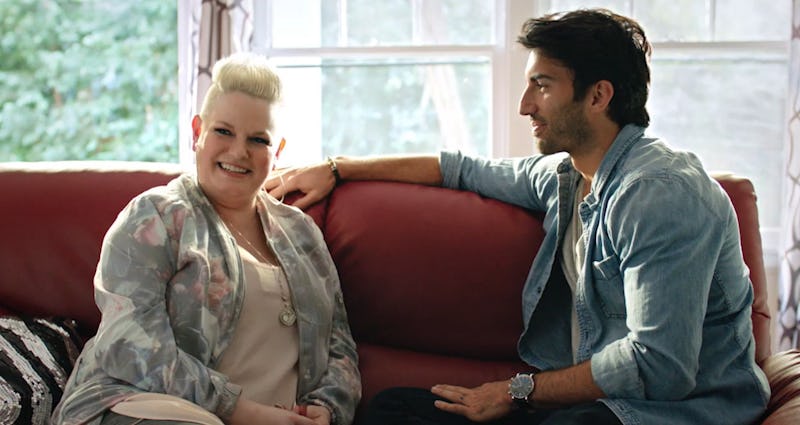 The CW
Many TV series claim to be inspirational, but My Last Days from Justin Baldoni is one of the rare shows that could actually influence how you live your life. The docuseries follows people diagnosed with terminal illnesses who are using their limited time to pursue what brings them joy. My Last Days is created by, directed by, and features Baldoni, and it's obviously a project that means a lot to the Jane The Virgin star. Ahead of the June 8 finale of The CW show's third season, Baldoni explains how the people featured in My Last Days have drastically changed both his personal and professional lives.
"No one of these two stories are alike because no two people are alike," Baldoni says, speaking over the phone. In Season 3, he features the stories of Marinda, Anthony, Bob, Ellie, and Diane, who all have different diagnoses and have lived very different lives. But one thread that connects all of their stories is how they manage to be uplifting while not shying away from the realities of their terminal illnesses. "It's just so important to always balance the gravity of the situation — the intensity and the pain of the situation — with joy. Because that's how these people live," Baldoni says. "So oftentimes when you watch the show, you might feel really sad for a second or you might find yourself crying, but shortly after that, you'll find yourself laughing."
"Joy and pain are seamlessly woven together intricately in the human heart and that's what this show is," Baldoni continues. "It's just this deep reality that is far more inspirational than you would ever realize."
The people he's featured in this documentary format have also inspired scripted projects from Baldoni. He's currently directing the movie Five Feet Apart in New Orleans with Cole Sprouse and Haley Lu Richardson. Baldoni says that the film comes from a story that Claire Wineland, who was in the previous season of My Last Days, told him about younger people with cystic fibrosis. Baldoni says Wineland has "got so much life" despite her own cystic fibrosis diagnosis.
Next summer, Baldoni is directing another movie influenced by a person who participated in My Last Days — Zach Sobiech from Season 1. Variety reported the film is based on the book written by Sobiech's mom, Fly A Little Higher. Sobiech had the bone cancer osteosarcoma and passed away at the age of 18 in 2013. He holds a particularly special place in Baldoni's heart. The filmmaker says that Sobiech "told me that I had to go propose to my wife right away because he could tell how much I loved her."
Baldoni created My Last Days through his production company Wayfarer Entertainment. As Variety reported, it first aired as a digital series through Rainn Wilson's company, SoulPancake, in 2013 before The CW picked it up in 2016. (The actors are both members of the Bahá'í Faith and Wilson has called Baldoni a "good friend.") So Baldoni has been working on the show for six years now.
I don't think you could ever quantify how much my life has changed by telling the stories," Baldoni says. "From the very beginning, I was influenced deeply by Ryan Woods, who was the very first story I ever told. Then by Christopher Aiff, who became one of my closest friends before he died. I have a tattoo on my arm in his handwriting that says, 'Happiness is not a limited resource,' which is a quote that he said in the documentary."
"Everything about this project has influenced and changed my entire reality," Baldoni says. "From the way that I treat my family, to the way that I talk to people, to the way that I handle situations and rejection and pain. It's kind of a constant dose of what's important in life."
The Season 3 finale of My Last Days will spend the whole hour on Diane, who has terminal leukemia, and her husband Long. "She was given seven-eight months and she's still around almost three years later. And I'm just excited that she's going to get a chance to see her show and her story told," Baldoni says. "They have such a beautiful love story that I think inspires so many people. And Long, her husband, is so selfless and so kind, and an example of what all of us — husbands and/or wives — should aspire to be. I love love stories, so I'm excited to share that one."
Baldoni is familiar with complicated love stories through his work on Jane The Virgin. Spoilers follow. Rafael's relationship with Jane faced a major obstacle in the Season 4 finale when Rafael discovered that Jane's husband Michael may still be alive. Although Rafael wanted to propose to Jane, he had Jane come to his apartment to meet with a person who appears to be Michael. As for how Rafael will be feeling at the start of Season 5, Baldoni says, "I have no idea. I haven't seen any scripts ... They keep it all from us until we get closer."
"I'll be going back to Rafael here in a couple months. But I'm imaging that he's not going to be in the best frame of mind," Baldoni laughs. Yet, Rafael has come a long way from the beginning of the series since Baldoni says he did this "very selfless" act of telling Jane the truth. "I'm very proud of him," Baldoni said. "I would have him on my show Man Enough if he was a real [person]."
Before Jane The Virgin fans find out what the future holds for Rafael and Jane, Baldoni wants viewers to take away an essential, real-life lesson from his other series — just like he has. "No matter what it is I'm going through and no matter how painful it is, I have a choice. And that choice is I can either live in it and dwell on it or I can rise above it and learn from it ... and that's what these people have taught me time and time again," Baldoni says of the individuals featured in My Last Days. "Every single one of us have a choice every single day. But we're human and we're gonna forget and we're gonna make mistakes because that's what happens. The whole point of the show is to remember — and I hope that it helps people remember."
You can watch Diane's story and perhaps be reminded of what's important when the Season 3 finale of My Last Days airs on The CW on June 8 at 8 p.m.