The Global Gag Rule Will Have A Major Impact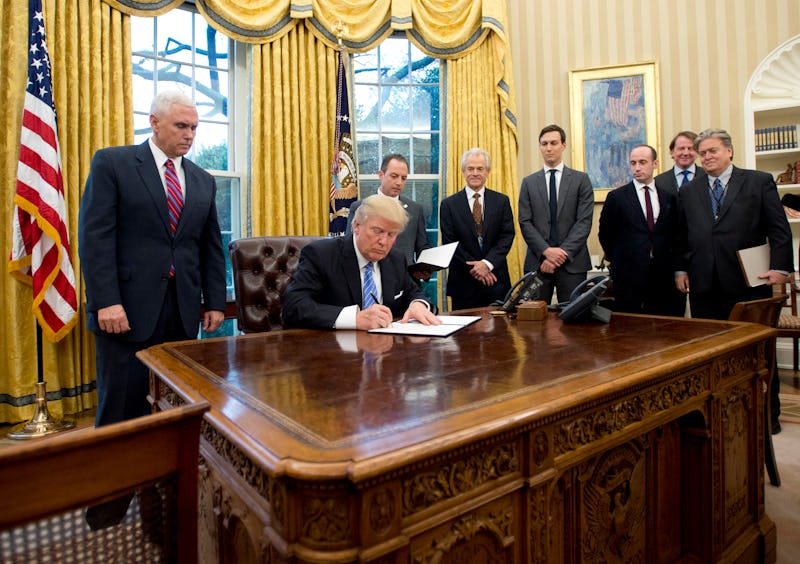 Pool/Getty Images News/Getty Images
It seems as though Donald Trump wasn't listening when millions of women joined together around the world on Saturday to demand their rights be protected. Either that or he just doesn't care. On Monday, Trump reinstated the Global Gag Rule, an anti-abortion executive order that prohibits funding to international nonprofit organizations that offer abortion services outside of the U.S. Just how many countries are affected by the Global Gag Rule? Trump's first actions as president will be felt by people all over the world.
President Ronald Reagan first enacted the Global Gag Rule (also called the Mexico City Policy) in 1984. The policy effectively prohibited nongovernmental organizations from providing not only abortions, but also information and counseling about abortions, or else they'd stop receiving federal foreign aid funding. As a result, NGOs that needed to continue to receive funding were no longer able to offer women thorough family planning services and basic health care, which often extended beyond abortion.
The Global Gag Rule was overturned by Bill Clinton shortly after he took office, only for it to be reinstated by President George W. Bush. President Barack Obama repealed the Global Gag Rule once more in 2009, but now the anti-abortion measure is once again in effect.
If we want to see what kind of an impact Trump's reinstatement of the Global Gag Rule will have, all we have to do is look at the consequences it held for women the last time it was enacted. Global women's health organization Engender Health reports that between 2001 and 2009, 20 developing countries in Africa, Asia, and the Middle East suffered as health care providers, and clinics were forced to either reduce staff and services or close their doors altogether. What's more, it reports that the the rule did nothing to significantly reduce abortions — it just made them dramatically less safe.
In a statement released on Jan 23, 2017, Engender Health explains the far-reaching implications the Global Gag Rule might have on women all over the world:
"The restoration of the Global Gag Rule will have a devastating impact in many countries around the world. Programs will lose significant funding to ensure that women have access to safe services, and critical aid will be blocked to international organizations that use their own non-U.S. funds to provide information, referrals, or comprehensive sexual and reproductive health services. Maternal and child health programs will suffer, including voluntary HIV testing and referral services, and gender-based violence programs will be limited as well."
According to the Guttmacher Institute, the U.S. spends more than $600 million a year in "U.S. foreign assistance for family planning," with that money helping 27 million women receive contraceptive services. What's more, the Institute estimates that in 2016, two million unsafe abortions were avoided thanks to that money, thereby saving thousands of lives.
By reinstating the Global Gag Rule, Trump is taking away the rights of countless women in at least 20 countries to receive safe health care. The policy isn't just jeopardizing women's reproductive health — it's putting lives at stake.