'The Disappearance Of Natalee Holloway' Adds To The Growing True Crime TV Trend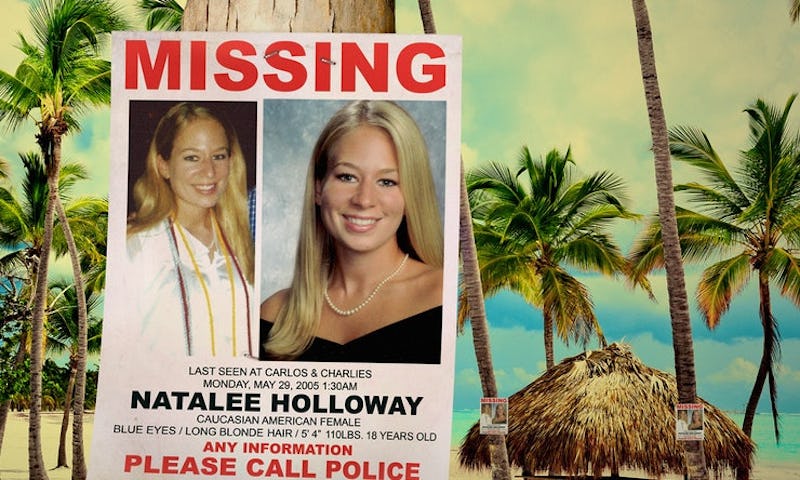 Oxygen
In the summer of 2005, you couldn't read very deep into a newspaper or watch cable news without the name "Natalee Holloway" appearing at least once. The Alabama teen's mysterious disappearance in Bermuda during a class trip shocked and captivated the American public, particularly because she was never found and no one was ever charged in her case. Thanks to Oxygen, her story is once again being brought to the spotlight via a new documentary series that focuses on her father's continued efforts to find out the truth. But how many episodes is The Disappearance Of Natalee Holloway?
According to People Magazine, The Disappearance Of Natalee Holloway is a six episode series. Interestingly, it seems like a six episode length has become very popular for documentary series; this year saw the release of the The Story Of China and Africa's Great Civilizations on PBS, Spike TV's The Kalief Browder Story and It Was Him: The Many Murder Of Ed Edwards; and many others. The Robert Durst-focused documentary The Jinx was also 6 episodes back when it premiered on HBO in 2015.
As Bustle has previously reported, documentary TV shows are seeing a huge rise in popularity lately, especially documentary series about true crime. The Jinx, Netflix's Making A Murderer and Captive series, and the NPR podcast Serial, and even fictionalized retellings like The People Vs. O.J. Simpson: An American Crime Story all contributed to a tipping point that have re-elevated true crime as a genre.
"True crime has been popular forever," Unlocking The Truth producer producer Andrew Jenks told Bustle in 2016. "I think what makes it different now and why we're seeing documentary series pop up more ... is because of cameras being omnipresent."
In light of this, it's not surprising that Natalee Holloway is once again in the public spotlight, given how much coverage her disappearance got all those years ago. In the past 12 years since she vanished, her case has not been solved, and her father has never stopped searching for her.
The first episode of The Disappearance Of Natalee Holloway, which premiered on August 19, is also currently available to stream on the Oxygen Network website, on the off chance that you find yourself needing a refresher on how the public reacted to her case. There are only five episodes left, so get caught up now before the next one airs.