The TV True Crime Phenomenon Is Far From Over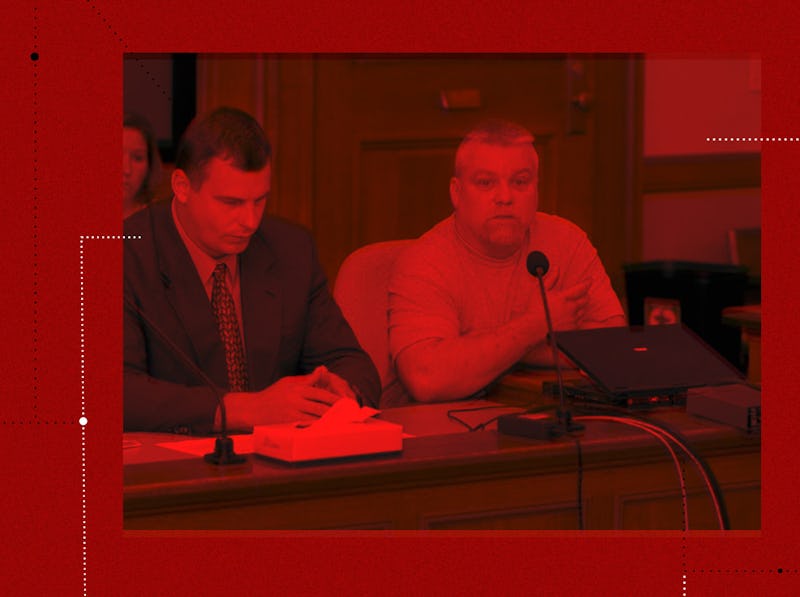 Though the true crime phenomenon didn't start with the explosion of Making a Murderer in late 2015 through early 2016, considering what followed the Netflix docuseries' premiere, it certainly feels that way. True crime actually has a long history that dates back to the late 1800s, according to Joyce Carol Oates' 1999 New York Review of Books article about the genre; the format it's presented has simply changed. From serial essays printed in magazines to books and now TV and film, people have never gotten tired of crime stories, no matter what medium they're in. But all of that culminated in 2016, which became the year of true crime thanks to a massive uptick in the genre that was especially present on television. As for why true crime is so popular now, Bustle spoke to a forensic psychologist and true crime series producers who have some interesting theories on why this past year has been particularly ripe for the genre. But regardless of the reason for its beginning, this true crime wave won't come to an end when 2016 does, and 2017 is poised to be an even bigger year.
True crime has long appealed to all kinds of people, regardless of social status or gender, according to Oates, so it makes sense that in a year of things that tore us apart, true crime shows brought people together. The genre has been doing that since 1889 when lawyer William Roughead began chronicling murder trials for journals and later compiled the accounts into books.
The genre has since evolved to fit different mediums, especially TV and film. And though 2016 saw several movies dedicated to true crime, it was TV that gained real traction in that realm. Following the popularity of podcast Serial in 2014 and HBO's miniseries The Jinx in February 2015, Netflix's Making a Murderer turned true crime into a national TV obsession. The 10-episode series debuted in December 2015, but it didn't become part of the collective public consciousness until early 2016. According to Google Trends, Making a Murderer searches peaked between Jan. 3 and Jan. 9. As the infographic below shows, that was just the beginning of what was to come.
The public rallied around the docuseries' subjects, Steven Avery and Brendan Dassey, both of whom maintained their innocence after being convicted and sentenced to life in prison for the 2005 murder of Teresa Halbach. Upon hearing their stories in MaM, many viewers expressed support for them. A We The People petition calling for Avery and Dassey to be pardoned by the president quickly passed the required 100,000 signatures to receive a response from the White House on Jan. 7.
Since their convictions are a state matter, President Obama's response to the petition didn't provide the outcome that signers had hoped for. "The president cannot pardon a state criminal offense. ... Since Steven Avery and Brendan Dassey are both state prisoners, the president cannot pardon them. A pardon in this case would need to be issued at the state level by the appropriate authorities," the response read in part, before detailing Obama's ongoing efforts to restore "the sense of fairness at the heart of our justice system." Still, that response didn't deter people from signing a similar petition on Change.org, which called for the release of Avery. The petition collected 536,712 total signatures and was still gaining several signatures in December 2016, a year after it was started.
The petitions themselves didn't do much for Avery or Dassey's cases, but public interest helped them gain national attention and aided in their quest for freedom. Avery was able to secure leading wrongful convictions lawyer Kathleen Zellner to represent him, while Dassey had his conviction overturned in August. His release from prison is blocked pending a state appeal, according to CNN.
Making a Murderer introduced the world to these cases, but Netflix was far from the only place that they were explored. Many networks created content updating viewers on the state of their cases, exploring new evidence, talking to key case members, and more. NBC's Dateline, Investigation Discovery, HLN, and Fox News all ran specials on Avery and Dassey in the months following MaM's release.
Interest in the pair's cases never completely died down, but it did wane just enough for new true crime topics to take the forefront. In February, FX premiered The People v. O.J. Simpson: American Crime Story, the first installment of an anthology series. Over 10 episodes, the dramatized series took viewers from the June 12, 1994 deaths of Simpson's ex-wife Nicole Brown Simpson and Ronald Goldman up through Simpson's arrest, trial, and acquittal of both murder charges on Oct. 3, 1995. (According to The New York Times, Simpson was later found liable in the resulting 1997 civil suit and ordered to pay $25 million in punitive damages to the Brown and Goldman families. Simpson has maintained his innocence in the murders.)
The show immediately became a huge hit. In a press release, FX revealed that, with 12 million viewers, American Crime Story had the most watched premiere of any original scripted series in its history. Soon, other networks joined in to retell the 20-year-old case. In June, ESPN ran the five-part series, O.J.: Made in America , chronicling the football player's rise to fame and ultimate fall from grace. In total, seven networks featured Simpson content in 2016, adding up to 35.5 hours of television.
While Simpson dominated air waves in early 2016, another '90s case rose to the forefront in the latter half of the year. December 2016 marked the 20th anniversary of 6-year-old JonBenét Ramsey's murder, which, sadly, remains unsolved. This notable anniversary made the true crime genre flourish and in April, after CBS announced that it would take a new look at the case in the docuseries The Case Of: JonBenét Ramsey, other networks soon followed suit. More TV specials about Ramsey's murder made their way to A&E, Investigation Discovery, Lifetime, and Reelz for a total of 18 hours of TV.
While many of those specials rehashed old details, CBS took things a step further by assembling a panel of investigators and experts who, in the final episode, alleged that JonBenét's brother Burke Ramsey was a suspect. Burke has always maintained his innocence, was never arrested in relation to his sister's death, and was formally cleared of suspicion in 2008 due to DNA evidence, according to CNN. Burke's lawyer Lin Wood told Bustle in a lengthy statement that the conclusion of the episode would result in legal action. The statement, which you can read in full here, read in part:
In its desire to match or surpass the ratings and profits achieved by other networks in recent true crime series, CBS juxtaposed lies, misrepresentations, distortions and omissions with very few grains of truth to falsely accuse Burke Ramsey of causing JonBenét's death in its docuseries The Case of: JonBenét Ramsey. ... The accusations of the CBS so-called "experts" lack substantial evidentiary support and contradict the conclusions reached by legitimate law enforcement authorities familiar with the evidence developed in the case. CBS' false and unprofessional attacks on this young man are disgusting and revolting. ... Burke Ramsey shall seek redress against CBS for its outrageous accusations in a court of law.
(In response, CBS told Bustle in a statement, "The Case of: JonBenét Ramsey was meticulously and responsibly researched, and its information was responsibly presented. CBS stands by the broadcast in every regard.")
In October, Burke filed a $150 million lawsuit against Werner Spitz, who appeared in the CBS series and made the allegations against Burke, as reported by People. In December, Burke filed a second lawsuit for $250 million in compensatory damages and $500 million in punitive damages, People reported in the same article, this time naming CBS, the show's production company, and seven of the featured experts. (Bustle reached out to Spitz for comment the lawsuits, but has not yet received a response. CBS had no comment.)
While these three cases represented the largest amount of time dedicated to true crime on TV this year, they were not the only ones explored. Lifetime delved into 10 different true crime cases; Netflix released a documentary about the Amanda Knox case in October and new series Captive in December, which details eight real hostage situations; A&E explored the serial murder of sex workers in The Killing Season; Discovery looked into unsolved Louisiana murders in The Killing Fields; MTV produced Unlocking The Truth, a series exploring potential wrongful convictions; and Oxygen featured the Mendendez brothers on Snapped.
TV also wasn't the only place where true crime was devoured by audiences this year. Following the success of Serial's first season, multiple true crime podcasts have sprung up and found eager audiences. Sword and Scale , a top-rated true crime podcast, has been around since 2013 and saw a huge increase in popularity in the last 12 months. Host Mike Boudet tells Bustle that the audience doubled in 2016 and isn't slowing down. "The public's fascination with true crime seemingly knows no bounds," he says.
It's clear that 2016 was huge for true crime across the board and that's likely not surprising. But, what no one can agree on is why exactly true crime seems so popular now, especially on television. Josh Zeman, a producer of The Killing Season, theorizes that fictional shows started the trend that's since carried over to non-fiction. He tells Bustle:
Networks are allowing slower storytelling and that allows for richer stories. It started with fictional shows like The Wire and The Killing, and that's moved over to the docuseries genre. Networks and executives were initially hesitant, but, after Serial's success, there wasn't that pressure. They realized that it can work and now they're allowing for slower storytelling. That's changed, and [I'm] definitely excited by it.
Andrew Jenks, a producer of MTV's true crime series Unlocking The Truth, has a different theory on why televised true crime is ramping up right now. "True crime has been popular forever," he tells Bustle. "I think what makes it different now and why we're seeing documentary series pop up more ... is because of cameras being omnipresent." Jenks further explains that Ryan Ferguson, the host of Unlocking the Truth who was wrongfully convicted of murder and later exonerated, owes a lot to the fact that there is footage of his interrogation and other key moments that eventually helped free him.
"I know in the documentary we wouldn't have been able to tell [Ferguson's story] if we didn't have the interrogation footage, if we didn't have access to when he first went into the police car and started talking," Jenks says. "These sorts of things would have been nearly impossible not too long ago. So I think there's always been that craving for this sort of stuff, it's just now we have the ability to film all of it."
It certainly would have been harder to tell Avery and Dassey's stories in Making a Murderer if not for the extensive courtroom footage of their trials. The same could be said for the Simpson case, which was the "Trial of the Centiry" because people could tune in to see it unfold on TV — and millions did. Over 20 years later, there's much more content available for true crime series. Gone are the days of cheap re-enactments; now audiences can see the subjects tell their own stories.
Society's collective interest in true crime could also have something to do with the events of the past year. Clinical Forensic Psychologist Dr. John Huber tells Bustle that he thinks the traumatic incidents of 2016 (from terrorist attacks to the many high-profile celebrity deaths) have aided in our interest in real-life crime stories. As Huber says, one way to keep our attention off the violence and loss in our own lives in has been to turn to true crime.
"Social violence has come to somewhat of a boiling point around the world for just about every country and is still cooking with situations like Syria. ... We as a society are looking for a respite as a way to step back and create a sort of cognitive dissonance that this is real life, and it may not get any better — so real life stories meet the one-upmanship face to face," he says. "Today we don't have time or the patience for reading character, setting, and ambiance, so our society has gone to the lowest common denominator ... we watch the misery of others while we think to ourselves, 'That is horrible. It really happened, and it could happen to me!'"
It may seem morbid to cope with real life by watching gruesome events of the past, but Huber thinks it's natural because "as a society we have been desensitized to violence and sex and continually need to push the limits to keep our attention." He continues, "as media grew, radio, television, movies and video games have run out of unique stories to tell. The old adage goes that truth is stranger than fiction, and, in this case, a human being in the act of violence is quite spontaneous and truly creative."
It may seem like true crime reached its peak in this tumultuous year, but 2016 was only the beginning of a trend that is picking up speed. Already, 15 new true crime series have been announced for 2017 and beyond. That's not even including the second season orders for Making a Murderer and Discovery's The Killing Fields . According to Deadline and The Hollywood Reporter, those series include:
Law & Order: True Crime — The Menendez Brothers, an eight-part series on NBC;
Lawbreaker, a series from George Clooney and the MaM creators about the investigation into a pharmaceutical company;
Serial, a scripted series from podcast host Sarah Koenig for Fox 21;
An untitled NBC show featuring Brown Simpson's sister Denise Brown looking into criminal cases;
The Von Bulow Affair, a series about murder victim Sunny Von Bulow;
Waco , a limited series exploring the 1993 FBI standoff with Branch Davidians;
Finding Chandra, a TNT show about the murder of Chandra Levy;
A second and third season of American Crime Story, exploring Hurricane Katrina and the Versace murder, respectively;
Monster In My Family, a true crime series premiering Jan. 3 on Lifetime that will explore serial killers with interviews from those closest to them;
An Investigation Discovery series produced by Martin Sheen further looking into the Simpson case, premiering Jan. 15;
#Murder , on TV ONE, which Deadline describes as a "cutting-edge investigative series that examines crime with a deadly connection to technology and social media";
Unsolved, a USA true crime series about the deaths of Tupac and Biggie Smalls; and
Ransom , a CBS drama, premiering Jan. 1, inspired by the real-life professional experiences of crisis negotiator Laurent Combalbert and his partner, Marwan Mery.
So, whether it's because storytelling has evolved to allow for entertaining non-fiction, the omnipresence of cameras provides better footage, or people just want to avoid real issues by exploring crimes that have already happened, true crime is only becoming more prevalent. And as long as there are cases to explore and people willing to watch them unfold on TV, that isn't changing anytime soon.
Images: Dawn Foster/Bustle; Netflix; FX