Why Her 'AHS: Cult' Role Is A Dream Come True For Emma Roberts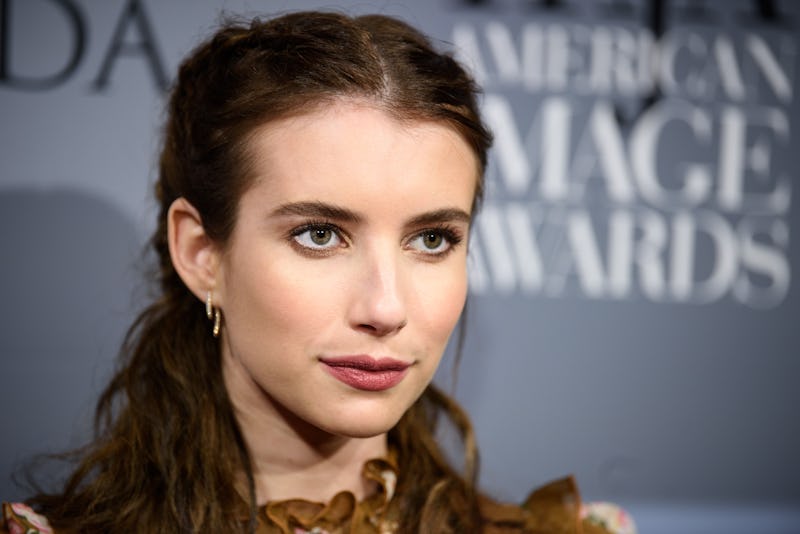 Dave Kotinsky/Getty Images Entertainment/Getty Images
Even though Season 7 of American Horror Story premieres on Sept. 5, details on the new season remain few and far between. There haven't even been many trailers released for AHS: Cult, but a few members of the cast have confirmed their roles in either interviews or through social media posts. That advance knowlege includes the somewhat surprise return of Emma Roberts, who has not appeared on the show for several years. How many episodes will Emma Roberts be on AHS: Cult?
Unfortunately, according to TVLine, showrunner Ryan Murphy said that Emma Roberts will be in one episode of Cult, in contrast to her series regular roles on AHS: Coven and Freak Show. While it's disappointing to hear that one of the series' biggest stars will only have a tiny role, it certainly sounds like it's going to be a good one.
"Emma Roberts will play a newscaster named Serina Belinda who gets a promotion above Adina Porter's character 'simply because she's much more superficial and willing to do what it takes to survive,'" Murphy said in a post-screening panel, according to TVLine. A "superficial schemer" describes most of the characters Roberts has played in the Murphy TV universe, often to great success. Her spoiled, undead witch Madison in AHS: Coven was a particular standout, so if Roberts gets the chance to deliver any lines in Cult that are as memorable as "Surprise, b*tch!" her role will be memorable.
And judging from the behind the scenes look that Roberts posted on Instagram, Serina Belinda might be more than just metaphorically cutthroat... though of course, she might just love chopping vegetables while plotting how to advance in the news business.
Roberts' caption on the photo reads, "I've joined the [AHS Cult]... will you?" That might mean that Serina will be joining a cult in order to get ahead, or she could just have a mentality that's cult-ish enough to warrant her inclusion. The season will involve the 2016 election, so it's possible that Porter and Roberts' storyline will involve campaign coverage, and perhaps be a nod to the Donald trump cry of "fake news."
Digital Spy reported that Murphy said Roberts made her one-episode appearance "as a favor" because she's been busy filming movies. But the showrunner noted that there was a big incentive besides friendship for Roberts to return for this role. "That was something that Emma and I had always made a joke about," Murphy said, "her being a newscaster. So, her dream finally came true!"
Murphy has built a reliable stable of stars who love appearing in his projects, so he's not worried if one has to take a smaller role every now and then. According to Digital Spy, Murphy said, "we really encourage all of the people on our show, like, once you're in that world, like, okay, if you want to go off and do something else, that's great, but come back ... It's just a very fluid way of working to have a group of people that you love that you can bring back and forth."
So though Emma Roberts will only be in one episode of this season of AHS, she could return for more in the near future.