Are There Even More Clooney Kids On The Horizon?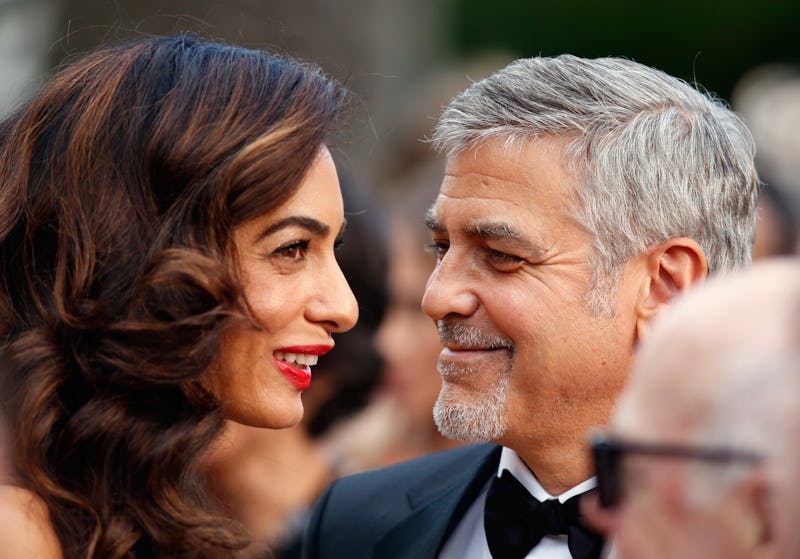 Tristan Fewings/Getty Images Entertainment/Getty Images
2017 is officially the Year of Twins. Only eight days after Beyoncé broke the internet by announcing that she was pregnant with twins via an epic Instagram post, rumors have started swirling that George and Amal Clooney are reportedly expecting twins as well. (Bustle reached out to George's rep for comment on the rumor, but Amal's could not be reached at this time.) The idea of George Clooney — former star of ER and one of Hollywood's most famous bachelors for the bulk of his career — as a father may come as something of a surprise to many of his fans. But the actor, who married human rights lawyer Amal Alamuddin in 2014, has spoken about the possibility before. So, how many kids to George and Amal Clooney want?
While the couple has been mum on a specific number of desired offspring, the idea of children is one that George has addressed before… although his opinions on the matter appear to have changed over time. In an interview with Charlie Rose on CBS Morning News in May 2015 (eight months after he and Amal had tied the knot), the anchor said to the Oscar-winning actor, "The one thing that I don't have in my life is children. Do you ever think about that?" Clooney responded, "I haven't really. I've thought about it I suppose, but I haven't really… it hasn't been high on my list. I've been asked a lot lately because I've gotten married and I'm doing a movie with kids in it [Tomorrowland]".
But just a few weeks later, in June 2015, George seemed to have rethought his position on the topic of fatherhood. When asked by the German newspaper Bild if he and Amal were planning on having kids together, this time he answered affirmatively — if cautiously, "Yes, but we're taking our time."
Well, apparently that time has finally come. If George still harbored any reservations about the idea of children a couple of years ago, those doubts must be long gone. Now that he and Amal have seemingly decided to start a family together, I wish them the best of luck with both of their babies… and however many more they may decide to have in the future as well.