Prince Harry & Meghan Markle Could Be Expanding Their Family Very Soon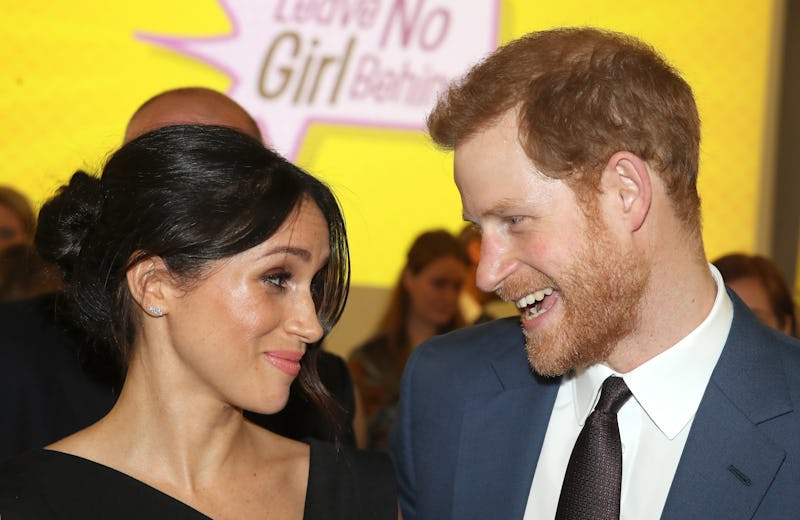 Chris Jackson/Getty Images Entertainment/Getty Images
They haven't even tied the knot yet, but Prince Harry and Meghan Markle are ready to get things (literally) popping. The soon-to-be royal husband and wife definitely want to expand their family, but how many kids do Prince Harry and Meghan Markle want? The two will tie the knot in their upcoming royal wedding on May 19, and they've made it clear they already have serious cases of baby fever.
Although Prince Harry and Meghan have yet to throw out a specific number regarding exactly how many children they plan on having, they've teased that they'll definitely want to try for more than one or two. The biggest giveaway was at the end of March, when the two were spotted eyeing baby products at a young entrepreneur event in Ireland, according to Today.
One company the couple looked particularly interested in is called Shnuggle, a baby product brand. The married couple behind Shnuggle reportedly offered Harry and Meghan a non-slip baby bath for free when Harry said, "How many have you got?" Meghan chimed in and pointed to the display, saying, "I'm sure at some point we'll need the whole lot." Apparently both Meghan and Harry have been ready to have a lot of kids, and they're ready to have them ASAP.
In March, royal family expert Katie Nicholl told Entertainment Tonight that Harry wants kids right after the wedding. "My sources are saying that Prince Harry, particularly, is very keen to start a family, pretty soon after the royal wedding. He's made no secret about wanting children," she said.
According to Nicholl, it was his brother Prince William's expanding family that's given Harry the urge to have children. "I think that moment really kicked in when his brother, Prince William, of course, settled down with Kate Middleton. That has definitely gotten Prince Harry pretty broody," she explained. In addition to Prince George (four) and Princess Charlotte (three), Prince William and Kate welcomed their third child, Prince Louis of Cambridge, in April.
Nicholl also explained that watching Meghan form a bond with his young niece and nephews also made Harry ready and eager to have a family of his own. "The reason he wanted Meghan to meet Prince George and Princess Charlotte was so she could see that this would be hopefully replicated by them, that they would go on to have children," the reporter explained on ET in March. "You marry into the royal family, but that doesn't mean you can't have a regular family with cute children, and here are George and Charlotte to show that that can happen. That was really important to him."
Before Prince Harry even met Meghan, he spoke about the desire to have kids of his own. The first report of their romance surfaced in October 2016 by The Sunday Express. After months of going strong, their engagement was announced by Prince Charles in November 2017. But Prince Harry publicly talking about wanting children dates back to 2015.
In an interview with Sky News, he said, "I don't think you can force these things, it'll happen when it's gonna happen. Of course, I'd love to have kids right now, but there's a process that one has to go through... It would be great to have someone else next to me to share the pressure, but whatever happens happens."
Unlike his brother's children, however, Prince Harry's kids won't have royal titles. On the day of their nuptials, Prince Harry and Meghan will likely be named Duke and Duchess of Sussex and their future children would have "Lord" and "Lady" titles, according to Good Housekeeping. According to the Letters Patent issued by King George V in 1917, great-grandchildren through the male line of the reigning sovereign would not receive royal titles — the exception is the oldest son of the Prince of Wales (Prince George). The Queen allowed Prince George's siblings to have the same name stylings.
Still, this bunch will be growing in no time, and fans could only hope that Meghan revives her Instagram to document it all.