Tristan Thompson Wants A LOT Of Kids, But Does Khloé Feel The Same Way?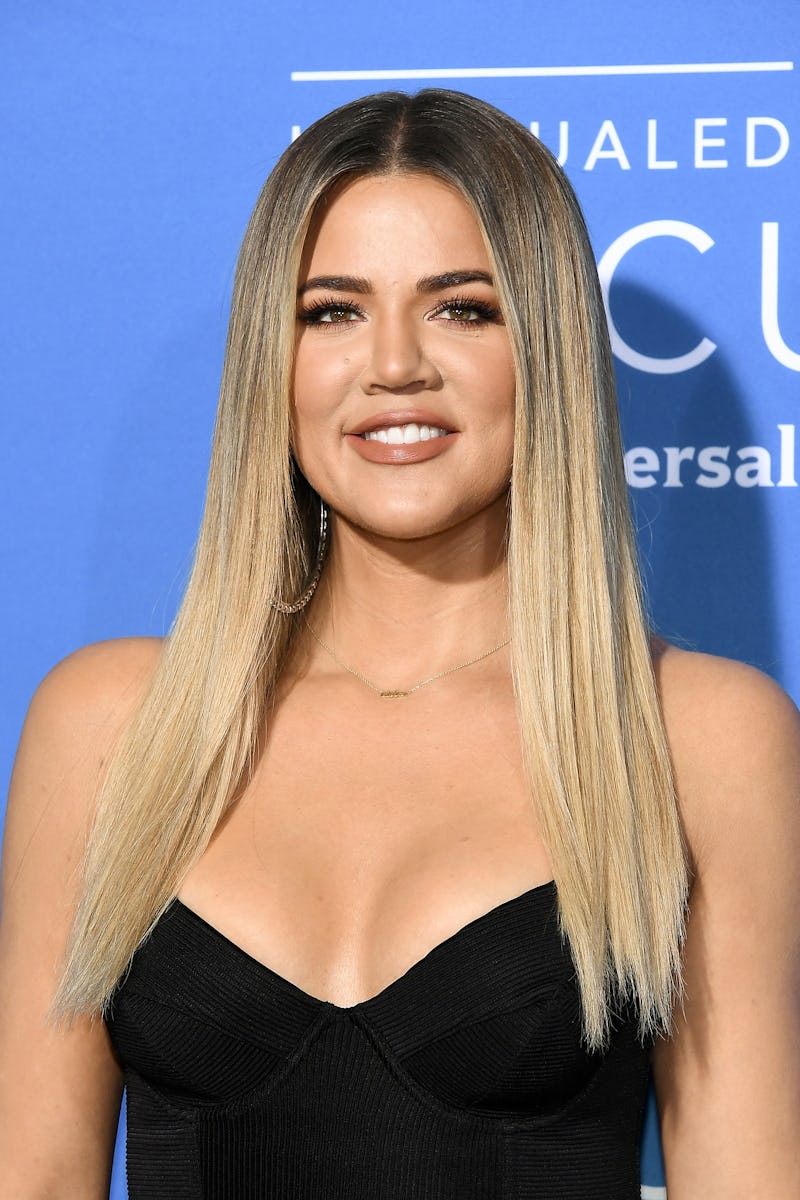 Dia Dipasupil/Getty Images Entertainment/Getty Images
Another Kardashian family member will soon welcome their own bundle of joy. Khloé Kardashian has been open about her pregnancy journey on Keeping Up With the Kardashians (executive producer: Farnaz Farjam) and on social media, much to her fans' delight. She'll have her hands full with her new baby soon, but does she want to add even more children to her family? How many kids does Khloé Kardashian want? She's discussed expanding her family before.
While Kardashian hasn't said anything definitively about how many children she wants, she has spoken out about her desire for a bigger family before. However, it doesn't seem like she's in any rush to make that happen just yet. In an episode of KUWTK, via E! News, she said, "Tristan is a great dad and he definitely wants more children, but we both feel that it will happen when the time is right." Her boyfriend, Tristan Thompson, is already the father to a son, Prince Thompson, with his ex-girlfriend, Jordan Craig, according to People.
Kardashian related on another episode of KUWTK just how many kids the couple (well... specifically Thompson) is envisioning. She told sister Kim Kardashian, "He [Thompson] wants to have kids now." She later said in a confessional, "Tristan and I definitely talk about starting a family. He wants to have like five or six kids with me and that's, uh, lovely. We could start at one and we could grow from there." So, it doesn't sound as though she's super down to have five or six kids right away, but it's possible that the current parents-to-be might seriously expand their family in the future.
Kardashian also expressed her desire to have children when she was in the midst of her divorce from ex-husband Lamar Odom. She expressed on KUWTK in 2016 (via New York Daily News), "I want to have kids and maybe to be remarried one day. I need to move on, and I will be filling for divorce very soon." It sounds as though having a child (and perhaps multiple kids) has always been a priority for the Revenge Body (executive producer: Larissa A.K. Matsson) star.
The reality star's admissions about having a family happened before news broke in September 2017 that the couple was expecting a child together, per Us Weekly. The KUWTK star revealed in December 2017 on Instagram that they're going to welcome a child together, and according to Kardashian's posts about how far along she is, she's due sometime in March or April.
Ever since Kardashian announced the happy news, she's continued sharing info about her pregnancy with her fans. On Feb. 27, she shared a series of photos of herself on Snapchat that put her 8-month baby bump on full display. She looked gorgeous with her puppy filter as she proudly showed off her bump.
Kardashian has also discussed details concerning her pregnancy with her many social media followers. She hilariously recounted her slightly odd cravings to her fans on Twitter, mostly to check to make sure her slightly weird food craving was normal. First, she wanted spaghetti and strawberries and whipped cream. Then, she expressed a desire for some seriously delicious-looking pancakes in a subsequent tweet. You'll probably understand just why she wants to try those pancakes when you see them, they're the most perfect looking ones ever.
While it's possible that Kardashian wants to welcome more children in the future, she hasn't yet shared an exact number with fans about how many kids she wants. Anyway, before she and Thompson can even decide whether they want to add another child to their family, they have to wait and see how they fare with their soon-to-be-born bundle of joy.