How Melania Trump Celebrated Her Birthday Was Perfectly Low-Key
by Priscilla Totiyapungprasert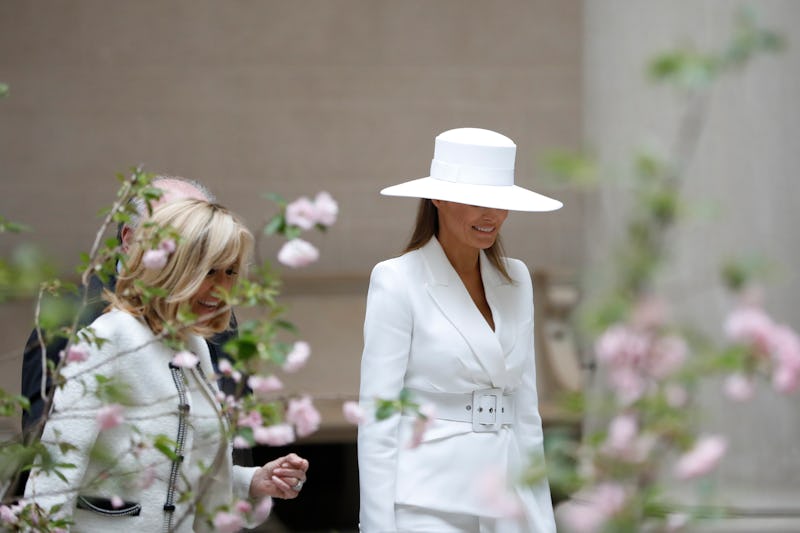 Aaron P. Bernstein/Getty Images News/Getty Images
Thursday, April 26 was a special day for FLOTUS and you might relate with the way her spokeswoman Stephanie Grisham told the Daily Caller she spent it. Sure, she could have thrown an elaborate party with a bunch of celebs. But when you think about it, how Melania Trump celebrated her 48th birthday actually falls right in line with her private character — she kept it quiet with a low-key family affair at home. President Donald Trump was also interviewed on Fox & Friends, where he gave his wife a birthday shoutout. It was a deliberate choice, reported Us Weekly.
"I picked a very, very special day [to be on Fox & Friends] because it's Melania's birthday," Trump said in the phone interview. "So I said, 'Let's do it on Melania's birthday.' So happy birthday to Melania." When the Fox hosts prompted him about what he got Melania Trump for her birthday, the president admitted, "Well, I'd rather not get into that 'cause I may get in trouble. Maybe I didn't get her so much."
Donald Trump then went on to say that he was too busy to shop for presents, but he gave his wife "a beautiful card and some beautiful flowers." He also praised Melania Trump's efforts in throwing the Trumps' first State Dinner this week. On Tuesday, the first lady played hostess to French President Emmanuel Macron and his wife, Brigitte. Melania Trump welcomed them with two notable nods to French fashion: her wide-brimmed Hervé Pierre hat and later a sparkly Chanel Haute Couture gown.
After entertaining her guests from France, Melania Trump took some time for just her and her family on her birthday.
Ivanka Trump tweeted a happy birthday message to her stepmom, calling her "an incredible wife, mother and First Lady!" It's unknown whether Ivanka Trump and her family showed up at the White House for the occasion. She is so far the only member of the Trump family, including the tweet-happy president himself, who wished Melania Trump a happy birthday on social media.
Last week President Trump did, however, ask his supporters to sign a birthday card for the first lady. Bustle previously reported that Trump sent out this email message that showered loving praise on his wife:
This month, our family is looking forward to a very special day. Please join us in celebrating the first lady and my beautiful, kind-hearted and exceptional wife Melania's birthday by signing her card.
Melania is my rock and foundation, and I wouldn't be the man I am today without her by my side. She's the cornerstone of our family, and an incredible mother to our son, Barron. I'm so proud of her accomplishments, and I hope you'll wish her well on her special day.
This is Melania Trump's second birthday since becoming FLOTUS. Last year, she celebrated her 47th birthday with the Senate spouses at the National Gallery of Art, reported CNN. "A wonderful group doing great things for our country," she tweeted. She traveled to Washington for the special luncheon. At the time, Melania Trump was still living in New York where her son was finishing out the school year.
The first lady's decision to keep things in the family this year is something to be expected for her stately role. In December 2017, NBC News shared a video clip of a 10-year-old boy asking her where in the world she would most like to spend the holidays. Melania Trump replied, "I would spend my holidays on a deserted island, a tropical island, with my family."
That doesn't mean the first lady doesn't have a party side, though. During her New York days, and back when she was still Melania Knauss, she and Donald Trump were often hitting up celebrity birthday bashes — from Usher's to fellow model Petra Nemcova's.