Here's How Much Becca Is Probably Getting Paid To Be 'The Bachelorette'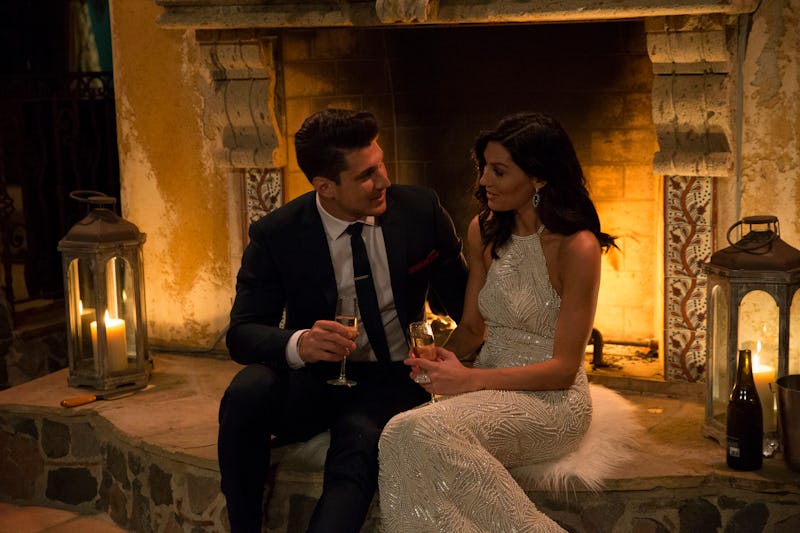 Paul Hebert/ABC
Being the Bachelorette comes with a lot of perks — there's a bit of fame, and definitely some free stuff, and maybe a couple hundred thousand more followers on your social channels. You get to hang out with Chris Harrison. You also get hair and makeup and a bunch of pretty dresses. And maybe a man at the end of it all. But dresses and a man do not pay your bills, so how much money does Becca make being the Bachelorette?
Because the actual negotiations of Bachelor and Bachelorette contracts aren't public, no one knows exactly what Becca will bring in for doing the show, and there are wide discrepancies as to the paydays that Bachelors and Bachelorettes bring home. While contestants don't make a dollar (they sometimes basically have to quit their jobs to be on the show, so they can actually run a deficit), former Bachelor Ben Higgins told Buzzfeed that what you get paid as the Bachelor or Bachelorette is basically the equivalent of what you would have brought home had you still been working your regular job. "You don't do The Bachelor to make money, I will say that. There are opportunities post-Bachelor sometimes, but as the Bachelor they really just match whatever you'd be making in the real world during the months that it tapes," Ben said. "And then you have the experience that kind of pays for the rest."
According to Wetpaint, Emily Maynard reportedly made $250,000 for her season of The Bachelorette, and Sean Lowe reportedly made nearly six figures as a Bachelor. Us Weekly reported that Ashley Hebert allegedly only made $30,000 for her season, but blogger and Bachelor spoiler Reality Steve disputed that, claiming that Ashley made over $100,000 for her season of The Bachelorette, which he claimed was "standard." (ABC declined to comment on Bachelor and Bachelorette salaries when previously asked by Bustle.)
Nothing about Becca's contract has been released to the public yet, and it probably won't be. But given Becca's unceremonious dumping by Arie at the end of his season of The Bachelor and the fact that she is a fan favorite, ABC is probably matching Becca with a similar salary to keep her on the show. And, that paycheck is one thing, but the endorsements and appearances that Bachelors and Bachelorettes make after the season? That's where the money is. In 2016, Jade and Tanner Tolbert reportedly brought in a million dollars from sponsored Instagram posts alone. Ben Higgins and Lauren Bushnell (who have since broken up) got their own spinoff show. The possibilities to expand a personal brand are real after being the Bachelorette, and Becca would be silly not to take companies up on their offers.
For now, though, Becca is set on promoting her turn on The Bachelorette, and the public is definitely rooting for her. Anyone who watched Arie telling his fiancée, Becca, that he wanted to be with his runner up, Lauren, and chasing Becca around the house after dumping her is definitely not on Team Arie. The only people who are on Team Arie are Arie and maybe Lauren. Maybe.
Becca is ready to move on. Of her time on The Bachelorette, Becca told CNN, "Until you're in this position, you don't realize how much pressure there really is, and how difficult it is to navigate certain relationships. Because if you're doing it right, you should be developing feelings for multiple people to really sift through every personality, every relationship, to exhaust the ones that aren't right for you."
Becca has already revealed that she did get engaged during her season, so the process worked. She made some money, she found love, and she (hopefully) will get to rub it in Arie's face. All's well that ends well.