How Much The Starbucks Cascara Latte Costs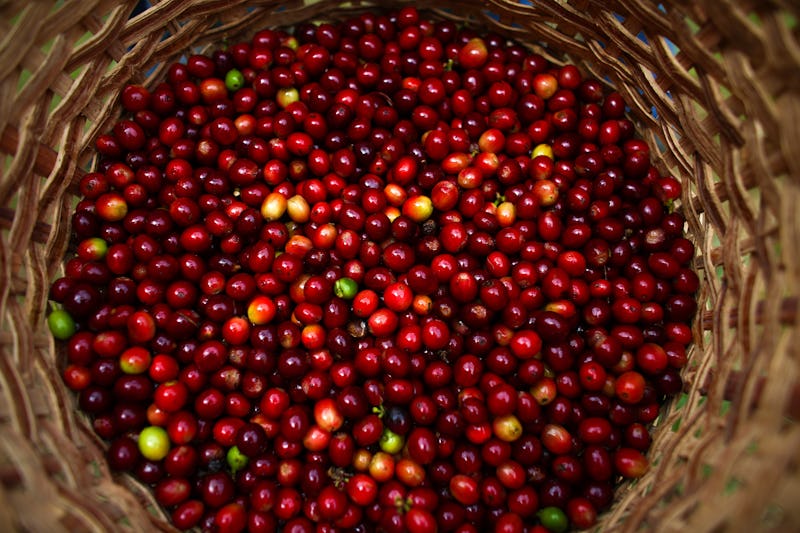 If you're a coffee-before-talky kind of person, (i.e. if you're a human being who lives on planet Earth) you're going to want to know about the new Starbucks Cascara Latte. You're also going to want to know a million other things, like how much does the Starbucks Cascara Latte cost, and what does it taste like, and what is "cascara", and can your heart handle another Starbucks lover? How about a star-crossed lover? How about a long list of ex-lovers?
Whatever the case, the answer is yes. Yes, your heart will make room for this new drink because there's really nothing like it. Your caffeine-obsessed heart has never experienced this flavor profile from a Starbucks drink — and once you try it, you'll never want to go back to regular latte programing. The Cascara Latte might even be Starbuck's fanciest and most adult drink, yet. Yes, you'll definitely feel like you're doing some major adulting if you walk around with it, especially when you explain the super interesting origin and extraction process that's way more involved than your average coffee drink. This is the kind of coffee drink that will seriously impress the coffee connoisseurs out there — there's nothing basic about it.
"Cascara" translated literally, means "shell" in Spanish. They named the drink that after the coffee tree cherries that the coffee beans grow in — yes, coffee is actually a fruit that grows on a tree, not a mythological bean that comes from some lit planet ... that's what you were thinking, right? Same. The flavor is then extracted from the cherry fruit and turned into a syrup with the help of a little coconut and cane sugar.
After that process, the flavor takes on sweet, maple-like, dark brown sugar notes that really make it unlike anything else on the menu. The drink is finished off with a classic latte foam (they can use whatever type of milk you desire to create this), and an additional cascara topping. All together it, these ingredients make an average espresso drink taste lighter, more complex and sweeter — a prefect reprieve for this time of year.
‌ ‌
OK, OK, the details: starting Jan. 10, you can head over to your local Starbucks and wrap your cold paws around one of these delicious and culturally refined drinks. And, if you're a Starbucks Rewards member, you can get early access to the Cascara Latte starting today, Friday, Jan. 6, 2017, at all Starbucks stores across the U.S.. A Tall (12 fl. oz.) Cascara Latte will range in price from $4.25 to $4.75, depending on your location. They'll be around as long as supplies last, so make sure you get yours while you can!