A Hunter Boots x Target Collab Is Coming & Almost Everything Is Under $30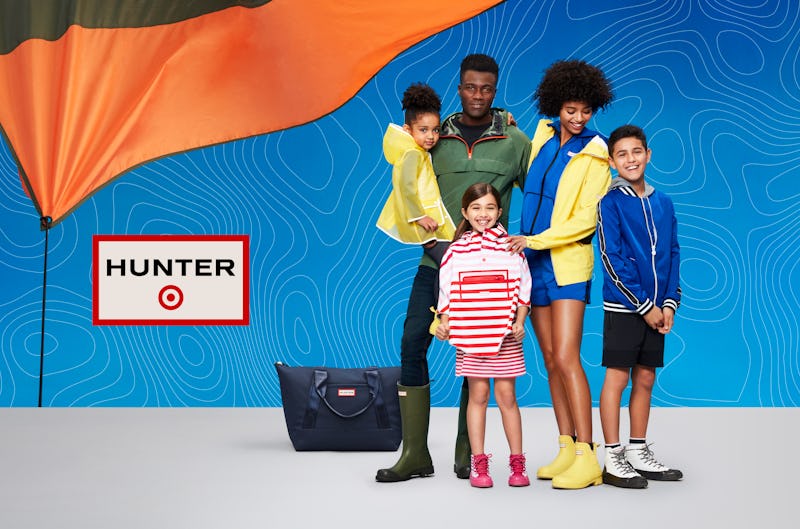 Courtesy of Target
Try taking a trip to Target and not spending your entire paycheck. The big red bullseye knows just how to draw you in and force you to go on a spending spree. Now that a Hunter Boots x Target collab is happening, you may as well hand over your wallet as soon as you approach the sliding red doors because this soon-to-be released shoe collection is everything.
By now, Target shoppers should be used to the retailer's amazing collabs. New brands come to Target what seems like every month and each partnership continues to get better than the last. It's no wonder the massive retailer's style section is forever on trend. As if Target's fashion finds couldn't get any better, Hunter Boots will now have a place on the super center's shelves.
You know the rainboots that don't look like rainboots because they're just that darn stylish, well that's Hunter. The British heritage brand has some of the most iconic outwear around, and now Target is getting a taste of all of the trendy action. Launching a must-have collection designed specifically for millennials, the Hunter for Target shoes have a price range suitable for every shopper.
After all, style on a budget is what Target fanatics know and love about the bullseye.
"From the very beginning, we worked with Hunter to develop a well-designed, affordable collection that's all about fun, optimism and accessible adventure for the entire family," said Mark Tritton, executive vice president and chief merchandising officer at Target, via a press release. "The colorful, all-weather pieces found in this line are made for enjoying the outdoors — rain or shine — on any budget."
Officially launching at select Target stores and online on April 14, the collection ranges from $5 to $80, which majority of the items retailing for $30 or less— yes, you read that correctly. That means shoppers won't have to shell out a whopping $150 or more to enjoy a pair of Hunter boots on their feet, making the Target collab an incredible steal.
The impeccable collection is just as much about style as it is experiences. Created with millennials in mind, each piece within the line was crafted with the intention of bringing families and friends together for outdoors adventures. There's really so much to love about that sentiment.
The colorful shoes and accessories will leave no millennial out of the equation, either. There will be options for men, women, girls and boys, so your entire family can get the Hunter aesthetic at unbeatable prices.
If you've ever had your sights set on the brand's signature Wellington boot, this upcoming Target mashup is the perfect excuse to snag a pair. The rainboots that'll likely never go out of style have been spotted on the likes of Cara Delevingne, Rihanna, Alexa Chung, and even soon-to-be British royalty Meghan Markle. So, they're truly a very. big. deal.
All in all, Target has really outdone itself this time. This just may be the best collab the retailer has done, but the proof will be in the pudding. Sales will really do the talking once the line drops.
Target REDcard holders will receive early access to shop exclusive colors in select styles on Target's website, starting on April 7. That means you have an opportunity to get your hands on a pair of Hunter x Target boots earlier than expected.
Otherwise, the hunt for a pair will be on. If past Target collaborations foreshadow what's to come, the retailer is going to be a madhouse when the collection arrives at stores. In other words, keep your eyes peeled for the official launch if you plan on snagging a pair of super cute, budget-friendly boots just in time for April showers.
Did you know that you can find Target coupons at the Bustle Coupons page? Bustle Coupons is a service provided by Groupon in collaboration with BDG Media, Inc. Each time you use a coupon or promo code from Bustle Coupons to make a purchase, Groupon and BDG Media, Inc. earn a small commission. This article was created independently from Bustle's sales department.