Kat Von D Beauty's Pastel Goth Palette Is Gorgeous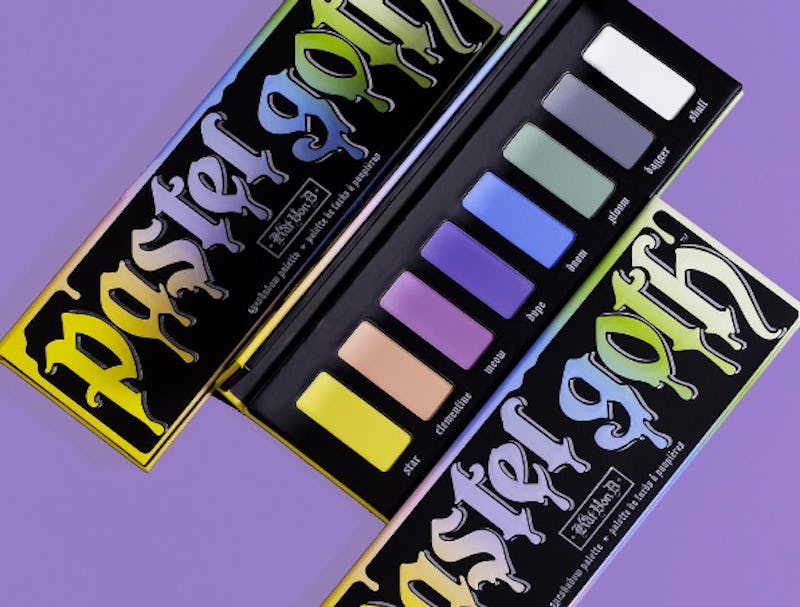 Remember when Kat Von D teased the Pastel Goth Palette? Well, the details are finally here. The brand shared the first look at their new creation, and it's just as gorgeous on the inside as it is on the outside. Not all the information on the new launch are here yet, but one big detail is — the price. How much is the Pastel Goth Palette? These stunning shades are well worth the price.
As if this wasn't already a great enough year for Kat Von D Beauty, they're at it again. The brand just released their collaboration with Too Faced and their Alchemist Palette, but now something a bit more colorful is here. The Pastel Goth Palette is all about, well, pastel matte colors. If you're wondering which ones, just look at the front of the packaging. The gorgeous dripping name is colored with the exact shades inside. They range from bright yellow and purples to bone white.
According to the brand's Instagram post, the Pastel Goth Palette costs $38. That breaks down to $4.75 a shade. Considering that their individual Metal Crush Eyeshadows are $21 a piece, this is a pretty darn good deal. Especially considering that these gorgeous shades aren't available anywhere else.
The post doesn't say exactly when the palette will be released. Seeing as there are already pictures of the finished product, it has to be sometime soon. The colors are perfect for spring, so there's a good chance that it's part of their upcoming collection.
This isn't the only product that Kat Von D has teased recently either. According to her Instagram post, there are also 25 more Everlasting Liquid Lipstick shades coming sometime soon as well. Basically, it's going to be another big year for Kat Von D Beauty.
I don't know about you, but I can't wait to get my hands on this launch!
Images: KatVonDBeauty/Instagram (1)