Here's How Much Taxpayer Money Was Needed To Settle Politicians' Sexual Harassment Suits (That We Know Of)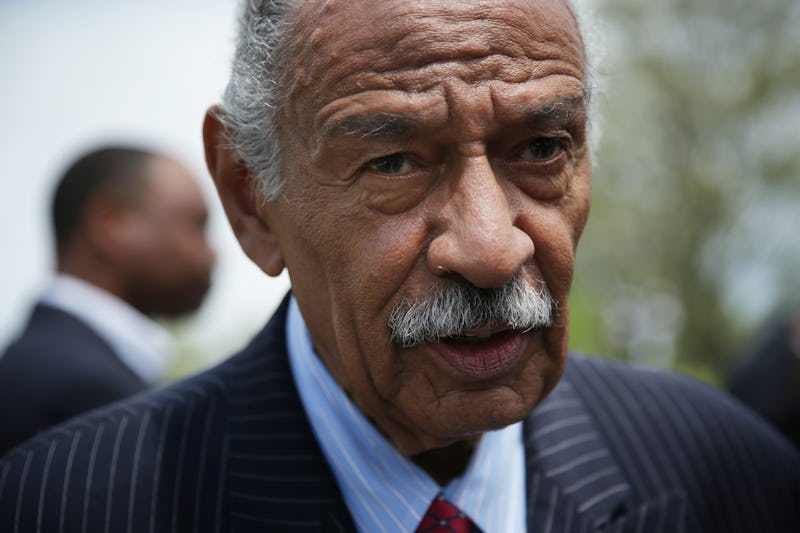 Alex Wong/Getty Images News/Getty Images
The national discussion surrounding sexual harassment has inevitably turned to politics, revealing a secretive process through which sexual harassment complaints are filed and settled in Congress. Women in both the House and Senate are working to overhaul the rules on Capitol Hill, but as it stands now, taxpayer money funds sexual harassment settlements in Congress.
While the Office of Compliance (OOC) handles employee complaints on Capitol Hill and reports how much was paid in settlements each year, it doesn't distinguish what types of settlements were paid. Instead, all discrimination settlements are lumped together, showing that more than $17 million has been paid to settle congressional workplace complaints in the last 20 years, according to the OOC. From 2006 to 2016, there were nine or more settlements each year. In 2007 alone, there were a whopping 25 amounting to $4 million.
Although the OOC's report doesn't distinguish how many sexual harassment complaints have been settled in the past decade, journalists have unearthed settlements reached by Rep. John Conyers (D-MI), Rep. Blake Farenthold (R-TX), and former Rep. Eric Massa (D-NY) totaling roughly $211,000.
Conyers reached a $27,000 settlement in 2015 over a complaint that he allegedly fired a female employee after she refused his advances, BuzzFeed News first reported. The $27,000 came out of his office budget, which is funded by taxpayers. The congressman confirmed the settlement, but has repeatedly denied the allegations of sexual misconduct.
Similarly, Farenthold was accused of sexual harassment and unlawful firing by a former communications director in 2014. Farenthold settled the claim for $84,000 and became the only person in the past five years to pay a settlement with funds from an OOC account, Politico reported. Farenthold said in a statement he couldn't confirm or deny the report, writing: "While I 100% support more transparency with respect to claims against members of Congress, I can neither confirm nor deny that settlement involved my office as the Congressional Accountability Act prohibits me from answering that question."
However, Politico obtained a joint statement from Farenthold and his accuser that was never released claiming a settlement was reached to save taxpayer dollars. "[A]fter it became clear that further litigating this case would come at great expense to all involved — including the taxpayers — the parties engaged in mediation with a court-appointed mediator," the statement said.
In Massa's case, almost $100,000 was paid to at least two male staffers who accused the former congressman of inappropriate sexual behavior, according to ABC News. Massa resigned in 2010 as an investigation began looking into his behavior, saying "an ethics investigation would tear my family and my staff apart."
Considering millions of taxpayers dollars have been used to settle workplace complaints on Capitol Hill — and these three were only recently made public by journalists — it's likely there were more centered around sexual harassment allegations.
Rep. Jackie Speier, Sen. Kirsten Gillibrand, and others are working to create more transparency regarding sexual harassment in Congress, beginning by introducing the Member and Employee Training Oversight On (ME TOO) Congress Act. If passed, the bill would institute mandatory annual training for congressional members and staff, overhaul the complaint process for survivors, and establish more transparency, and require the accused to pay the settlement themselves.
"Congress should not play by their own set of rules, and as elected officials, we should be held to the highest standards — not the lowest," Gillibrand said in a press release about the proposed legislation. "This needs to change. We need accountability and we need transparency."
Though it's not the crux of the bill, requiring accused members of Congress to pay their own sexual harassment settlements would drastically raise the level of accountability. Not to mention, the millions of taxpayer dollars being spent on sexual harassment complaints could certainly be used to benefit Americans.