This Is How Much IUDs Will Cost Without Obamacare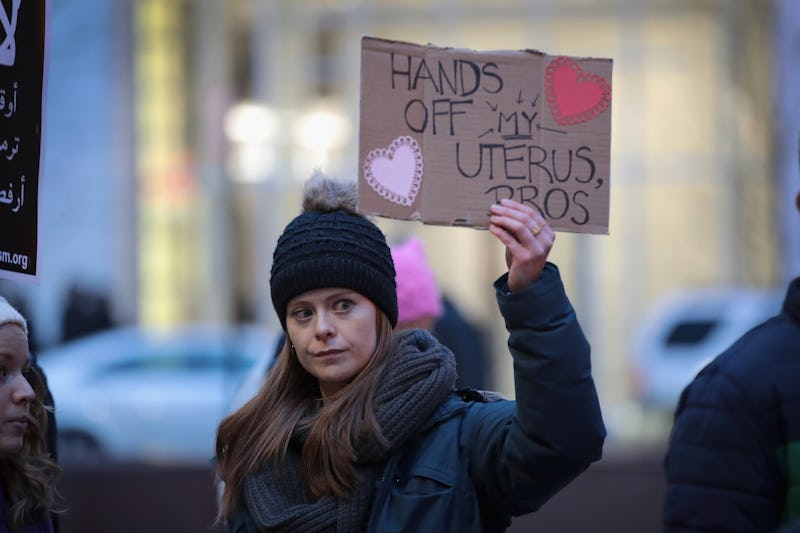 Scott Olson/Getty Images News/Getty Images
Many people have been rushing to get intrauterine devices (IUDs) before the Affordable Care Act is potentially repealed and birth control becomes more expensive. One Obamacare provision under attack, after all, is the one that requires insurance companies to cover contraceptives. But how much do IUDs cost without insurance? As it turns out, a lot.
The doctor database site Amino analyzed the cost of IUDs in each state, and the average is $1,111. The least you can hope to pay to get a Mirena IUD, one of the most common types, is $936 in Washington, D.C. The most it'll cost is $1,586 in Alaska. These numbers include all costs associated with getting an IUD, including the doctor's appointment, the device itself, and the procedure.
The study also found that after an ACA repeal, mammograms will cost $267 on average, and getting your tubes tied — a procedure that's already hard to get, especially for younger people, because doctors often refuse to perform them — will cost around $4,000.
The ACA has not been repealed yet, but Trump has signed an executive order to limit the "burdens of the Affordable Care Act." This essentially means his cabinet must try to cut the costs insurance providers, hospitals, and other healthcare organizations currently spend due to the ACA. This, of course, includes money spent on birth control — which means this "burden" will fall on the shoulders of the people getting the contraceptives. His order won't get rid of the law entirely, but it will "waive, defer, grant ­exemptions from, or delay" aspects of it that lead to financial costs.
In the meantime, Congress is working to fully repeal the Affordable Care Act. The House and Senate voted on Jan. 12 to draft a law repealing it by Friday, Jan. 27. Senators have already introduced a replacement bill. It's unclear what exactly the new legislation will say regarding birth control, but it's not looking encouraging.
In anticipation, New York has introduced a bill that would require insurance companies in the state to cover birth control. Other states may be able to do this as well to protect their citizens' ability to get affordable healthcare (although whether or not they'll do that will depend on the state's general stance on reproductive rights — it's likely, for example, that states that have introduced "heartbeat bills" or 20-week abortion bans wouldn't be amenable to passing legislation meant to cover birth control).
Between this, the potential defunding of Planned Parenthood, and the appointment of at least one new anti-abortion Supreme Court justice, women's healthcare is almost certainly in danger under the Trump administration. Those people scrambling to get their IUDs now are onto something.
Image: Getty Images