How Planning A Wedding *Really* Affects Your Relationship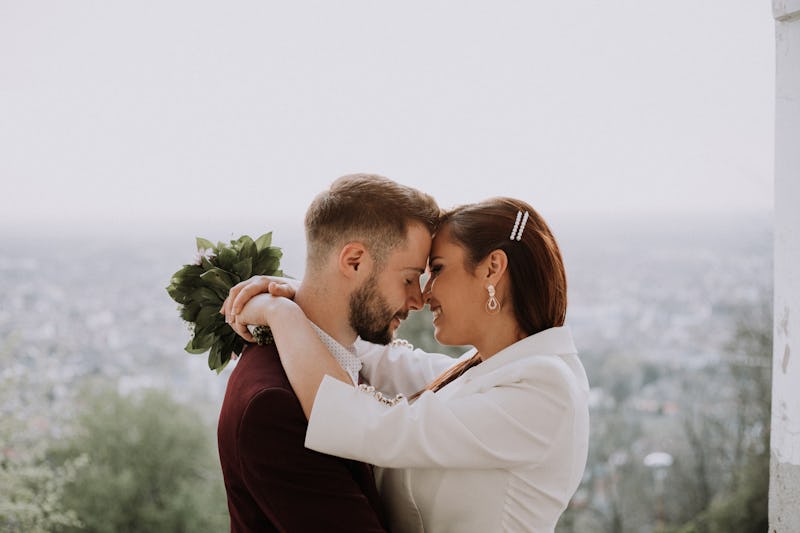 milorad kravic/E+/Getty Images
As romantic and exciting as engagement is hyped up to be, I have to admit I've often wondered whether planning a wedding is stressful on couples. After the high of getting an exorbitant amount of likes on your engagement announcement on Facebook and Instagram, there's the reality that you have a lot of budgeting and meticulous planning in your near future. According to a new survey of 500 engaged and newlywed couples by Zola Weddings — a free suite of wedding planning tools for couples — seven out of eight couples (96 percent) said wedding planning was stressful.
"Wedding stress comes in waves," Jennifer Spector, Newlywed-At-Large at Zola Weddings, tells Bustle. "The thing that makes all of these [wedding planning] things so stressful is that most people have not planned a big event with all their loved ones, so the combination of logistics plus personal relationships can be a molotov cocktail of stress. Not what you want for your signature drink!"
Even though dealing with the seating chart might make you want to pull your hair out, it is possible for both you and your partner to keep your cool and not take out your stress on each other. The key is to stay organized, communicate, and compromise when necessary — and also recognize that all this stress over one day will be worth it for a lifetime of marriage. "The most important thing a couple can do is remember that a wedding is one day, but a marriage lasts a lifetime," Spector says. "If you have that focus in mind, the wrong table setting or a disgruntled relative will not affect you in the same way."
If an engagement is in your future, here are seven statistics that reveal exactly what to expect.