This Detail About Taylor Swift's 'Reputation' Tour Proves "New Taylor" Is Here To Stay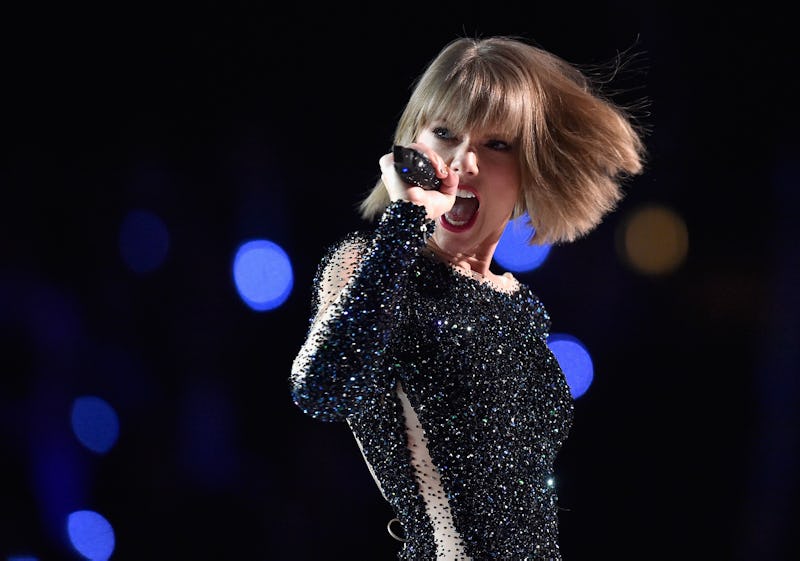 Kevork Djansezian/Getty Images Entertainment/Getty Images
Mostly North American football stadiums? Not exactly a venue description many would have foreseen for the most famous blonde in pop music, but, still, Taylor Swift's Reputation Stadium Tour dates are a perfect reflection of both her new era and the New Taylor. Of course, it was — at least ostensibly — a similar story back in the hazy, crazy days of 2015, when Swift embarked upon The 1989 World Tour. But, when it comes to a tour for Reputation, here's why you have to admit that there is really no other way to perform this album live than with venues as huge as a football stadium.
Yes, her touring schedule was also dominated by stadiums back during 1989, the difficulty of which Swift acknowledged in her Time interview prior to the tour, saying, "The challenge with a stadium show is making those people in the very top row feel like they got an intimate, personal experience." She argued that, circa her Red tour, she'd achieved this same intimacy with the help of acoustic guitar and by telling stories about her songs. However, arguably, the music of Reputation isn't about intimacy so much as it is fireworks, force, and energy. At least in theory, it's the perfect soundtrack for football stadiums.
Think about it. Despite Swift's attempt to sell "Call It What You Want" as a a ballad in her SNL acoustic version, there's the fact that Reputation only boasts one song that truly ventures into ballad territory, "New Year's Day." And the track isn't even sad. This, from the woman who brought us "All Too Well" and "Forever and Always".
Clearly, Swift's new music, which swings between a vengeful energy and a blissed-out love, was designed with a whole new venue in mind. The sort of venue was hinted at by how she chose to release "...Ready For It?" According to Billboard, she dropped a minute-long preview of the track during the Alabama vs. Florida State college football game. Variety reported that, earlier in the same week, her first Reputation single "Look What You Made Me Do" was used in the marketing for the same football game. As Variety has already commented, this could have been a jab at Swift's so-called rival Katy Perry, who had recently released a basketball-themed track with "Swish Swish," but, once the album dropped, it seemed more likely it was part of a wider plan.
There's the fact that it proves that 1989 wasn't a blip on the radar; she really is committed to continuing to make powerful, EDM-influenced pop, the type that fills stadiums, not the kind you play on an acoustic guitar and sing at volume that's just slightly louder than a whisper. Then there's the New Taylor. She's been pretty clear on the fact that her new persona is more about the healthiness of staking out some space for herself than on giving everything to the world. For the first time in her career, she's been all about boundaries: Swift wiped all her social media in August and was so absent from public life during 2017 as a whole that media outlets like The Ringer speculated Swift had been smuggled from her own house in a giant suitcase.
A New York Times article about Swift in 2008 stressed how it was "essential to her self-presentation" that there be "no barrier between her and her songs, and their listeners, the consumers," illustrating this with anecdotes: Swift loading up her arms with bracelets before her shows so she could throw bracelets out into the crowd, forging a sense of connection with individuals in the audience, Swift dropping to her knees at the edge of the stage "holding her head still as fans in the front rows patted it concernedly." It's hard to imagine her doing any of this in a football stadium.
But that's not necessarily a bad thing. Sure, the new tour dates suggest that she's found venues that suit her louder, bolder sound. But they possibly imply that she's set on reinforcing the boundaries she may have set for herself this year. She may be a pop star, but she's also a person. And whatever you think of her new sound, the blonde giving herself some healthy distance from the world around her has to be the most welcome transformation of them all.
So far, the North American Reputation Stadium Tour dates are the following:
May 8 – Glendale, AZ @ University of Phoenix Stadium
May 12 – Santa Clara, CA @ Levi's Stadium
May 19 – Pasadena, CA @ Rose Bowl
May 22 – Seattle, WA @ CenturyLink Field
May 25 – Denver, CO @ Sports Authority Field At Mile High
June 2 – Chicago, IL @ Soldier Field
June 30 – Louisville, KY @ Papa John's Cardinal Stadium
July 7 – Columbus, OH @ Ohio Stadium
July 10 – Washington, DC @ FedEx Field
July 14 – Philadelphia, PA @ Lincoln Financial Field
July 17 – Cleveland, OH @ First Energy Stadium
July 21 – East Rutherford, NJ @ MetLife Stadium
July 28 – Foxborough, MA @ Gillette Stadium
August 4 – Toronto, ON @ Rogers Centre
August 7 – Pittsburgh, PA @ Heinz Field
August 11 – Atlanta, GA @ Mercedes-Benz Stadium
August 14 – Tampa, FL @ Raymond James Stadium
August 18 – Miami, FL @ Hard Rock Stadium
August 25 – Nashville, TN @ Nissan Stadium
August 28 – Detroit, MI @ Ford Field
September 01 – Minneapolis, MN @ U.S. Bank Stadium
September 08 – Kansas City, MO @ Arrowhead Stadium
September 15 – Indianapolis, IN @ Lucas Oil Stadium
September 18 – St. Louis, MO @ The Dome at America's Center
September 22 – New Orleans, LA @ Mercedes-Benz Superdome
September 29 – Houston, TX @ NRG Stadium
October 6 – Arlington, TX @ AT&T Stadium