'Riverdale's Take On Betty-Archie-Veronica Web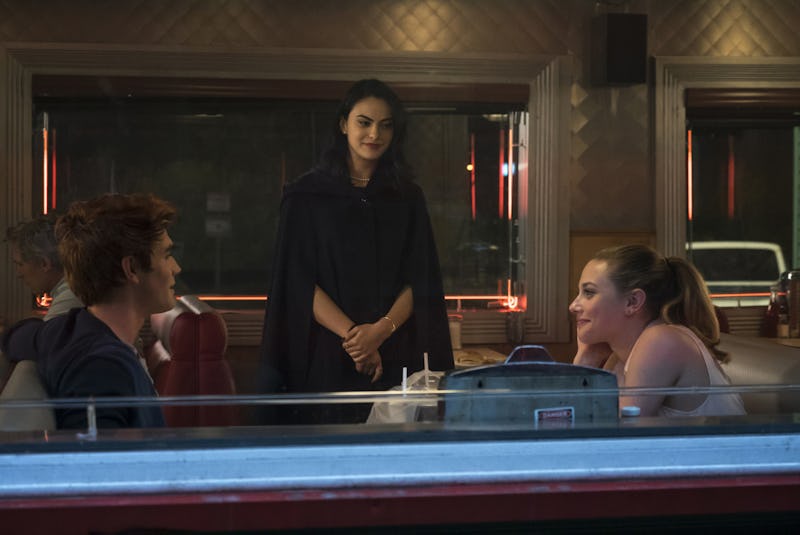 Katie Yu/The CW
The internet has its theories about the upcoming CW series Riverdale, a twisted take on the iconic Archie Comics which suggests life isn't so peachy in the story's simple town after all. Many say its dark ambiguity gives off major Twin Peaks vibes, while the many secrets and mysteries brewing among the group of teens are reminiscent of Gossip Girl. The trailer previews steamy car sex, a gun, bag of cash, and a floating dead body in a river — Archie, you're not in the comics anymore. Needless to say, fans are eager to see how the show interprets and twists the infamous, innocent love triangle between Veronica, Archie, and Betty. It's bound to get interesting, and I have a feeling picking a date for prom will be the least of Archie's problems. Until some answers are provided when the show premieres Thursday, January 26th, Ross Butler, who plays Archie's nemesis Reggie on the show, is here to tease some more with a little insight.
First thing's first, Butler promises viewers don't have to be familiar with the comics for the show to quickly become their latest guilty pleasure. "Absolutely not," he says on the red carpet. "Although it sustains the same characters and some of the same values, it's a completely new story," he says. "It redefines many of the relationships. It's very current and new." About those relationships, though...
Who isn't a sucker for a good love triangle, and a CW one nonetheless? Fan of the comics or not, viewers will likely be interested in seeing the reincarnation of Betty (Lili Reinhart), Archie (K.J. Apa), and Veronica's (Camila Mendes) iconic love web. Butler can't give many spoilers away, but he does give this remark: "I will say, there are still sparks flying."
Sparks, you say? Given the nature of the show, it seems the possibilities are endless. Will the innocent-looking, blonde-haired Betty actually be the bad girl? Will there be a menage a trois? Is that too far? Maybe not...
Butler also suggests that there will be an interesting dynamic between Betty and Veronica. "In the comics, their relationship changes in every iteration. Although there's been so much material put out with them, this is again something very fresh and very new," he explains. "I think people who are familiar with the original comics will be refreshed to see [it]. It'll surprise them."
So are fans more likely to be Team Betty or Team Veronica? His answer may not be your first guess. "I would say Team Betty. You'll see," he says. "I think it's all based on their choices, who they are as people, who [fans] will relate with. They're very different." Interesting, very interesting.
And loyal Archie fans, worry not. Butler says elements of the show still hold true to the comics. "Although it's dark, there's a lot of humor in it. We like to contrast the light with the dark," he says. He particularly loves playing this up through his character Reggie. "I definitely have a lot of moments where I can be a little bit more comical and be a little bit more jovial, so it balances out the fact that it gets really dark."
You guys are all twisted, and I already love it.