The New 'Riverdale' Trailer Gives 'Archie' A 'Twin Peaks' Vibe That Makes The Show Even More Interesting — VIDEO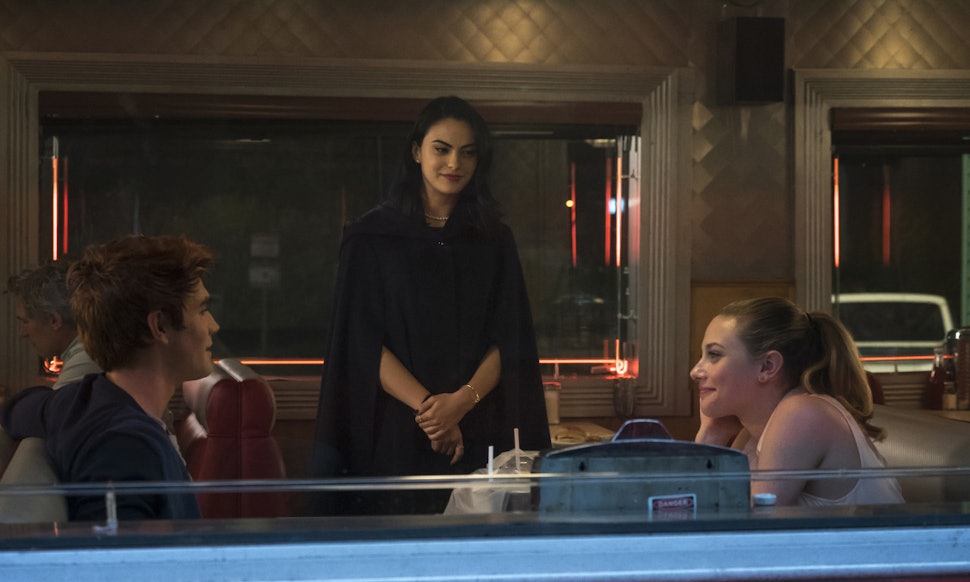 Katie Yu/The CW
Archie is keeping secrets, Betty has a gun, and there's a dead body in the river in the new Riverdale trailer. The CW's dark take on Archie has officially gone full Twin Peaks, and, while fans of the old school comic strip will be puzzled, comic book readers will feel right at home. Riverdale is staying true to the tone of the 21st Century world of Archie, while at the same time kicking off the series with a killer murder mystery designed to hook viewers.
The classic Archie comics are best known for their wholesomeness. Archie is the all-American teen who can never decide who to take to prom: Betty or Veronica. Let's be real, in this golden age of television, an adaptation of the "aw, shucks" version of Archie would never last. A version with strong Twin Peaks vibes and a dash of Pretty Little Liars is a much safer bet.
The influence of Twin Peaks is everywhere in Riverdale's new trailer, from the coroner taking bribes to the retro diner hangout to the dead teen in the town's watering hole. There's no log lady, but everyone does have a secret they are trying hide. If you believe every small town is housing a dark past, Riverdale is going to be pure television catnip for you.
tvpromosdb on YouTube
While the trailer puts most of its focus on the questionable circumstances surrounding beloved local teen Jason's death, where Riverdale shines is in the details. If you're at all familiar with the world Archie inhabits, you'll be delighted to see Josie and her Pussycats rocking out and Archie escorting both Betty and Veronica to a school dance. Tucked in between the scenes of brooding darkness are genuine nods to the retro awesomeness of the old school Archie world. It even feels like Sabrina (the teenage witch) could walk around the corner at any second.
All of these things are a good sign if Riverdale truly wants to be Twin Peaks for The CW set. Mysteries are great, but the question of who killed Jason will only take the show so far. Much like Twin Peaks, Riverdale needs to add dashes of unexpected humor and self-awareness if it wants viewers to invest in the characters.
If the trailer has an MVP in the self-awareness department it is Veronica. As the new girl in town, Veronica approaches Riverdale with a wry sense of humor. "I'm Breakfast at Tiffany's, but this place is strictly In Cold Blood," Veronica quips, and the levity is much appreciated.
Riverdale has potential to be your next TV addiction as long as it doesn't get too lost in its drive to be the edgy Archie series. The Laura Palmer murder mystery ultimately sank Twin Peaks, and who killed Jason Blossom could do the same to Riverdale if it isn't careful. Hopefully, the show will find the right balance between its pop culture inspirations and its own pitch black quirkiness to bring the world many seasons of Archie and his infamous love triangle.