Why Prince Harry & Meghan Markle Are Basically Your Fave 'Love Actually' Couple IRL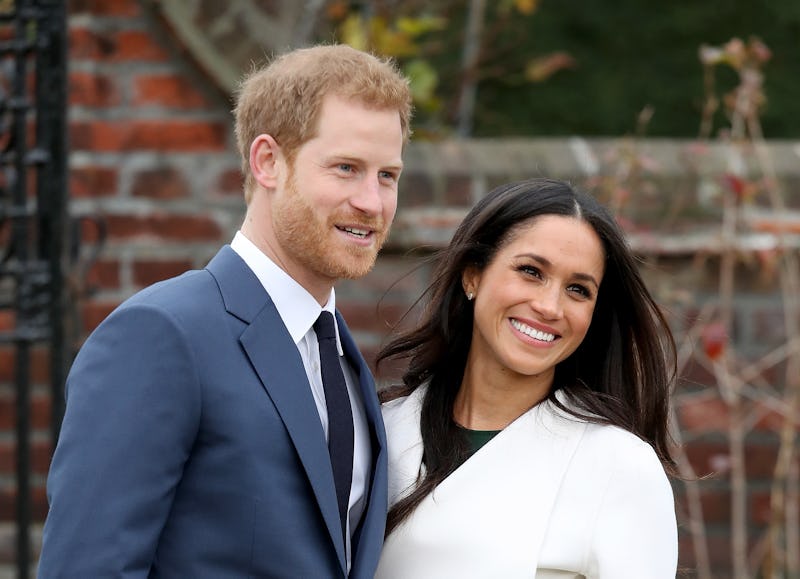 Chris Jackson/Getty Images Entertainment/Getty Images
If you didn't already believe that love actually is all around, then surely the Prince Harry and Meghan Markle Love Actually meme convinced you. Shortly after the couple's engagement was announced on Monday, Nov. 27, the internet noticed that Prince Harry and Markle bear a striking resemblance to one of the 2003 film's sweetest couples: Sam and Joanna. But the resemblance isn't just appearance based— the royal Love Actually meme could be a reality thanks to the many similarities between the two couples.
For the uninitiated, Sam and Joanna are children when they meet. From the first moment he sees her, little Sam is convinced that Joanna is the one, but he also fears that she doesn't know he exists. Sam embarks on a journey to win Joanna over before she has to return home to America, which involves him learning how to play drums. Their young courtship ends with a romantic race through the airport in order for Sam to tell Joanna how he feels. In the 2016 Red Nose Day Love Actually special, it's revealed that Sam and Joanna have reconnected, and Joanna sweetly asks Sam's stepfather for his son's hand in marriage.
See? It's an endlessly adorable love story, and it's one that Prince Harry and Markle should be able to relate to. And not just because actors Thomas Brodie-Sangster and Olivia Olson are basically the royal couples' doppelgangers, as Full Frontal with Samantha Bee writer Travon Free pointed out on Twitter.
The resemblance is uncanny, but the romances are pretty similar too. Let's take a closer look at the two couples.
Prince Harry & Sam
Like Sam, Prince Harry lost his mother at a young age, and that loss had a major impact on his life. He also appears to have quite the romantic streak. During Prince Harry and Markle's first interview, he was asked when he knew that Markle was the one, and Prince Harry didn't miss a beat. "The very first time we met," he told the BBC.
His response is very similar to young Sam's, who was adamant that Joanna was the only one in the world for him from the first moment that he saw her. Having Joanna in Sam's life also seemed to help him focus on something positive after his mother died, and despite the "total agony of being in love," Joanna brought a great deal of light into Sam's life. Likewise, in November 2016, a royal source told the Daily Mail that Prince Harry seemed "happier than he has been for many years" after he began dating Markle.
Meghan Markle & Joanna
While Markle is an actor, and Joanna is a singer, both of them love to express themselves artistically. There's also the small matter of Markle and Joanna hailing from America, but falling for British guys. Marrying a member of the royal family sounds like a daunting task— it means Markle's life will change in some fundamental ways as she makes career adjustments and a big move to England. However, in her interview with the BBC, she made it clear that she sees her new path as a choice that she's excited to make.
In the Love Actually special, Joanna is seen taking a similar stance in her relationship with Sam. She knows how important his stepfather is to him, and how close the two of them are, and she accepts them as a package deal. She even goes so far as to ask Sam's dad if she can marry his son. Likewise, Markle knows that she's not just marrying Prince Harry, she's becoming part of the royal family, and she's ready to make a commitment to all of them.
Even though Prince Harry and Markle aren't childhood sweethearts, their romance isn't so different from Sam and Joanna's. That makes the royal Love Actually meme even sweeter, because the two couples share so much more than looks.