'TVD' Finale Teased 'The Originals' Connection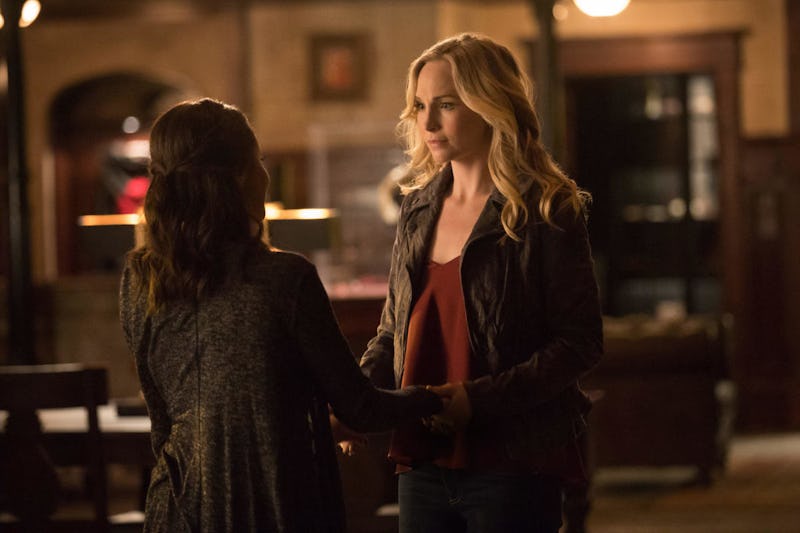 Bob Mahoney/The CW
It's nice to know that when your favorite show comes to an end, the characters don't have to. Such is the case for The Vampire Diaries, which concluded its eighth and final season with their series finale, "I Was Feeling Epic." Though the series finale wasn't without its deaths (RIP Stefan Salvatore), most of the characters actually made it out alive, which means that the door was left wide open for any of them to pop up on the TVD spinoff series, The Originals. TVD creator Julie Plec confirmed that she wanted to leave the door open for possible TVD-The Originals crossover down the line, so, how did The Vampire Diaries finale connect to The Originals?
So far, only one character from The Vampire Diaries has been confirmed as appearing on The Originals during the show's upcoming fourth season. Matt Davis' Alaric Saltzman will be guest starring on the show this year, but there was one very interesting scene in the TVD finale that makes me think he won't be the only one heading down to New Orleans. The final montage at the end of "I Was Feeling Epic" featured a clip of Caroline, now running a supernatural school with Alaric, opening up a letter from a mysterious donor who helped make the school a success. If you haven't guessed already, it's Klaus, who in his letter mentioned that he hoped to see Caroline face to face in the future.
"I do look forward to thanking you in person someday...however long it takes," Klaus wrote in the letter. As Klaroline fans might remember, Klaus once told Caroline that he intended to be her last love "however long it takes." And, given the fact that Stefan died in the series finale, this letter certainly hints at a potential future for Klaus and Caroline. On a more basic level, it also means we might get to see Caroline on The Originals (hey, a girl can hope, right?).
The voiceover when the letter was revealed promised that the donation from Klaus was "the beginning of another story." I don't know about you. but I am really looking forward to seeing that story.