How To Boost Your Partner's Confidence In Bed After Unintentionally Bringing It Down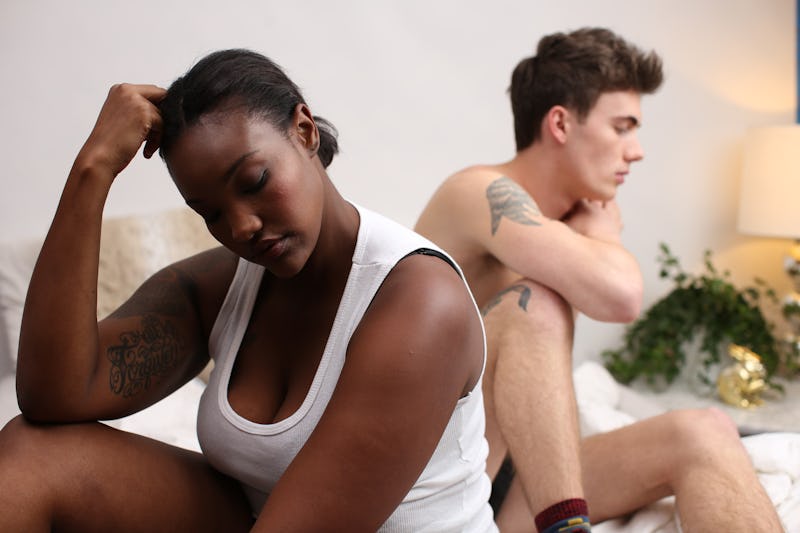 Ashley Batz/Bustle
Sex in real life isn't perfect. There's a lot of trial and error involved in making sex "good" for both you and your partner. But out of all the things that can go horribly wrong, experts say there is one mistake people commonly make in bed that can be a total mood killer. "Sadly things are often said that can have a negative effect on your partner's sexual confidence without you realizing," Sunny Rodgers, a clinical sexologist and certified sex coach tells Bustle.
No one in a healthy sexual relationship ever intentionally sets out to bring their partner down in any way. But sometimes, it happens. "When it comes to intimacy in the bedroom, you may find that your partner is much more sensitive, especially if the two of you have opened up and become comfortable," Jeannie Assimos, eharmony's Chief of Advice tells Bustle. "This is a sensitive area. Be super thoughtful about how you might bring up any sort of criticism, and always remember, this is your partner at their most vulnerable."
It's true. Everyone comes into new sexual experiences with their own set of insecurities. According to a recent Zava survey of 1,000 men and women, 67 percent of men say their biggest insecurity in the bedroom was their sexual performance. Nearly 80 percent of women say their body image makes them feel insecure.
When you unintentionally bring your partner's confidence down in bed, it can affect your sex life for the worse. Sex should be a fun bonding experience. But how can you have fun when one partner feels like they can't let go and enjoy it? The good news is, you don't have to worry. According to experts, here are some ways to help boost your partner's confidence after you unintentionally bring it down.