5 Things Couples Who Keep The Spark Alive Have In Common, According To Science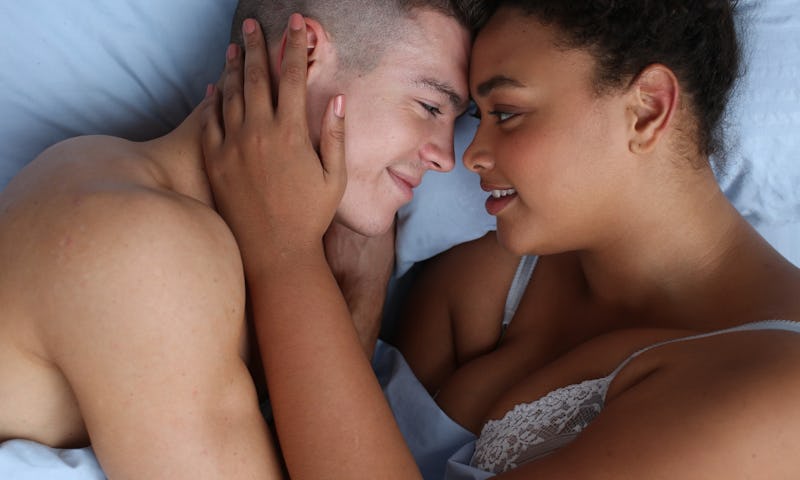 Ashley Batz/Bustle
The longer you are in a relationship with someone, the more certain things become routine, from your dinner schedule to the way you spend free time. Sometimes, sex, too, can become routine and sexual desire may fade. Of course, every couple is different, and lessened sexual desire may not be an issue for you and your significant other. But if you want to know how to keep the spark alive in a long-term relationship, a new report provides some answers. University of Kentucky researchers from the Department of Kinesiology and Health Promotion, Kristen P. Mark and Julie A. Lasslo, decided to research this topic further in their paper titled, "Maintaining Sexual Desire in Long-Term Relationships: A Systematic Review and Conceptual Model," which appears in The Journal of Sex Research. To do so, they looked at 64 articles spanning more than 20 years. The DL? One's sexual desire may not decrease, but it's also OK if it does.
"The most universally experienced sexual response is sexual desire," Mark and Lasslo's paper states. "Though research on this topic has increased in recent years, low and high desire are still problematized in clinical settings and the broader culture. However, despite knowledge that sexual desire ebbs and flows both within and between individuals, and that problems with sexual desire are strongly linked to problems with relationships, there is a critical gap in understanding the factors that contribute to maintaining sexual desire in the context of relationships."
For example, many people assume that arguing in relationships leads to a decrease in desire, but in one 2013 study they found that when men and women had sex for avoidance, aka trying to avoid a fight or conflict, it was seen as a risk factor in maintaining sexual desire in long-term relationships . Similarly, in another study from 2013, they found that partner conflict led to women seeing their partner as less sexually attractive — but thought avoidance was the issue, not the conflict.
In their research, Mark and Lasslo found certain common denominators when it comes to keeping the spark, aka sexual desire, alive when in a long-term relationship. Here are some of the factors they discovered.