5 Ways To Celebrate Valentine's Day With Your Partner Even If One Of You Is Sick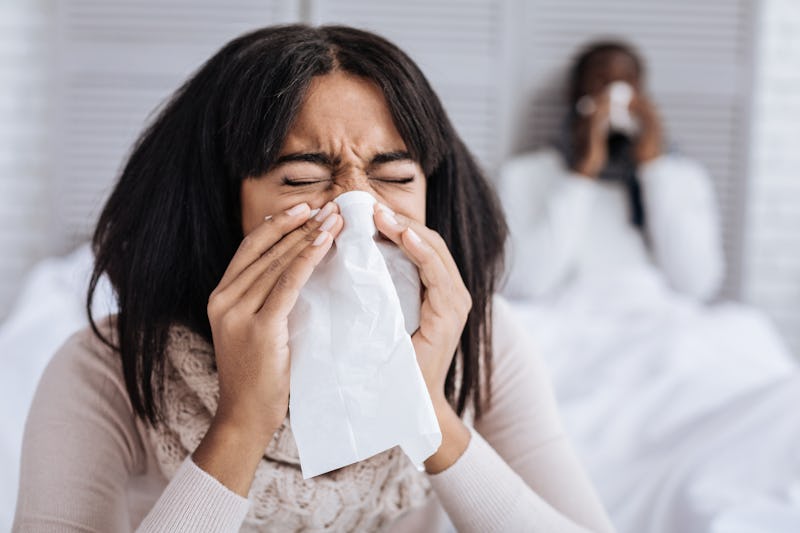 Fotolia
Unfortunately, Valentine's Day and flu season happen to coincide. According to the Center for Disease Control's FluView report, flu activity continues to increase, and is extremely prevalent in 42 of the 50 states, as well as in Washington D.C. and Puerto Rico. But this 2018's flu, influenza A-H3N2, isn't messing around. So far, 53 kids have died from the flu this year, but not only is that number continuing to grow, even people in the prime of their life have died from it. Since this flu isn't messing around, if you or your partner has the flu, it's important to be smart about it. Like all viruses, the flu doesn't discriminate.
Which brings me to Valentine's Day. If either you or your partner have the flu, but you still want to celebrate, exactly how are you supposed to do that? Well, for starters, you don't want to leave the house. "The problem with going out, especially to public settings, is the risk of infecting other people," Founder and Chief Medical Officer of besafemeds, Dr. Segun Ishmael, tells Bustle. "You don't want people to get ill because of you. You can infect others one day before the symptoms start and up to seven days after the symptoms have started."
What does this mean? Basically, you're both staying home for Valentine's Day. But no worries; here are five ideas so you can at least celebrate in your own way.