Women's History Month FB Profile Pic Ideas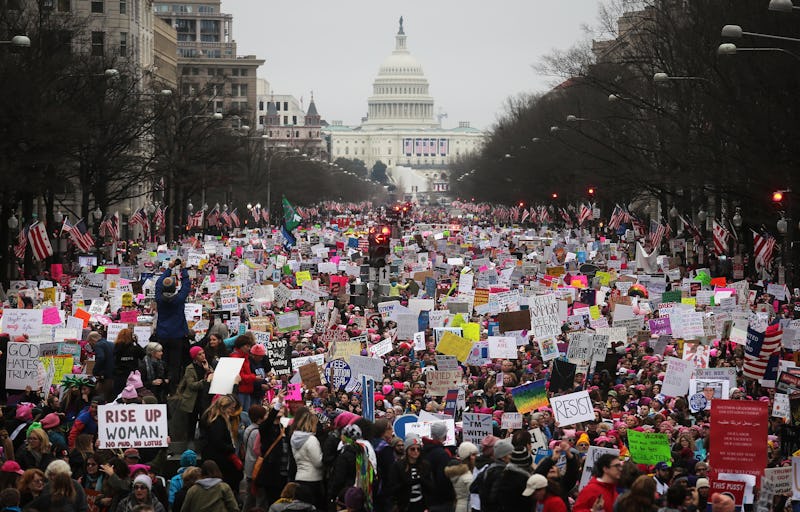 Mario Tama/Getty Images News/Getty Images
March is Women's History Month, and in the days leading up to events such as the "Day Without A Woman" strike and International Women's Day on March 8, there has never been a better time participate in a little social media activism. If you are curious as to how to change your Facebook profile picture for Women's History Month, there are plenty of options for how to use the highly visible social platform to honor the many kickass women who have changed history. At this time, Facebook does not have a specified profile frame devoted to the special month — but that will not stop us from marking the occasion in a big way and using every tool available to empower people all over the world.
Although the roots of this month-long observation celebrating the pivotal role women have played in the shaping of the United States goes back more than 100 years, Women's History Month as we know it today was officially designated by Congress in 1987. The honorary month started as an educational initiative to shed light on the relatively unknown and unsung female heroes that paved the way for future generations; 30 years later, however, the difficult fact is that women are still not equal. Despite legal protections, the gender pay gap is an upsetting reality, women's bodies are still being policed by (mostly male) lawmakers and legislation, and we struggle to have our voices heard in the government, the workplace, and even at home.
Changing your Facebook profile image will not fix these issues, but it can still send a powerful message to friends and followers. If you need to brush up on the general instructions for how to sub in a new picture for your profile, first, hover your cursor over the main image. Click the "Update Profile Image" option and upload and edit your new picture; then go ahead and post! Empower just one Facebook friend this month, and the photo swap will have been worth the time.
Here are a few ideas to get you started.
Also, check out the "Feminism" stream in the Bustle App throughout the month of March for more inspiring ways to celebrate Women's History Month.