Here Are 6 Simple Ways To Save Your Hair After All That Holiday Styling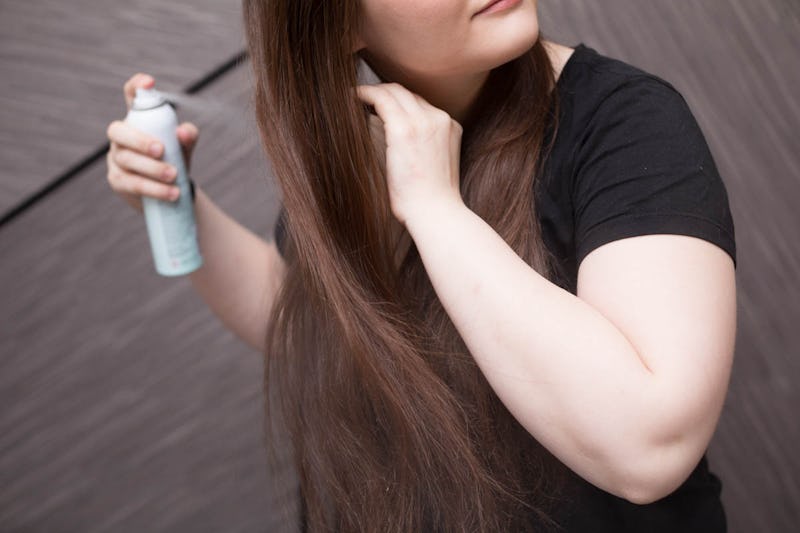 Bustle
The irony of holiday season beauty is that often, the more effort you put into your looks over the course of a month, the more damage control you need to do once all of the festivities are said and done. Worth it? Definitely. 'Tis the season for bold makeup and pretty hairstyles, after all. But there's definitely some TLC in order once January comes around.
This is especially true when it comes to your hair. Dry, damaged strands are often the result of too much heat styling, explains hair stylist Travis Parker, L'Oreal Professionnel Artist. "Hair burns just like skin," he says. "The problem is we don't feel it, and in return we can cause damage easily, and without any awareness of it." And when you're heat styling your hair five times a week to keep up with your holiday party schedule, this damage adds up.
Dry air during the winter can also rob hair of its natural luster. "This is an easier issue because most of the time, we're only dealing with [damage to] the outer layer of the hair," says Parker.
In any case, there are a few things you can do to give your hair a much-needed break after all of that holiday styling, and nourish it throughout the rest of the season, too. Here are six essential steps to take in the new year.
1. Take A Break From Heat Styling
Living Proof Perfect Hair Day PhD In-Shower Styler, $24, Ulta
This is easily the most low-maintenance way to give your hair a break after over-doing it with the blow dryer and curling iron. "After the styling has been done it's always a great idea to give your hair a rest from the heat," says hair stylist and Streeter's artist Holly Mills. Fall back on some products designed for air drying, and let your strands do their thing.
2. Throw Your Hair Into A Top Knot Or Braid With A Nourishing Treatment
A top knot or braided style isn't just a way to manage heat-free hair — it's also a chance to sneak in a restorative treatment that'll go to work all day long. "These styles are great since you can load your hair up with nourishing oils and leave-in creams to help your hair repair, like Playa Ritual Hair Oil or Shu Uemura Art of Hair Kengo Feather Tenacious Hold Light Weight Cream," says Mills.
3. If You Must Use Hot Tools, Commit To A Heat Protectant
Leonor Greyl Paris Éclat Naturel Styling Cream, $46, Nordstrom
If you can't swear off hot tools all through January (even if you wish you could), now is the time to invest in a heat protectant if you aren't already in the habit of using one.
A heat protectant puts a crucial barrier between your strands and hot tools. Mills likes Aveda Brilliant Damage Control or Leonor Greyl Paris Éclat Naturel Styling Cream (which you can use on wet or dry hair), while Parker likes L'Oreal Professionnel Serie Expert Absolut Repair Lipidium Blow-Dry Cream.
4. And Turn Down The Heat Setting, Too
Remington Pearl Pro Ceramic Flat Iron With Digital Temperature Control, $25, Amazon
"If you absolutely have to use heat to style your hair, turn it down," says Mills. "Most hot tools these days are equipped with heat settings, and chances are your hair doesn't need to be styled on full heat in order to get the results you want."
If you've always just left your straightener or curling iron at one setting, this is a reminder that you can cool it (literally). "It's best to turn the heat down to half power, or if your hair is compromised or damaged, put the tool on the lowest setting," says Mills.
5. Try A Pre-Shampoo Treatment
Philip Kingsley Elasticizer, $20, Amazon
Pre-shampoo treatments are one of the biggest trends in hair care right now, and Mills is all about it. "I love a pre-shampoo treatment," she says. "Your hair can lose a lot of moisture during the day from exposure to weather or too much brushing or touching, and a pre-shampoo treatment will add a layer of moisture to your hair so that when you do shampoo, it it's not over-drying those dry strands."
She likes the Philip Kingsley Elasticizer, which you leave on like a mask for 10 to 20 minutes before hopping in the shower.
6. Kick Back With A Hair Mask
Oribe Gold Lust Transformative Masque, $66, Neiman Marcus
Speaking of masks, make one a part of your regular routine when you're nursing hair back to health, says Mills. And hey, after a busy holiday season, you probably don't need to be told twice to kick back and relax with one. (Mills' favorite is Oribe Gold Lust Transformative Masque.)
You can use a mask as often as you need to, she adds. "Depending on how dry and thirsty your hair is, you can use a masque every other wash or even replace your conditioner with a masque every time you wash," she says. And while you wait, feel free to slap on a sheet mask, too — January is the time for max relaxation, natch.