9 Tips For Falling Back Asleep If You Wake Up In The Middle Of The Night, According To Experts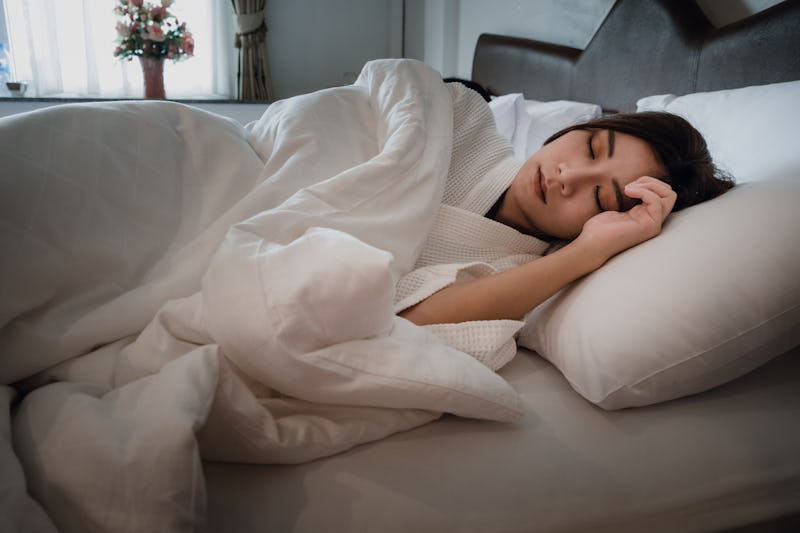 Shutterstock
Getting to sleep on time every night might be a struggle for you, especially if you have a busy schedule. But waking up in the middle of the night when you're in the midst of a relaxing rest can be even more frustrating. According to experts, there are a few tricks you can use to lull your body back to sleep as quickly as possible.
If you occasionally wake up after having an especially disturbing nightmare or because you have to use the bathroom, it's probably nothing to worry about. But you should seek the help of your doctor if you experience disrupted sleep for more than a week, Dr. Anil Rama, MD, a sleep medicine doctor and the medical director and founder of Kaiser Permanente's tertiary sleep medicine laboratory, tells Bustle.
Issues like sleep apnea or periodic limb movement disorder might cause you to wake up in the middle of the night, Rama says. But more mundane issues could also be to blame, like pain, noises, temperature, hunger, and dehydration. If you're waking up in the middle of the night, try to do a quick scan of your body to determine how you feel. Maybe you're very sweaty, and keeping your room cooler could help you stay asleep in the future. Or maybe you are very hungry, and could start having a snack before bed. But if you're ever seriously concerned, check in with your doctor.
Here's what to do if you wake up in the middle of the night, according to experts.